♫ Happy Birthday Miss Two…♫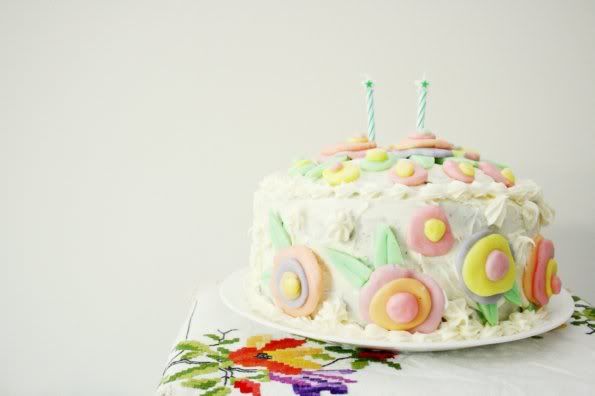 As mentioned yesterday, Miss Emma turned Two this past weekend. I wasn't really even planning a party, just a cake and maybe some balloons…the non-party wasn't to be, because it turns out my friends and family don't believe in 'non-parties' and invited themselves round anyway.
It was a good excuse to string up the bunting and get the pretty tablecloths out for a pretty floral themed afternoon tea…
Not much cooking involved, just the cake and some sweet treats from a local Greek cafe.
I was pretty happy at how the cake turned out, even though it wasn't from scratch (i used some packet mix and a couple of tubs of ready made frosting), I handmade the icing decorations myself.
It was a little bit tricky, because I should have done some research first, but essentially I kneaded icing sugar with a bit of water and food colouring till i had a mouldable paste. Created my little flowers and set them to dry whilst the cake was baking. Apparently adding glucose makes the paste more ma
lleable and less crumbly so you don't get any cracking, next time I'll be more prepared and buy it ready made.
Emma was very happy with all her guest's attention and lovely gifts, which included a scooter (from mum and dad), a black board, a Thomas the Tank (that we will eventually find batteries for) a groovy retro toy cash register and (the big hit) a card that plays Queen's 'Another one bites the dust'.
Lots of cake still left if anyone wants a piece? I think I'll go and have some now, my sugar levels are getting a bit low…
www.mypoppet.com.au