***Unfortunately picnik has ceased to exist as of April 19th 2012. RIP picnik, we miss you***
Have you ever wondered how some bloggers get their pictures looking so pretty with lovely embellishments like washi tapes? Well most of them use clip art in photoshop.
I don't know how to use photoshop so I'm going to show you how you can use clip art in Picnik photo editor.
Picnik is free to use, but for this particular technique I will show you you must have the premium package (around $25 per yr). I have gotten a lot of value from my premium upgrade and highly recommended it.*
First you will have to download your clip art file. I have chosen to use these lovely and free washi tape strips by Pugly Pixel.
The key to using clip art in picnik is making sure they have a transparent background and are in a .PNG file format.

There are several designs in 3 different sizes, so you will have to open your chosen pattern and crop out the size you want. I have used Microsoft office picture manager to do this.
Make sure you 'SAVE AS' with a new name and as a .PNG file (this will keep the transparent background)
edit: If you are on a Mac you can use Preview to crop and select out your chosen tape image.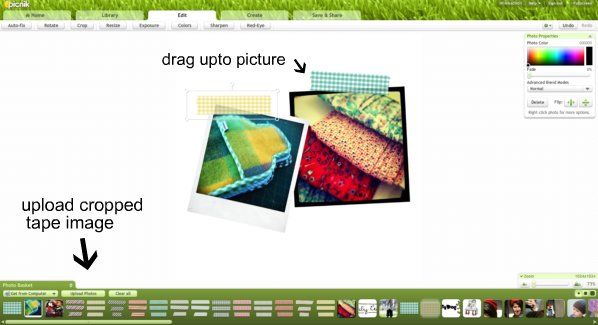 Now you can use picnik to make your images pretty. Upload your cropped tape image, select and drag over you picture.
That's all there is to it…Check out the Pugly Pixel blog for some more great downloads, tips and tutorials
edit: If you have a question I will try to answer it in the comments section, thanks.
Did you find that helpful?
Yell out if you want me to explain some other Picnik tips and tricks that you may be stuck on
*This post was not sponsored by Picnik, but if Picnik big wigs are reading, how about a free subscription next year *wink, wink*
www.mypoppet.com.au