Make these colourful crochet nesting baskets with recycled t-shirt yarn. I've got simple to follow crochet pattern to make storage baskets in 3 sizes.
I was lucky enough to receive several cones of Zpagetti yarn from a friend. I'd been curious about it for a while and was delighted to give it a try.
T-shirt yarn is made from fabric off cuts from the garment industry, so it's a sustainable product that defers textiles from entering landfill.
I am in desperate need of places to store all my crafty bits and pieces, so making some baskets was the logical option.
These baskets work up quite quickly and if you make them in graduating sizes, they can nest into each other. I've included basic instructions and a video, but I do assume you have some experience with crochet.
If you can't get hold of t-shirt yarn, you can make your own by recycling old t-shirts. Here are instructions for how to make t-shirt yarn from old t-shirts.
You may also enjoy:
You will need:
T-shirt (fabric) yarn in assorted colours
12mm Bamboo hook
stitch marker (optional)
Stitches used:
US terminology (UK in brackets)
Magic ring
chain ch
slip stitch sl
single crochet sc (double crochet dc)
I've included photos and a video on how to do a single crochet sc stitch
How to crochet Nesting Baskets:
Making the base of the basket required you to crochet a flat circle. There are great instructions here which explains how to make a nice flat circle.
Here is how to do a single crochet stitch in both step by step and video form.
1. Here is the place you will insert the hook.
2. Insert the hook in the next stitch.
3. Pull through your yarn (also called yarn over)
4. You should have 2 loops on your hook now.
5. Yarn over again
6. Pull through both loops and your are done.
Watch the video to see how it all works (I was holding the camera with my chin so please forgive any blurry bits)
I started with a magic ring and used 6 sc in my first round, 12 in the second, 18 in the third etc.
The larger you make your circle, the larger the basket base will be.
Once you are happy with the size of the base, continue to crochet sc in a spiral but with no increases. The sides will start to curl up and build the walls of the basket. Use all one colour, or do as I have and changed colours half way up.
Continue to make as tall as desired.
To create the different sizes:
Small = 4 rounds base, 6 rounds side
Medium = 5 rounds base, 10 rounds side
Large = 6 rounds base, 9 rounds side (the dark pink yarn was chunkier than the blue so even with fewer rounds it was taller)
To finish, slip stitch and then weave your end in.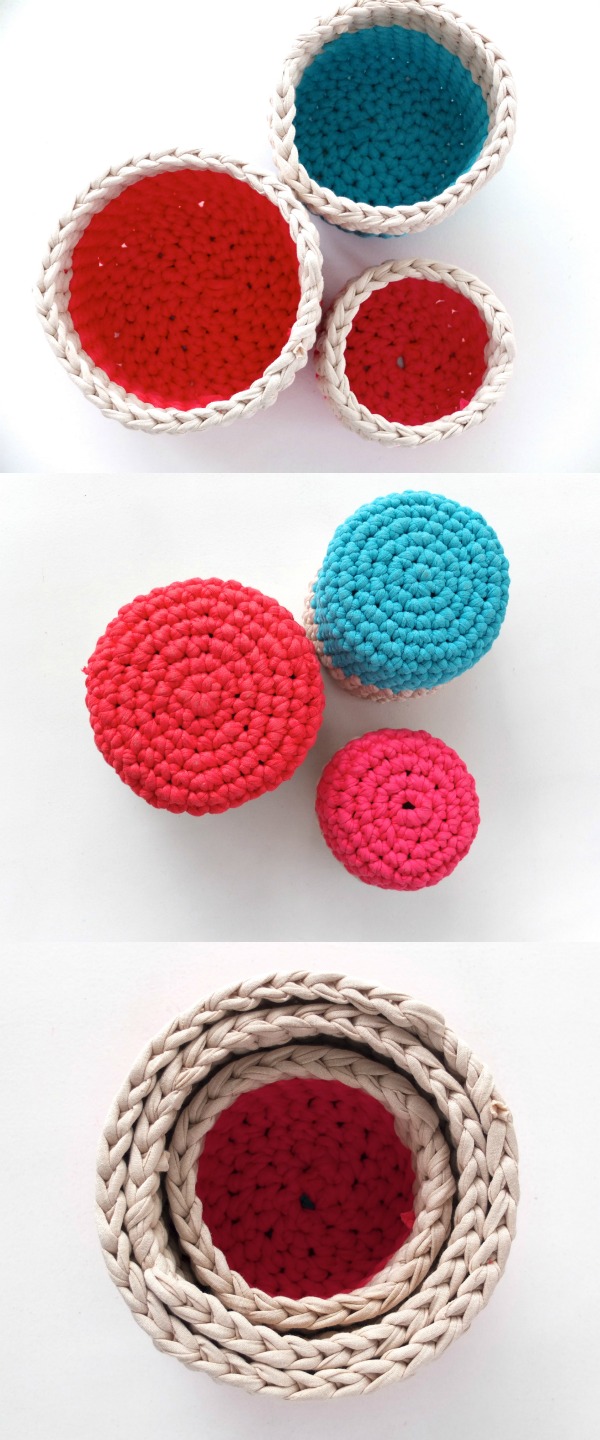 Working with the zpagetti yarn was quite easy but physically harder than normal yarn. Rather than using your wrists for leverage and control, I found it was easier to work from my elbow and shoulders.
Handy for storage…
…or as a hat!
The yarn works up very quickly and is suited for projects that will take some wear and tear. Because it has a lot of body, the sides of the baskets are very sturdy. I enjoyed working with Zpagetti yarn so much I even made a crocheted doiley mat with it.
You may have already seen it if you follow me on Instagram. See my Doiley Mat.
Have you used recycled textile yarns in the past? I'd love to hear your experience with it.
Looking for places to buy recycled t-shirt yarn? Try these suppliers:
Thick Thread
I Love Create store
also
www.hookandhop.com (Australia)