Wow! I did it!
This eBook started as a little idea that grew out of lots of questions I was being asked by you – other bloggers and crafters. Some of you wanted to incorporate selling digital patterns and eBooks in to what you were doing but didn't know where to start. I totally felt your pain because it really took me a long time to research how and where to sell my products, it's not information that is readily shared. I decided to change that.
Initially I just wanted to put together a little guide comparing digital delivery platforms to help readers choose the one that best suited them, but as I progressed with my research and putting everything together, I realised I had more information and experience to share than just that. What started off as a weekend project turned into an epic month long writing session. (Not much house work got done during that time!)

All my experience creating eBooks and patterns was using PDFs, so it was logical to focus on that format as I think it's particularly useful for us creative types. PDF files are viewable on all computers and mobile devices and can be printed out too, so it's a super flexible and inclusive format.
I paid extra attention when laying out my book because I wanted it to be really easy and enjoyable to read, but also, I wanted to showcase how great an eBook can look with software that is easily accessible to everyone.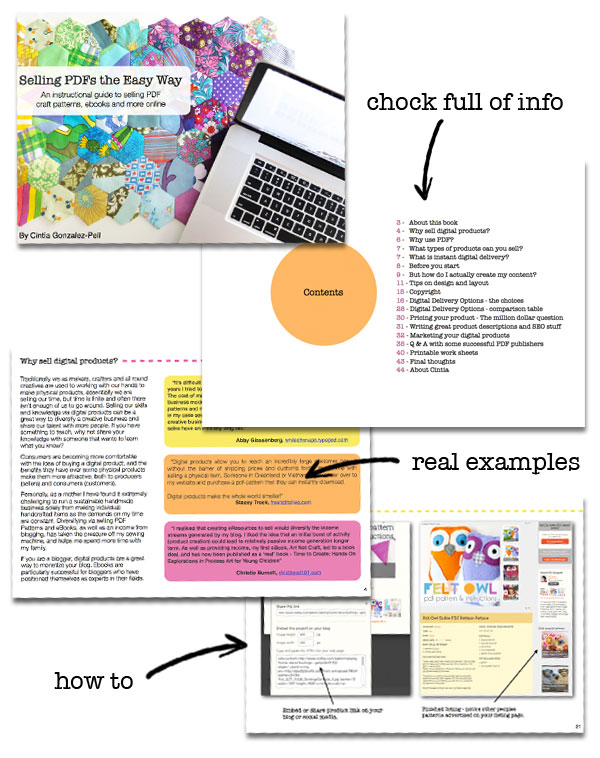 I was so happy when some crafters and bloggers that I really admire contributed some of their experience and advice about selling digital products. I mean it's one thing for me to dish out advice, but I think that advice is more valuable when it's re-enforced by a broad range of experiences.
I could go on forever, but I won't. Needless to say I'm really proud of my new eBook because I never thought I had it in me. But more importantly I think it's a genuinely helpful guide that will save you days, weeks or even months of research and procrastination. I wish I had this to read this when I started.
I really hope you find it useful.
So if you are interested in checking out what Selling PDFs the Easy Way is all about pop over here for some more detailed information about it's contents.