Every time an ad for Disneyland comes on the telly, Emma turns to me and says, "let's go mum!", if only it was that easy. One day we'll get to LA, but it's not on the cards just yet.
As a family we love to travel and explore the world. I was so lucky that as a child, my parents put a big priority on travel, and now as a parent myself, giving Emma the gift of experiencing other cultures is important to me too. Also who doesn't love a good holiday?
Here's how my parents afforded to take us around the world as kids.
We all have our holiday wish list, but like it or not, traveling with kids can be expensive. But don't give up on that dream holiday just yet, I'm here to offer some suggestions to make that family trip a reality, without breaking the bank.
1. Lay-by a holiday
This was a new concept that was introduced to me recently and I think it's a genius idea. If you're not naturally a 'saver', it can sometimes be a struggle to put money aside every week even if it's in a separate bank account. It's tempting to dip into the account spending it on non-essentials, slowly frittering away those savings and then, guess what? No holiday for you!
LayAway Travel is an Aussie based travel agency that lets you lay-by your holiday up to 24 months in advance and has a huge range of popular holiday destinations with packages that include flights, accomodation, and transfers. Having all the big expenses pre-paid for means you can just relax and enjoy your holiday. They even offer an option to include 'spending money' as part of your payment plan. If you have a special trip in mind, they can put together a customised trip just for you.
It's also a great way to get the kids to get involved in budgeting for the trip. It's easier for them to understand that if that trip they are keenly awaiting is costing $5 a day, then giving up that ice-cream on the way home from school is not such a big sacrifice in the scheme of things.
Read about How to Involve your kids in travel planning
2. Timing is key
WHEN you actually travel makes a huge difference to the overall price of your trip. The costs of flights and accommodation just sky rockets during school holidays and peak periods, so if you can, try to travel in shoulder seasons, and during school term. Depending on where you're going, the difference you'll save for a family of four by travelling in quieter seasons can be thousands of dollars.
Another added bonus of travelling off peak is that you avoid the crowds – I mean who wants to wait in queues all day or jostle for a sun bed by the pool. Also shoulder seasons tend to have milder weather, Autumn and Spring are much more suited to sightseeing than Summer in most places.
If you aren't sure if you should take your kids out of school to travel, here are my thoughts.
3. Choose an affordable destination
Some destinations are just downright expensive. I remember when we travelled through Switzerland many years ago (this was pre-Emma), the few days we spent in Zurich really ate into our travel budget. We had to make compromises like staying in rooms with no ensuite (the bathroom was down the hall) and packing a picnic of bread and cheese for lunch every day because even MacDonald's was shockingly pricey. Needless to say we moved on fairly quickly to somewhere more affordable.
Think about what the goal of your holiday is, maybe you can still have the same experience in a more affordable destination where the Aussie dollar goes further.
Can't quite stretch to Disneyland in L.A.? Why not go to Hong Kong Disneyland instead? It's much closer, the entry fees are much more affordable (with much shorter queues) and you still get to meet Mickey Mouse. We went to Hong Kong Disneyland in 2013 and absolutely loved it!
4. Plan Ahead
Occasionally you can find a ripping last minute deal on hotels or tours, but they are usually offset by the crazy cost of last minute flights. If there is more than a couple of you traveling it's always better to plan ahead and keep an eye on deals well in advance of your trip. You've also get a better choice of accomodation if you book early.
I tend to be a last minute booker, and for our upcoming trip to Queenstown NZ, it's totally back fired because all the affordable rooms were totally booked out, most probably months ago.
The added bonus of planning ahead means you have more time to save and research your destination.
5. Consider all-inclusive Packages
We're huge fans of the all inclusive resort here at Casa My Poppet. Up-front it can seem a little pricey, but when you factor in that all your meals, drinks and activities are already included, you really do end up saving lots of money in the end.
We've been to Club Med lots of times, and I love the fact that I don't have to open my wallet every time the kid wants an ice-cream, or orders a meal that isn't quite what they wanted after all. Kids clubs keep the kids entertained so you can really unwind if your goal is relaxation.
Cruises are great for this too, with the added bonus that you get to stop at interesting destinations every day or two.
If you aren't a resort or cruise type of family, you can still find great savings when booking combined flight and hotel or tour packages, especially if transfers and breakfast is included.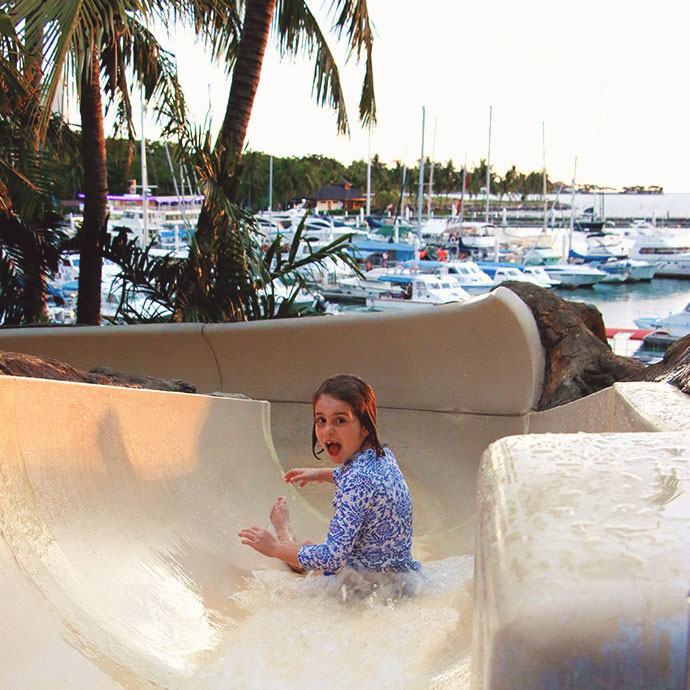 So as you can see, with some smart planning you'll be off on a family adventure before you know it.
Thanks to LayAway Travel for sponsoring this post, for more information see – www.layawaytravel.com.au
PIN FOR LATER