Kitchens are often designed with functionality in mind. Workspace, storage and ease of cleaning are usually top of the list, but an element that's often forgotten is personality. Here are some easy and affordable ways to add color to your kitchen.
I love a bit of colour so when we renovated our kitchen I incorporated some bold design elements to make the space feel more 'me'.
I was mindful that if we ever decided to sell, my strong colourful vintage design aesthetic wouldn't suit everyone, so I kept all permanent fixtures neutral and really went all out with colour and accessories that can be easily changed.
If your kitchen needs some brightening up, here are six, non permanent, ways you can add more personality to your space without breaking the bank.
1. Embrace the feature wall
Add a bright coat of paint or put up some wallpaper on a blank wall to turn 'meh' into 'yeah'! A tin of paint will only set you back around $40 and you can transform your whole space in an afternoon.
Wallpaper requires more skill to execute but the results can be jaw dropping. Renters may want to consider a removable wallpaper option.
Take a look at these colorful removable wallpaper designs on Amazon, and a great selection of modern wallpaper designs on Etsy.
If a whole wall of wallpaper or paint doesn't thrill you, consider just hanging wallpaper or painting in the space between the upper cabinets and the ceiling.
2. Choose colourful appliances and kitchenware
If you are in the market for a toaster, kettle or blender, skip the ubiquitous stainless steel option and choose colorful kitchen appliances.
Many brands like KitchenAid often have seasonal color collections which can add vibrancy to your kitchen with a stylish retro twist.
Other kitchenware like pots, bowls and utensils can be added to compliment your colour scheme, but don't go too crazy, stick to a limited colour palette or your space will end up looking cluttered.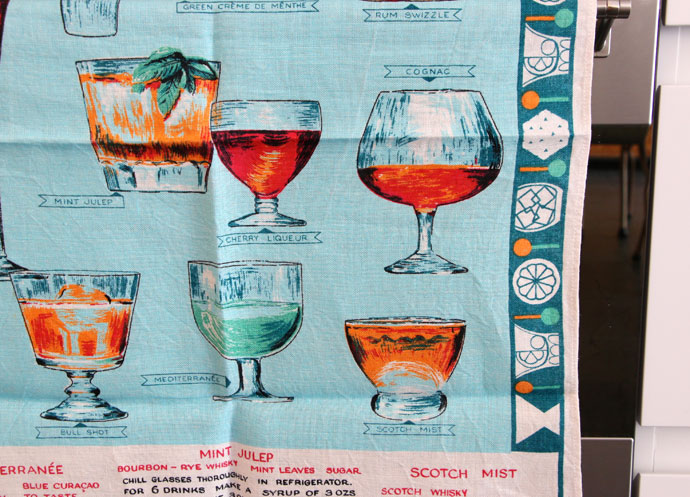 3. Don't overlook the humble Tea Towel
Tea towels must be one of the most hard working items in a kitchen, not only are they called on to mop up spills, dry up dishes and serve as impromptu trivets and pot holders, they can also pack a design punch as well.
Ditch the stained and worn out hand me down tea towels and invest in some with cool designs, or better yet, some fun vintage ones. Even the most menial of chores are improved when a fun bright vintage tea towel is involved.
Search Etsy for a huge selection of vintage linen to start your colorful vintage tea towel collection to add color to your kitchen.
4. Display collections proudly
Do you have a fun collection of plates, storage jars, teapots or other kitchenalia? Display it proudly on a windowsill, open shelf or kitchen trolley. Group similar colours together for added impact.
Collections don't just have to be for show, the best thing about having them accessible in your kitchen means you can use them as well. Keep an eye out at flea markets and op-shops for useful vintage finds to add personality to your kitchen.
5. Convert your fridge into a gallery space
Ditch the bills, ugly advertising magnets and school newsletters that clutter up your fridge door, do more with that prime piece of kitchen real estate and use it as an ever changing gallery space.
Display pictures that inspire you, postcards from exotic destinations and colourful artwork by your kids, it's free and it's guaranteed to brighten up your morning every time you open that door and reach for the milk.
Get the instructions to upcycle unwanted advertising magnets into practical and fun Washi Tape Magnets.
6. Adopt a plant to add natural color to your kitchen
Not only do plants look great as a decor element, they help improve air quality inside your home and studies have shown they even help to lower stress and negative feelings.
Who knew that the humble houseplant was such a hard worker. If you are a bit of a 'black thumb' start off with a hard to kill succulent variety.
Take a look at these 11 Succulent Planting ideas – No pots required. In fact, many use old kitchen containers and utensils.
Why not use a windowsill to establish a mini herb garden, parsley and mint are relatively easy to grow indoors and they have the added bonus of adding a flavor punch to your cooking too!
Now go and give your kitchen a mini makeover, you'll be amazed at what a difference a small injection of colour makes.
This post was originally published on Oct 2015 and updated in June 2022.