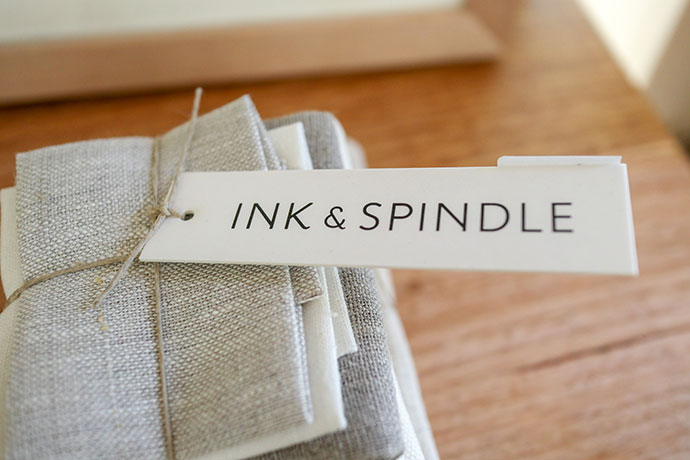 When it comes to 'Hidden Retail Gems', I think the new Ink & Spindle Studio and Showroom has taken the metaphor a little too literally.
Located in the heart of the Abbotsford convent complex this beautiful space is a little hard to find. I myself wandered confused for about half an hour trying to decipher cryptic maps and vague signage. A few of the neighbouring studio's residents helped me along with clues and helpful directions, I was in a real life treasure hunt where my reward was a room full of fabric delights.
Ink & Spindle is an eco-friendly screen printing studio that specialises in hand printed decor fabrics. Creative partners Lara Cameron and Caitlin Klooger are passionate about sustainability and have carefully considered how their business can 'walk softly on the earth'.
Base cloths are organic, sustainable & fair trade, inks are water based and solvent free. Even their designs, inspired by local flora and fauna, are timeless. There's no 'fast fashion' here, these products are made to last.
We design for longevity, not conforming to short term, seasonal trends.
On the day I popped in to the studio, Lara and Caitlin were in their element working the screen on their 10 metre printing table. Each screen measures 1.8m tall and requires two people to handle at all times.
Having recently relocated from their old studio space in Kensington, Ink & Spindle have now found roomier digs in Abbotsford, which for the first time has allowed them the opportunity of offering a showroom and retail space.
As well as offering fabric by the metre, and in smaller cuts, you can now purchase a range of soft furnishing, bags and home decor. They also work closely with interior designers to transform their fabric into curtains, blinds and upholstered mid-century furniture.
If you are looking for a special textile to enrich your home, a trek to Ink & Spindle is worth the visit. They've popped a handy map on their website to make the studio somewhat easier to find, but if you are up for a bit of a treasure hunt, forgo the map and use your wits, and maybe the sun, to navigate to your destination.
If you can't make it to the studio, they have an online shop and several local and international stockists.
Website: inkandspindle.com
Phone: 03 8060 9162
Where: SH 1.32 Sacred Heart Building, Abbotsford Convent, 1 St Heliers St, Abbotsford VIC 3067
Opening Hours:
Currently open 10am – 2pm, Tuesdays, Wednesdays & Thursdays, or additional times by appointment. Soon to be open some Saturdays – best to call and check beforehand.
BREAKING NEWS
Inaugural Open Studio is this coming Saturday 5th May from 11am-5pm. Get a full tour, share some afternoon tea and maybe do a bit of sneaky Mother's Day shopping!