Homemade Liquid Hand Soap is so easy to make from old unwanted bars of soap. Not only will you save a ton of money, but you'll reduce plastic waste when you refill your empty pump bottles.
As part of my efforts to reduce our plastic consumption, I've been going to a local bulk supply store and refilling our hand wash bottles instead of buying more plastic at the supermarket. Normally I pay about $10 per litre for unscented hand/body wash.
I've been pretty happy with our refill product, but alas over the Summer holidays the soap shop was closed. It was the perfect opportunity to try my hand at making a batch of homemade liquid soap from my plentiful supply of unused soap bars.
Over the years we seem to have accumulated what seems to be a drawer full of soap bars. Be they gifts, or the little bars collected during hotel stays, I'm sure you have a ton of soap that you just don't use.
Because soap bars tend to be messy, and always seem to go slimy, I tend to prefer using liquid pump soap for hand washing, and in the shower as body wash.
I adapted this liquid soap recipe from an old Readers Digest reference book that contained lots of money saving tips and recipes. The book is currently out of print, but you can see the cover here, and it's worth picking up if you find it in a secondhand bookshop.
While I was making this hand wash soap, I also made a big batch of homemade laundry powder.
You may also enjoy: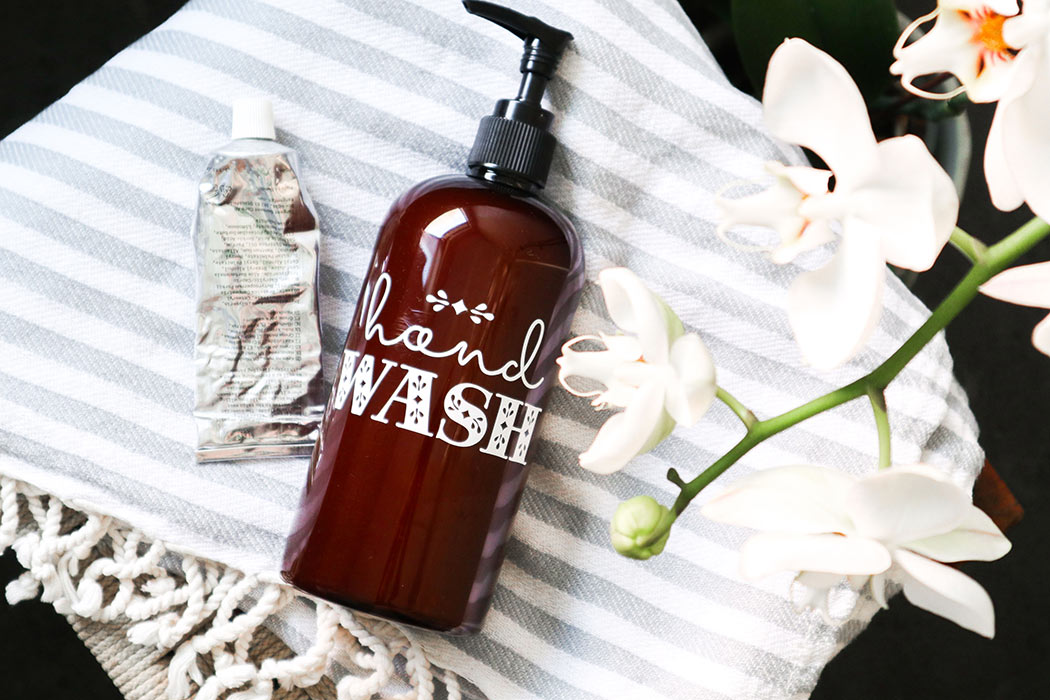 There was a little bit of experimenting involved in making my own batch of homemade liquid hand soap. I was fully prepared for the whole batch to be a big fail, but I was pleasantly surprised. It turned out quite well!
The original recipe was very thick, (almost gel like), and way too thick to use in a pump bottle. While I was cooking up the soap mixture I tested the soap consistency regularly, and slowly added extra water until it was to my liking. It reminded me of my good old days at back at Pharmacy College in the compounding lab.
I'm not sure how much of the soap gelling is determined by the type of soap bar you use, so you may want to add a little less water initially, then add extra if your mixture seems too thick.
Because I'm a little bit fancy, I couldn't resist designing an elegant vinyl label for the soap pump bottle. If you have a Cricut cutting machine you can download and cut the 'Hand Wash' label design here.
We've been using this liquid soap as hand and body wash for over one month now and I'm very happy with it.
It lathers well and seems to clean up grimy hands (and sweaty post gym stink), just as well as most other soap and body wash we've used. The tea tree oil is not overpowering, but gives it a fresh, clean scent.
In fact, because I've refilled our old body wash bottles with it, the rest of the family seems not to have noticed. They haven't mentioned it as an issue in any case.
This recipe makes around 2L of liquid soap, for a total cost of around $1.50. Even less if you are already using unwanted soap bars from your stash.
At less than $1 per litre, I've saved myself around $18 on this batch alone. That's a nice brunch or bottle of wine, totally worth the time invested don't you think?
How to make Homemade Liquid Hand Soap from Soap Bars
With only a few inexpensive supplies, you can easily make up a big batch of liquid hand soap to use as hand wash or body wash. If you don't like using soap bars, but seem to have a drawer full; this is a great liquid soap recipe to utilise them.
If you don't fancy making a large 2L batch, just halve the recipe.
Here are the kitchen utensils you will need:
Grater – to grate soap bars. Just the regular one that you grate your cheese on will do fine. Grating the soap will help it dissolve quicker.
Medicine measuring cup – A small measuring cup will help you measure out the required amount of glycerin.
Measuring Jug – to measure the amount of water required.
Large Saucepan – A stainless steel or enamel saucepan large enough to hold at least 2L.
Whisk – to combine all your ingredients.
Funnel & Ladle – to pour liquid soap into bottles
Empty Soap Dispenser Pump Bottle – You can reuse clean empty plastic soap pump containers, or store soap in larger plastic bottle and refill smaller soap dispensers from that. If storing this liquid hand soap in bulk, make sure you label container appropriately.
Kitchen utensils can be cleaned in the dishwasher and rinsed thoroughly before returning to food use.
Here are the supplies you will need to make Homemade Liquid Hand Soap:
You may already have some of these ingredients on hand. All are readily available in your local supermarket or pharmacy.
Read on for the quantities and printable recipe sheet.
Bar of Soap – Any basic bar of soap that you have sitting in your bathroom drawer will work just fine. Depending on how fragranced it is you may not need to add any essential oils. I used a combination of pure soap and a small bar of soap gleaned from a hotel room. Many people use Castile soap bars which is a traditional vegetable based soap.
Glycerine – Also known as glycerol. Acts a an emollient to soften and moisturize the skin. Comes from a vegetable source and has a thick, syrup like consistency. Available at pharmacies, or in the 'medicinal' section at the supermarket.
Tea tree oil – has natural anti-bacterial and anti-fungal properties. Also smells nice. You can substitute any essential oil of your choice. Good choices are eucalyptus oil, lavender oil, or peppermint oil
Water – Tap water is fine, but if you have very hard water (mineral heavy) water in your area, it's best to use filtered or distilled water instead.
Homemade Liquid Hand Soap
Yield: 2L
Prep Time: 10 minutes
Active Time: 20 minutes
Additional Time: 1 hour
Total Time: 1 hour 30 minutes
Difficulty: easy
Save money and use up those old bars and slithers of soap by making your own Liquid Hand Soap. Can also be used as body wash.
Materials
100g Bar of Soap (or multiple small bars)
30ml Glycerine
2 L water
15 drops Tea Tree Oil
Tools
Grater
Large Stainless Steel Saucepan
Whisk
Measuring Jug
Small measuring cup
Ladle
Funnel
Empty Pump Bottles
Small spoon
Instructions
Grate soap bar coarsely into a bowl. If you are using soap scraps or multiple small bars you can weigh them to make up 100g.
Into a large saucepan, combine grated soap, glycerine and water.
Heat gently over a low heat, stirring occasionally until the soap flakes have dissolved. The mixture will initally appear clumpy, but will smooth out as the soap dissolves
Test consistency of finished liquid soap by scooping out a small amount of mixture with a small spoon. Allow to fully set (this will take a few minutes). If the soap mixture is too thick, add an extra 250ml of water. If the mixture is too thin, grate in another 1/2 bar of soap.
Once you are happy with the consistency of your liquid soap, allow to cool slightly for about then stir in tea tree oil (or your chosen essential oil). Mix well.
Use a ladle and funnel to fill clean empty containers or pump bottles. Mixture will thicken on cooling.
Label as desired.
Notes
Mixture will thicken on cooling.
Depending on the bar of soap you use (and how thin you like your liquid soap) you may need to adjust the consistency of the mixture. The original recipe resulted in a very thick soap which was like a thick gel when set.
I adjusted the liquid content in this current recipe to make the mixture runnier and easier to pump.
This liquid soap lathers well and is also suitable for use as a body wash.
PIN FOR LATER