We were lucky that our stay in Kyoto coincided with the flea market that is held at the Toji Temple on the 21st of each month. It had it all, antiques, food, craft, clothing, new things and old, everything was so pretty and very reasonably priced. It was large and super busy so we only covered about half of it.

I bought a pretty pincushion made from vintage kimono silk in a sake cup, and a cheap paper fan because it was hot! (So hot that unfortunately a lady had collapsed and was being taken away by paramedics.)

To cool down we had some tasty shaved ice with sweet, sweet syrup. I had green apple and Pilgrim had melon. The shaved ice guy was doing a rip roaring trade.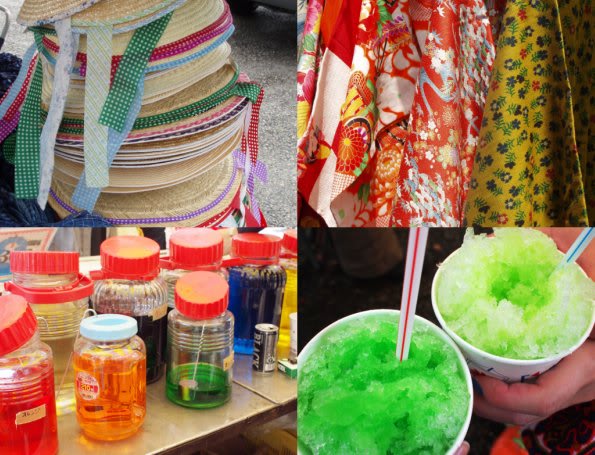 If you happen to get to the Toji flea market, it's a great place to pick up some handmade souvenirs and vintage kimonos inexpensively. There were lots of little food stalls too, mainly selling octopus balls on sticks and savory pancakes, mmm, octopus balls…

When: 21st of the month (smaller market on first Sunday)
Time: 07:00~16:00
Where: Toji Temple, Kyoto