"Ding, ding" jingled the cow bells as we scrambled up the hillside in search of wild raspberries. The cows too caught up in munching on their lunch to notice us hunting for little orange coloured berries just a new meters away. Sweeter than any raspberries I've ever tasted, we gobbled them up as quickly as we could pick them undeterred by the occasional scratch from the spiky brambles that 'got you' when you foraged a little too enthusiastically.
Bells were a delightful recurring theme on our recent trip to Lijiang, in China's south west province of Yunnan. A subtle throwback to it's significance as a major trading post along the 'Ancient Tea Horse Caravan Trail' when horses wearing bells would carry bricks of tea over the Jade Dragon Snow Mountains.
Wandering around the old town, you'll still hear the sounds of dinging bells, but now they each represent the wish, dream or hope of a visitor. Lijiang is famous for it's Wishing Bells, mini reproductions of the bronze bells once worn by the horses on the Tea Horse Road. Each has a wooden tag inscribed with Nakhi pictographs on one side, and a blank space to add your message on the reverse. Thousands are hung up on trees and structures around the city and look quite beautiful en masse.
Emma and I were invited to visit Lijiang as guests of Grand Hyatt to experience what this culturally rich region had to offer; but it wasn't all play. The primary reason for our visit was to star in a short film which will launch the new 'World of Hyatt' loyalty program titled Journeys of Understanding. The film tells the story of how Lijiang's wishing bells take Emma and I on our own special journey of understanding. Our adventure takes us through the ancient streets of the old town, and with the help of a thoughtful Hyatt staff member, to the home of a local family, where we experience their warm hospitality.
Watch the video here

The opportunity to visit this unique part of China was one we couldn't pass up. The three old towns that make up the historical city of Lijiang have been be classified as a UNESCO World Heritage Site to preserve it's unique architecture and cultural heritage. Streams and aqueducts run along many of the streets in the lower sections of the town which are criss crossed by bridges of all shapes and sizes, some up to 800 years old. The streams are lined with willow trees that grow at the water's edge, the perfect place to grab some shade when the sun gets a little warm.
For a bird's eye view of the city, head up the hill through the narrow lanes, your hike will be rewarded.
Yunnan is home to over over 25 recognised ethnic minority groups, and Lijiang and it's surrounding villages are mainly home to the Nakhi people, who use the Dongba script, which is the only pictographic writing system in use in the world today. We discovered a mural in one of the quieter back streets of the old town featuring the pictographs with English translations. Emma loved guessing what each drawing meant. Some were quiet obvious, like 'family', others needed a little more imagination to interpret.
At the Grand Hyatt Lijiang, bells are subtly featured in the interiors. In the lobby giant bronze bells double as a stunning light feature, and our room (which was super fancy) had a lovely handmade bell sculpture in it too.
The overall design of the property is an interpretation of a noble Chinese house in a bustling local village, combining traditional Nakhi architecture with contemporary design. The tiled roofs of the Grand Hyatt blend seamlessly into the surrounding landscape, and you could be forgiven for thinking the hotel is a restored heritage property, rather than a new building.
My favourite vista was the view of the Tea House reflected in the koi filled central lake, with the stunning backdrop of the Jade Dragon Snow Mountains. Postcard perfect!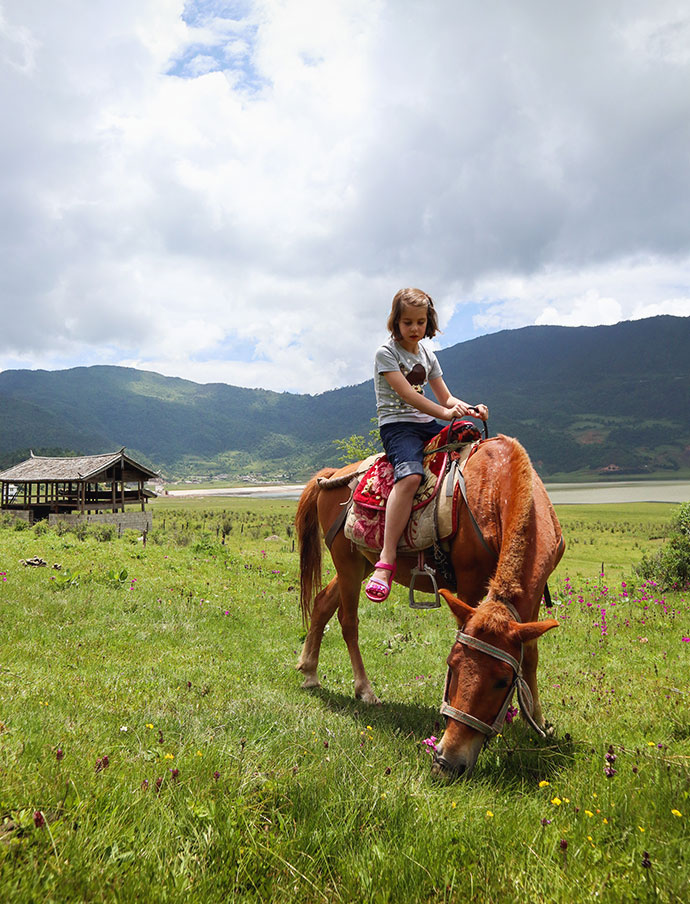 The majority of tourism to Lijiang are visitors from other parts of China, they come here for the fresh air and open space. My preconceptions of China as a busy, crowded and smoggy place were totally shattered once we headed just a little out of town into the countryside. Our gorgeous local Nakhi guide, Lushan, insisted we visit some local villages to see what life is really like in Yunnan. She took us to her own village (Yuhu Village) where the locals were slightly bemused to see us, and then to one of her favourite picnic spots, near Wenhai Village, where the fields were filled with wildflowers and cows that grazed quietly as their bells "Ding-a-linged".
Now, for me, bells and Lijiang are inextricably linked. Whenever I hear a bell ring I'll be reminded of foraging for wild berries on a mountainside, strolling along the old town's cobblestone streets alongside bubbling streams, and sharing shy smiles with the gentle people of Lijiang.
My Poppet travelled to, and stayed in Lijiang as guests of Grand Hyatt. As always all thoughts and opinions are my own. Travel date July 2017.