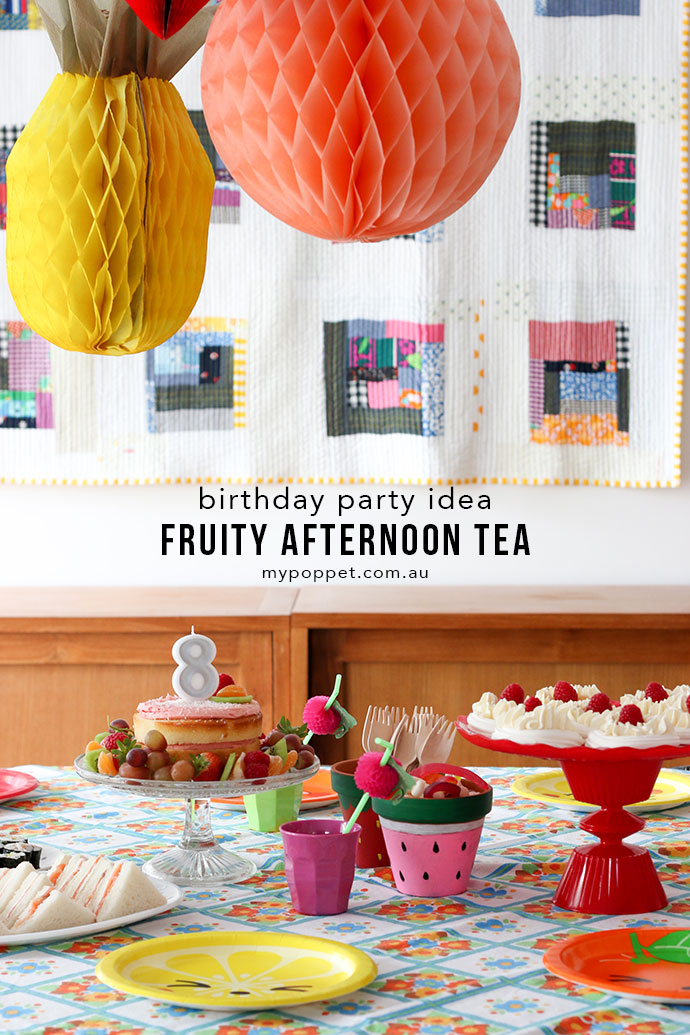 Here's a cute and colourful kids party idea that you can put together in only an hour or two without breaking the bank – a Fruit Themed Afternoon Tea Party!
It was Emma's birthday this week, but because we've had a lot going on I decided an intimate gathering afternoon tea with immediate family rather than a big party.  It was initially going to just be a cake and candles thing, just to mark the day so I didn't plan anything at all apart from a little bit of baking. Turns out that I was out of butter on one of the only days of the year when the supermarket is closed – ANZAC Day.
Emma's cousins were arriving at 2pm and the shops didn't open till 1, so it was time to change plans.
The upside of having a few hours to spare (not baking) was that I could put some effort into decorating for the party. Emma suggested an Alice in Wonderland theme, but I vetoed that because the expected me to whip up a film quality costume for her – lol, wasn't going to happen.
The inspiration for the fruit them struck when I dug out these cute paper plates that I'd picked up at Daiso about a year ago. They were too cute to resist at the time, and I'm glad I did, because they really transformed the table. If you can't find the plates at Daiso, or don't have one near you, you can purchase them online here. (affiliate link)
Turns out I have a thing for fruity party supplies, because I had some fancy straws with apples on them in my party drawer too.
Get similar party straws online here or here (affiliate links)
It didn't take long to gather anything fruit themed from around the house to add to the tablescape including some cute fruit terracotta pots I recently created for my upcoming craft book.
I also unearthed some old tissue paper honeycomb decorations and transformed them into giant fruit – get the full instructions for the Honeycomb Paper Fruit Party Decorations on My Poppet MAKES.
To make things simple, because I only had one hour to shop and prepare all the food, I decided to ditch the baking from scratch idea and hit the supermarket bakery section for the cake.
Afternoon tea consisted of a simple to assemble menu:
Mini Cake (ready made) decorated with fruit
Mini sushi rolls (ready made)
Smoked salmon and cream cheese sandwitches
Lamingtons (ready made)
Raspberry and lemon curd mini pavlovas (assembled)
Sweets
No cooking required meant that I had the food ready in a flash. The trickiest part was whipping the cream for her mini pavs.
So there you have it, an easy to put together party idea that kids will love. At least this 8 year old was pretty pleased with it.
HAPPY BIRTHDAY EMMA!
PIN FOR LATER
MORE PARTY IDEAS –