Halloween is becoming more and more popular in Australia every year, we just love any excuse to dress-up and throw a party.
Emma had a great kids Halloween party for lots of her little friends a couple of years ago, and it was a big hit! If you are looking for Kids Halloween Party Food and Activity ideas, head over to the post for lots of inspiration.
But Halloween parties aren't just for kids, they are a great opportunity to get together with friends and family for a fun and festive catch-up. When was the last time you threw a shindig just because?
Because it's Spring here in Australia, why not skip the dark, autumnal and sometimes ghoulish decorations and opt for a fresh modern Halloween Party theme instead.
Some of these Modern Halloween Party Decoration Ideas are so sophisticated that you'll want to keep them up all month-long.
There's no tacky faux spider webs and zombified skeletons in this lot, it's bright colours, fresh stripes and quirky motifs for me this Halloween.
Whether you are decorating for a party, or looking for some home decor inspiration for the Halloween season, I've got thirteen fabulous ideas for you.
In this case, thirteen is your lucky number when it comes to Halloween Party ideas!
13 Modern Halloween Party Decoration Ideas
Retro Modern Halloween – Graphic Monochrome + Orange Pop
Keep it elegant with graphic black and white decor items, then add a minimal pop of orange for a classic Halloween colour scheme without feeling too autumnal.
1. Retro Black Cat Poster – Garvin and Co
2. Ghost Balloons and Black Bats – 100 Layer Cakelet
3. Striped Halloween Paper Fan Decorations – Eighteen25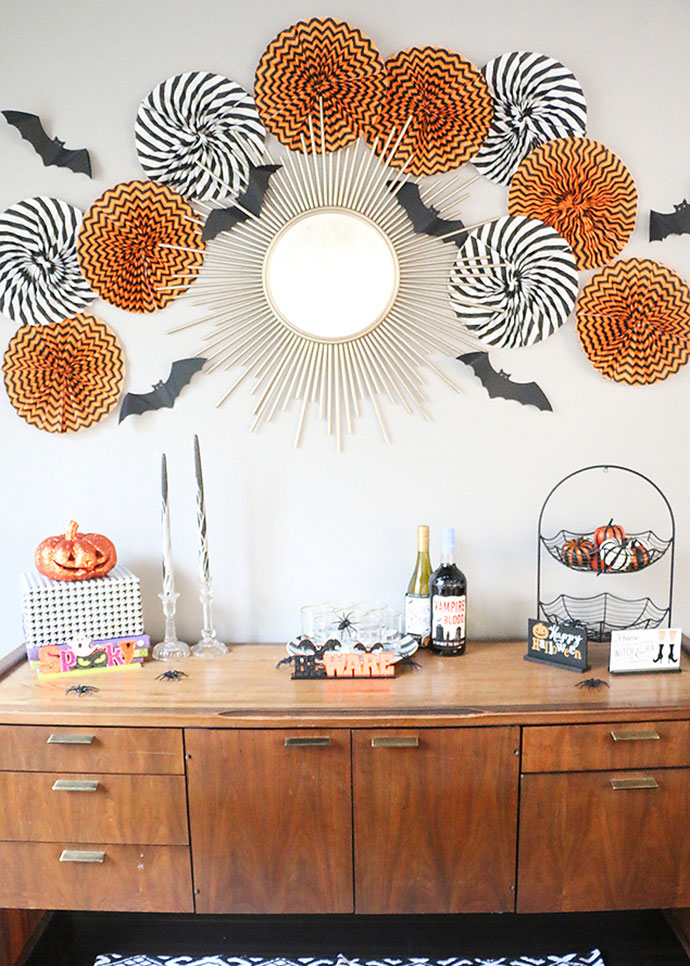 4. Black and White Halloween Mantel – Apartment Therapy
Spring Fling Halloween – Pastel Pumpkins + Flowers
Embrace the colours of Spring and incorporate flowers and pastel colours into you decor. Inexpensive plastic pumpkins and other Halloween decor items can be painted in an assortment of happy spring colours.
5. Floral Halloween Party – A Kailo Chic Life
6. Sequin Teal Pumpkin – S Q U I R R E L L Y M I N D S
7. Painted Pastel Halloween Decor – Amidst the Chaos
8. Colour Block Honeycomb Pumpkin – Lovely Indeed
Fun Fiesta Halloween – Think Pink with a twist
Love it or hate it, pink is certainly the hottest of colour trends right now. 'Halloween it up' by adding bold black and white graphics, a touch of orange or coral, and for a little more sophistication, pops of silver or gold.
9. Modern Halloween Party – 100 Layer Cakelet
10. Halloween Wine and Cheese Girls Night In – Twinkle Twinkle Little Party
11. Googly Eye Halloween Party – A Kailo Chic Life


12. Pink and Black Halloween Party – Kara's Party Ideas
13. Geometric Halloween Party – Merrick's Art
I hope I've given you lots of great Halloween party decoration ideas. Are you inspired to throw a modern Halloween Party this year?
Take a look at the video below for more Halloween Party food and activity ideas.