Every year for her birthday Emma asks me for a Halloween themed party; it doesn't feel quite right to have a Halloween party in April, but like Christmas in July it may eventually catch on. When she asked me again for a party this Halloween I really couldn't deny her a little bit of spooky fun, it's a great excuse to dress up and play silly games with a few little friends.
It's taken a while to catch on, but Australians are starting to embrace Halloween, maybe because we have no real tradition of our own where kids and grownups can dress up.
In Europe and South America Carnival/Mardi Gras season is a really big deal and is part of the religious and cultural fabric of those communities.
Purim falls at a similar time of year and is a holiday in the Jewish culture where adults and children masquerade and dress up. Whether you like it or not, it seems Halloween is becoming our default festival for hijink and dressing up.
I was reluctant at first, but seeing how much fun the kids had at our little shindig this weekend, I'm a convert. Who am I kidding, I love any excuse to wear a fun costume!
How to throw a stress-free Halloween Party
Emma and I had a super fun time planning her party together, and thanks to Pinterest we got lots of easy ideas for Halloween food and party games.
To make sure the party was as stress free as possible I limited the number of invitees to just 6 kids and set a budget for the whole party of around $30 for everything.
Invitations were a free design on Canva and emailed.
Food was simple, fun, with lots of healthy options. I prepared it all in under an hour.
Halloween Party Food Ideas: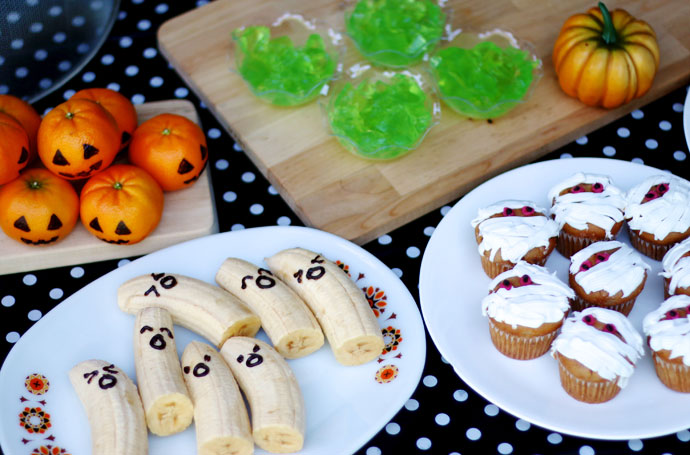 Mini Jack-o-Lantern Mandarins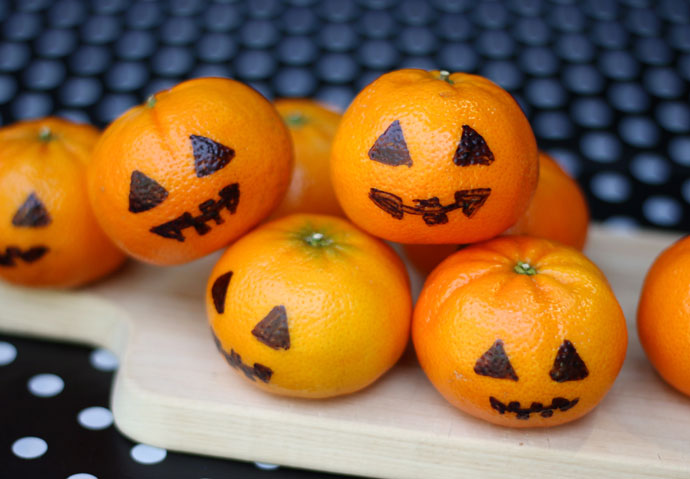 These mini Jack-o-Lanterns make great lunchbox treats and only require a sharpie permanent marker. Just draw on a Jack-o-Lantern face to create your own mini pumpkins. These can be prepared well ahead of time and double as awesome table setting decorations. Original inspiration from A Designer Life.
Monster Booger Jelly Cups
The kids loved the booger jelly cups. Just remember to prepare the Lime jelly the night before, I made 2 packs (1000ml). Just before the guests arrive, break up the jelly and spoon it into little bowls.
Ghost Boo-nanas
Another healthy Halloween food idea that kids love. I used chocolate icing that comes in a prepacked squeezy tube like this one, but you can also use melted chocolate or choc chips instead. These need to be prepared just before guests arrive or risk the bananas turning black. Original inspiration from One Little Project.
Mummy Cup Cakes
I totally cheated with this one and bought a pack of mini muffins from the supermarket rather than baking my own because I was a bit busy leading up to the party day. These can be prepared ahead of time but I decorated them about an hour before the party. This decorating kit made it easy with interchangeable nozzles and 3 colours of pre made icing.
You don't have to be a wizz to make them look good, I'm sure the kids would have fun giving this one a go.
Original inspiration from Sugar and Charm.
Severed Finger Hot Dogs
Out of all the frightful food on offer, I think Emma was most excited about these realistic looking severed finger hot dogs. Just cut long frankfurters in half and slice off the tip to mimic a nail. Squirt with sauce on the severed end to look like blood and have fun watching the reactions.  Original inspiration from Party Tipz.
Halloween Party Activity Ideas:
We had so much fun planning the Halloween party games, I had a few pre-organised activities and then we ended the party with an old fashioned dance-off because everyone loves to dance!
Wrap the Mummy
Give the kids a few rolls of toilet paper and get them to wrap each other up like mummies. They had a ball doing this and it entertained them for a good half an hour. Such a lot of fun and you should have seen the smiles – hilarity all round!
After it was all done the kids had fun throwing the paper up in the air. Clean up was quick, everyone helped collect it all and put it in the bin.
Original inspiration Ther House.
Halloween Themed Colouring in Activity
I picked up some fun cardboard cut out characters from a craft store for a few dollars and it helped the kids calm down after all the toilet paper madness. The kids liked a bit of colouring in and they could take their creations home. You could also print out your own colouring pages if you don't want to buy pre printed ones.
Pass the Pumpkin
This game was improvised on the day, the kids kept asking when we were playing pass-the-parcel, so my sister came up with the great idea of using the same idea but passing a pumpkin bucket filled with sweets instead.
Pin the Bow tie on Mr Bones
Mr Bones was our party mascot and quite the card. I bought him at Aldi for only $3. He was a very dapper skeleton and we played Pin the Bowtie on Mr Bones. I made a paper bow tie, and each child took turns to be blind folded an have a go of pinning the bow tie on him.
I didn't take any photos of the activity as I was busy running the game, but you get the idea.
Costumes
Everyone came in their scariest costumes.
Emma was a Vampire of course.
My sister looked amazing in her Day of the Dead face decals.
I was a witch inspired by Endora from Bewitched. Sadly I don't have her flaming red hair, but loved an excuse to wear one of my vintage chiffon party dresses.
Happy Halloween!
If you liked this post pin the image below to Pinterest