I made some cucumber pickles! I've always wanted to try pickling but have been intimidated by the whole 'canning' process which involves heat treating the bottled pickles to extend the shelf life. Turns out you can still totally make a good pickled cucumber and skip all the faffing, you just need to store it in the fridge and consume within a few weeks, which isn't a problem because we eat pickles like they're going out of fashion.
If you've got a glut of cucumbers, or score a big bag from the green grocer for just $1, like I did, you should totally have a go at making your own cucumber pickles. I've added spices I had on hand – tumeric, mustard seed and peppercorns, but you can get creative and add whatever takes your fancy.
The recipe is adapted from several Bread & Butter Pickle recipes I found online, and adjusted to suit the quantities and ingredients I had on hand.
There's nothing like a side of homemade pickles to jazz up a so-so lunch. Try it on cheese and crackers, with a ploughman's lunch or on homemade burgers.
Click on individual images to enlarge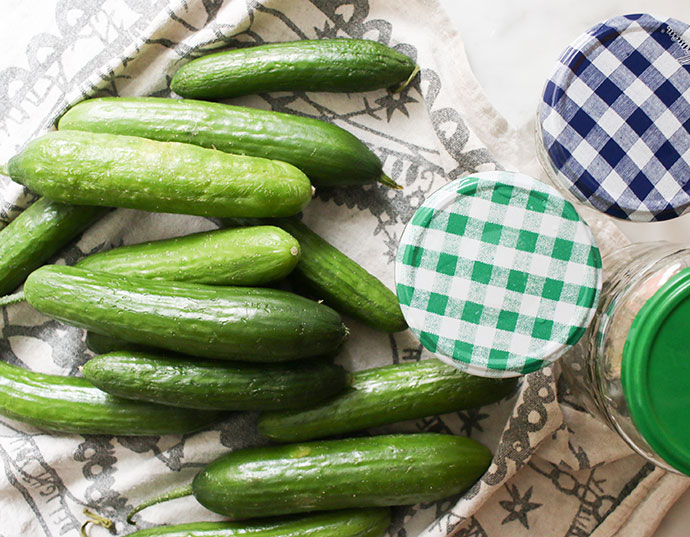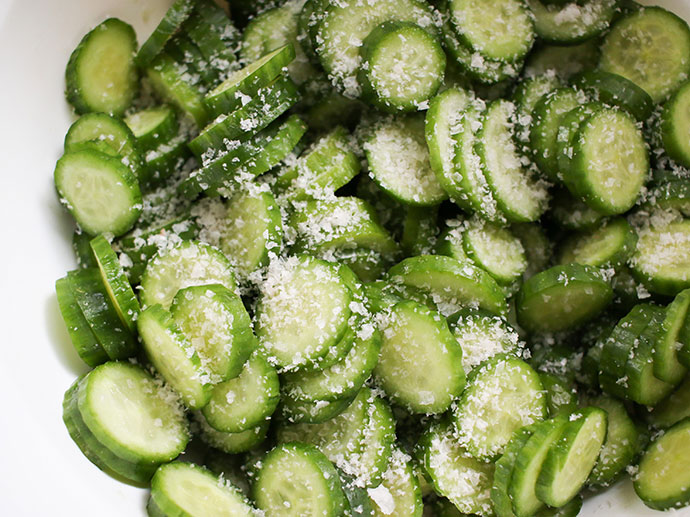 Tumeric & Mustard Seed Cucumber Pickles
Yield: 4 jars
Prep Time: 2 hours
Cook Time: 8 minutes
Additional Time: 1 day
Total Time: 1 day 2 hours 8 minutes
An easy to make cucumber pickle with tumeric, peppercorns & mustard seed.
Ingredients
1kg Lebanese cucumbers (washed & dried)
2 tbsp salt
1 cup white vinegar
1 cup apple cider vinegar (or white vinegar is fine)
1 cup water
100g sugar
1 small brown onion, finely sliced
3 tsp mustard seeds
1 tsp mixed peppercorns
1/2 tsp ground tumeric
4 medium glass jars (about 325-350ml)
Instructions
Slice cucumbers about coin thickness.
Transfer to a large bowl and sprinkle with salt. Leave for 1-2 hours to draw out excess moisture.
In the meantime, sterilize jars - see note
Drain cucumbers thoroughly in large colander (do not rinse).
Return cucumbers to washed and dried bowl and add onion and mustard seeds. Mix well.
Make the pickling liquid by combining vinegar, sugar, turmeric and water into a medium saucepan over low heat. Stir to dissolve the sugar, then increase the heat and bring to the boil. Simmer for 5-8 minutes.
While the jars are still warm, carefully spoon the cucumber mixture in and add a few peppercorns to each jar. Don't over pack as vinegar mixture needs to be able to cover every slice of cucumber.
Carefully fill the jars with the hot pickling mixture until the cucumbers are completely covered.
Tap jars gently to remove air bubbles.
Seal promptly and invert jar for at least 2 minutes and allow to cool to just warm before refrigerating.
Set aside for 1 day to develop the flavours.
Will keep in the fridge for 6-8 weeks
Notes
Wash jars and lids in warm soapy water and rinse well.Place jars (upright) and lids (separately) on an oven tray in cold oven, Heat oven to 120C for at least 30min. Remove and fill immediately, while still hot.
All My Poppet recipes use Australian standard 250ml cup measurements unless otherwise specified.