Exploring a city on foot is one of my favourite ways to get a feel for a new place, wandering around can give you a real insight into how locals live. You can discover so much in London by just going for a walk through the busy streets, but the city is so vast and diverse it's worth changing your perspective to get a different view of the city. On our recent trip to London, Emma and I ventured beyond street level to experience the city from other angles and got lots of insight into it's geography, infrastructure, history and architecture in the process.
From Above
Get a bird's eye view of London from the top of some of the city's most iconic landmarks. Seeing the city spread out below you is a great way to orientate yourself and get the 'lay of the land'.
Kids will love seeing this bustling city shrunk down to look like a playscape of tiny cars, buses, trains and little ant like people.
Our pick for the best view of London from Above are:

If you are going to look down on London from above you may as well do it from the highest viewing platform in the city situated at the top of The Shard, one of London's newest skyscraper landmark and the tallest buildings in western Europe. At almost twice the height of any other viewing platform it offers 360-degree views for up to 40 miles on a clear day. The View from the Shard team are so confident that you will get great views, that they have a bad weather guarantee – In the unlikely event that you can't see at least three of the following landmarks – London Eye, St Paul's Cathedral, The Gherkin, Tower Bridge and One Canada Square, you'll get to return for free.
Our highlights:
As advertised, the views were spectacular. We had fun picking out the landmarks that we had already visited and following the Thames all the way back to Greenwich. You'll get great views of Tower Bridge and the Tower of London.
Emma loved the interactive touch screen telescopes with information about all the landmarks you could see and an option to see alternative day, night, sunrise and sunset views.

The high speed lift ride was dazzling with it's kaleidoscopic video screen ceiling, and you mustn't miss the bathrooms on the 68th floor with its £2billion views. Now that's what I call a 'throne'. To be honest I'd go again just to use the bathroom!

Essential info:
The View from The Shard
The Shard
32 London Bridge Street
London
SE1 9SG
(entrance is on Joiner Street)
Opening Times
October – March
Sun – Wed 10am – 7pm (last entry 6pm)
Thurs – Sat 10am – 10pm
April – October
Open daily 10am – 10pm (last entry 9:30pm)
Closed on 25 December
Ticket price
Adult/child £25.95/£ 19.95
(All tickets are dated and timed for your arrival)
Getting there
London Bridge Underground Station (Northern and Jubilee line services)
London Bridge Main Line Station (Via The Vaults)
My Tip:
Allow 60-90min for the experience (plus extra time for security screening)

The London Eye has probably become one of London's most recognisable landmarks of recent years. Situated close to Big Ben and the houses of Parliament, it should really be on your must see list even if you don't go for a ride. This giant Ferris Wheel takes you on a leisurely 30-minute ride, it moves so slowly that you don't really feel it but allows you to take in views of Central London's sights from all angles.

You'll get amazing views of Big Ben, Westminster Abbey and the Houses of Parliament. We did this on our first day so it was super exciting to see the city spread out before us.
Emma loved the novelty of riding in a futuristic 'bubble' and I was super impressed by the engineering. I must admit I spent more time admiring The Eye's structure and mechanics than taking in the views.
Don't miss the 4D experience which is included in your ticket price, we were so excited to ride the eye that we forgot about it and only realised when we go home.
Essential info:
The London Eye
Riverside Building
County Hall
Westminster Bridge Road
London
SE1 7PB
Opening Times
Opens daily – ticket office opens at 9.30am and the first experience starts at 10.00am
Closing times vary throughout the year (check website for details)
Closed on 25 December
Ticket price
Adult/child from £19.35/£13.95
Fast track and flexi tickets available
Getting there
Waterloo Underground
My Tip:
Queues can get huge during peak times, best to book earliest slots online and pre-print tickets at home. If you are short on time consider upgrading to a fast track ticket.
Arrive at least 30min before allocated ride time.
The area attracts large crowds so keep an eye on children and personal belongings.

From the Water
Without the Thames there would be no London, the city's waterways have been the lifeblood of the city since roman times. The rivers and canals were the historical equivalent to highways today, so the view from London's waterways give you a glimpse into the city's past.
Kids will love the adventure of taking a boat ride.
Our pick for the best view of London from the Water are:

The Thames Clippers are a commuter boat service that has a regular routes up and down the Thames ferrying locals to and from work. It's an affordable and relaxing way to take in all the sights along the river and you'll get to experience what it's like arriving in London by boat. We travelled from Greenwich to Waterloo and it was a fun alternative to taking the tube. Sailing under Tower Bridge was a real highlight and if you are in desperate need of a coffee they have a cafe service on board.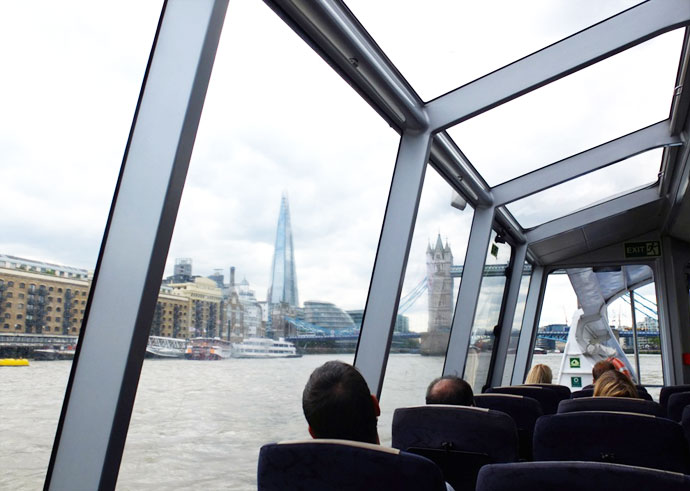 Essential info:
Scheduled Times
Weekdays from 6am
Weekends from around 9am
Check timetable here
Ticket price
Prices start from £6.90, children 5-15 half price
You can now just touch on with your Oyster card

Getting there
19 piers along the river from Putney to Woolwich
My Tip:
Avoid peak commuter times. Pay with your Oyster card for discounted fare. River Roamer tickets allow you to hop on and off all day.
Canal Boat trip on Regents Canal
Cruise along the historic Regent's Canal, through beautiful Regent's Park and the Maida Hill Tunnel. Original narrowboats that were once used to carry cargo have been converted to carry visitors along the canal. People still live in boats moored along London's canals, travelling along the waterways and experiencing little glimpses of 'canal life' will give you a real alternative view of the city.
We boarded a London Waterbus Company narrowboat in Camden and enjoyed a leisurely 50min cruise all the way to picturesque Little Venice where three major canals converge. I could hardly believe we were in London, it was so tranquil and leafy, like a secret undiscovered world. Our day on the canal was one of the highlights of our stay in London.
Essential info:
London Waterbus Company
Boarding at:
Camden Lock Market
London Zoo
Little Venice
Timetable
Timetables vary seasonally but are generally hourly departures starting at 10am
Ticket price (one-way)
Adult/child £8.30/£6.80
Return tickets available, tickets are purchased on board.
Getting there
Camden – Camden Town (Northern Line) is the closest tube.
Little Venice – Warwick Avenue Station (on the Bakerloo Line) is the nearest station.
My Tip:
Lightweight prams are allowed on board as long as they can be folded flat, they are stored on the the roof during the trip.

From Below
Beneath London lies a labyrinth of tunnels – rail tunnels, air raid shelters left abandoned after the war, underground walkways between buildings and even vaults under bridges. Some are not accessible to the public, but most of them are essential to keeping the city and it's residents moving. London's Underground and other public tunnels take the pressure off the city streets, but life under the city isn't totally utilitarian, you'll find art in unexpected places, musicians entertaining commuters and secret entries into museums.
Our pick for the best experiences under London are:

The London Tube and it's Tunnels
If you catch the tube you'll no doubt be forced to walk along long tunnels at least a few times during your visit. If you are lucky you'll stumble across one or two really cool ones like we did. Our favourite was the LED light tunnel that links Pancras Square to King's Cross and St Pancras rail stations, the coloured light art installation cycles through the rainbow and feels like a scene in a science fiction movie.
Even the old tube station tunnels have treasures to discover. Emma loved spotting these Labyrinth artworks that are hidden in every tube station in London, there are 270 in all. Read about Art on the Underground here
Did you know there is an underground walk tunnel from the South Kensington Underground station straight into into the V&A museum? Handy on a rainy day, no umbrella required.
Greenwich Foot Tunnel

The Greenwich Foot tunnel runs under the Thames from Greenwich town centre on the southern side across to Island Gardens park north bank. It was built over 100 years ago and opened in 1902 to allow workers living on the south side of the Thames to reach their workplaces in the London docks and shipyards then situated in or near the Isle of Dogs.
It's still used by used by 1.5 million pedestrians a year.
Walking through the tunnel is quite exciting and feels a bit strange as you can see and feel the gradient down as you reach the central point under the river and then the rise as you head towards the bank. It's only about 3m wide so if you are a little claustrophobic you may want to avoid it. You can either take a 100 step spiral staircase or lift up or down and then it's a 10 minute walk across.  We took the staircase down and lift back up.
There are stories that the tunnel is haunted by a Victorian couple, I'm not superstitious but it's certainly an atmospheric environment and walking through alone would feel kind of creepy.
The view of Greenwich from Island Gardens Park is not to be missed.
Look for the domed entrances on either side of the river.
Essential info:
Opening Times
The tunnel is classed as a public highway and therefore by law is kept open 24 hours a day.
Cost
Entry is FREE