If you ever find yourself in London on a Sunday, I'd highly recommend a visit to the Columbia rd Flower Market. We spent a delightful morning there on our recent trip to London and it was one of the highlights of our visit.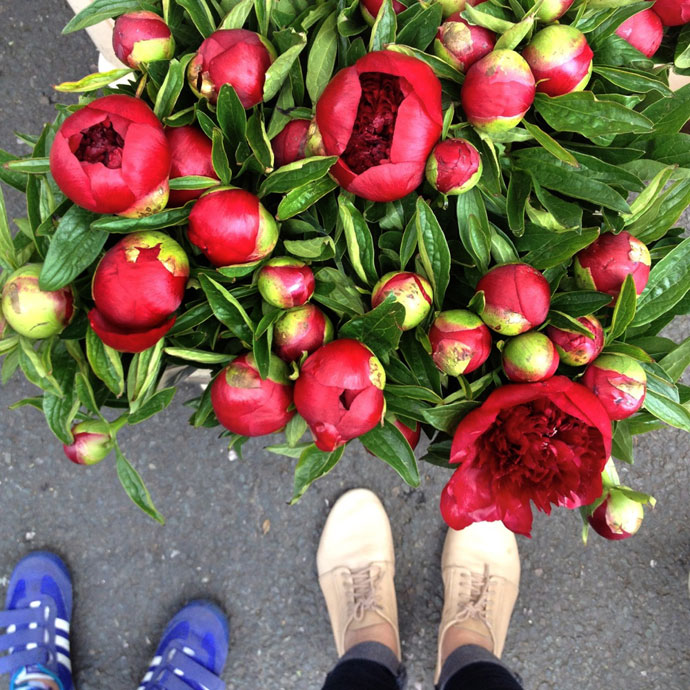 It was a lovely sunny morning and we headed off early to avoid the crowds, at 9am, just an hour after opening, it was busy with locals buying armfuls of flowers, grabbing a quick bite and enjoying the hustle and bustle.
On Sundays the street is transformed into a jungle of plants and flowers. You'll find everything from fruit trees to cacti, and house plants to cut flowers. The air is scented with the perfume of roses and peonies.
So much colour! I got pretty snap happy, it was a visual feast.
Buskers add to the festive atmosphere, and the music provides the perfect backdrop for people watching.
Apart from the actual market, Columbia Road has some really amazing little independent shops, galleries and cafes that are still in original Victorian storefronts. Just duck in behind the market stalls and walk along the narrow foot path to reveal some hidden gems.
Emma's favourite place was Suck and Chew, and old fashioned sweet shop that sells lollies individually and toffee in vintage tins. Emma had a whole 50p to spend on pick and mix, and deliberated for quite a while on her choices. We don't eat lollies much at home so she was literally as happy as a 'kids in a candy store'!
Update 2016: This shop is no longer in business
I treated myself to a Dark Chocolate Tunnock's Tea Cake. They are my favourite, and a bit hard to get in Australia. I've only ever seen the milk chocolate ones before. Just between you and me, I ate quite a few during my stay, but now regret not eating at least one every day because it may be a long time before I have them again.
Once we'd had our fill of Columbia Road's offerings, it was time to wander and discover what the little side streets had to offer. Lots, lots more.
There was food stalls and cafes with tables that spilled out onto the street. More buskers and mini flea in the yard on Ezra street with sellers hawking old wares.
I didn't expect to find a cart selling freshly shucked oysters. I can't resist a good oyster. These were fresh off the boat that morning from the Essex coast and they looked delicious.
For me watching someone shuck an oyster is always a nail biting experience, I'm always imagining that the shucker is going to loose a finger. But Emma was fascinated, and the lady was really sweet and spent some time explaining the whole process to her.
Emma even decided that she was going to be very brave and try an oyster, but had a little lick and decided it was too salty. I was really proud of her for at least giving it a go.
I had four with shallots and red wine vinegar drizzled on top. YUM!
The oysters just whetted my appetite so it was time to grab lunch – a couple of cream cheese and salmon bagels from Cafe Columbia, a local institution which only opens on Sunday and only sells bagels. I think they were only about £2 each, which is a real bargain and they made a perfect picnic lunch at Ravenscroft park across the road. (A bag of crisps is compulsory when eating a sandwich in the UK).
The park was hosting and art installation of a field full of cotton stems, it looked amazing.
After a little play at the playground it was time to head off to our next adventure, The Geffrye Museum.
Where: Columbia Road, Shoreditch, London E2 7RG
Opening times: Sundays from 8am 'til 3'ish (some shops are also open during the week)
Tips:
Get there early as crowds build up quite quickly by lunchtime especially on nice days.
If you can, avoid taking pushers/prams as it can be very hard to walk through the crowds and the shops and footpaths along the sides are very narrow.
Kids will enjoy some timeout at the large playground at Ravenscroft park, right at the end of Columbia rd.
Grab a bargain late in the day (around 2.30) when stall holders are looking to clear remaining stock.
If you can't visit on a Sunday, the area is still worth a visit to check out the stores and cafes.