Notting Hill, famous for it's market on Portobello road, colourful houses and many movie appearances where it plays a strong supporting roll. If you've seen the movies Notting Hill, About A Boy, Sliding Doors, Love Actually and Paddington, you'll get a strong sense of déjà vu, like you've possibly been here before.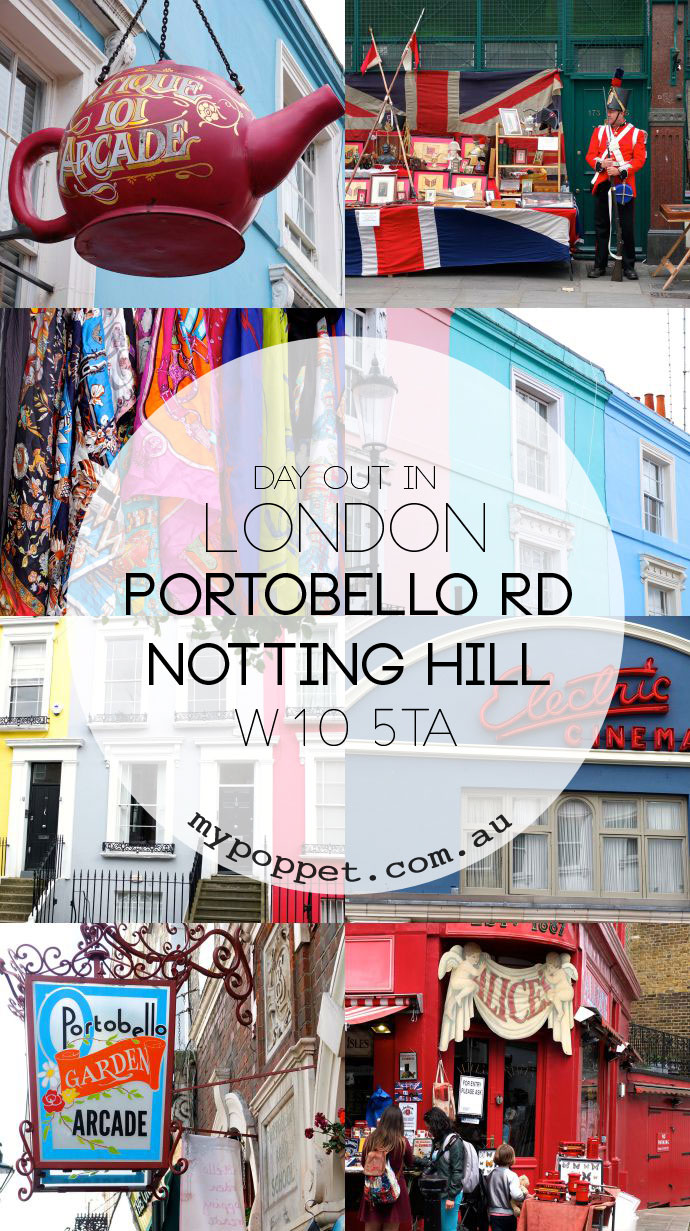 It was our last Sunday in London and the weather was fine, so I thought it would be fun to have a little wander around this charming area. Notting Hill is one of London's trendiest suburbs, it's pretty quiet most of the week but on Saturday's thousands of tourists and locals flock to Portobello Road to experience it's famous antique market.
When I lived in the UK we visited the Saturday market a couple of times and it was SUPER busy! The mile-long street market sells a wide variety of goods, clothes, antiques and even food, with different items being sold on different days. It is open every day and even on a Sunday, which is not an official market day, it had quite a lot to see.
If you are travelling with kids or are easily overwhelmed by crowds, it might be best to avoid Saturdays.
We started at Notting Hill Gate Tube station and followed the signs (and the other tourists) to the start of Portobello Road.
Emma immediately recognised Alice's Antiques, which was Mr Grubers Antique Shop in the movie Paddington. It wasn't open but Emma and Teddy (who just happened to come along for the day), were delighted and recounted the action packed 'bear raising' film sequence down Portobello road.
In fact Paddington is pretty famous around these parts, and you'll find him popping up everywhere.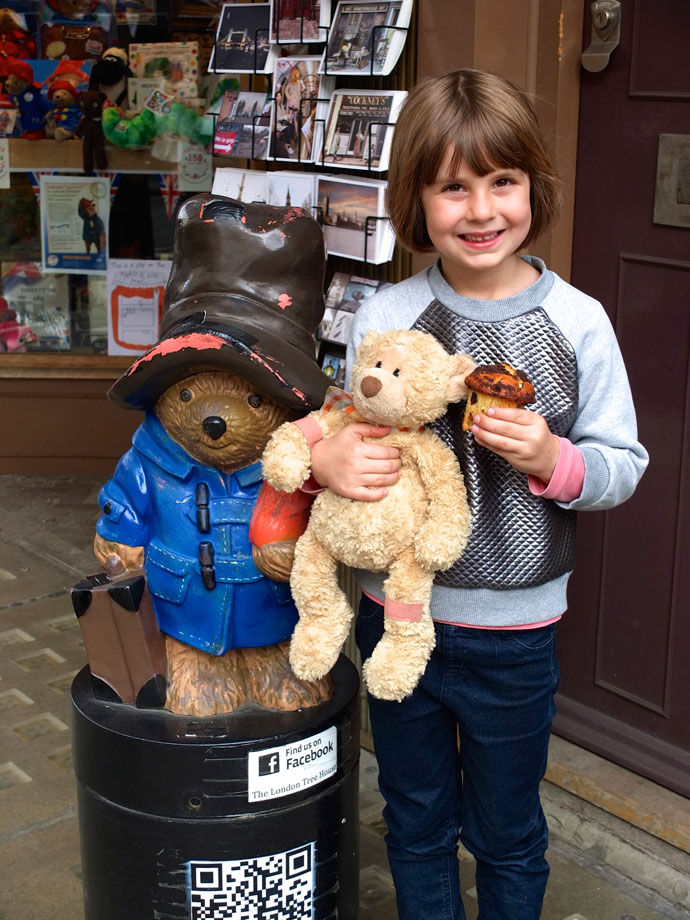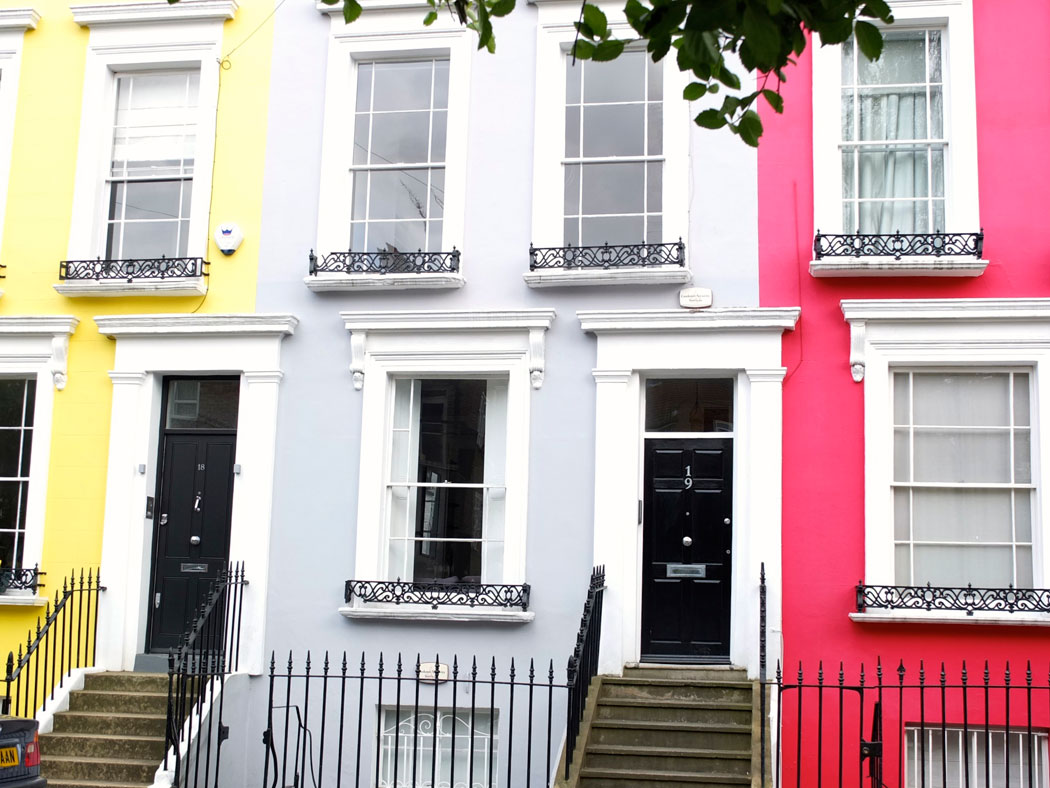 I recommend venturing off to explore some of the side streets. We found some very pretty, colourfully painted houses which I imagine are very popular amongst fashion bloggers to serve as backdrops for photo shoots.
One of our favourite finds was an adorable biscuit shop named Biscuiteers Boutique & Icing Café.
The shop was piled high with hand-iced biscuits and other baked treats. You can also try your hand at icing your own biscuits or enjoy and afternoon tea.
I particularly loved this English Breakfast and Veggie biscuit hamper, I bet I wouldn't have any trouble getting Emma to eat these 'greens'.
Towards the end of the road we reached Portobello Green which had a small market selling mostly vintage clothing and bric-a-brac. There was also an area with street food vendors that had lot's of tasty offerings.
After our mile long walk it was time to head all the way back to Notting Hill Gate and rest our weary feet.
Portobello Road Market
Portobello Road, Notting Hill London, W10 5TA
Getting there: Tube stations, Ladbroke Grove or Notting Hill Gate
Opening times:
Monday – Wednesday: 8am – 6.30pm
Thursday: 8am – 1pm
Saturday: 8am – 6.30pm
Biscuiteers Boutique & Icing Café
194 Kensington Park Road, Notting Hill London, W11 2ES
Opening times:
Monday – Saturday: 10am – 6pm
Sunday: 11am – 5pm
Alice's Antiques
86 Portobello Rd, Notting Hill London, W11 2QD
Opening times:
Tuesday – Friday: 9am – 5pm
Saturday: 8am – 4pm