We kicked off the new year with an 'out of this world' family outing to see the premiere performance of Cirque Stratosphere.
Gone are the days where a trip to the circus meant sitting on uncomfortable wooden benches under a draughty tent. Cirque Stratosphere is circus elevated to the next level, in more ways than one.
Playing at Melbourne's luxurious Hamer Hall, resplendent with its gold leafed foyer and cavernous performance space, we knew we were in for a treat.
From the creators of THE ILLUSIONISTS, CIRCUS 1903 and LE NOIR, Cirque Stratosphere is sure to thrill audiences around the world, as it has already at its previous venue, the Sydney Opera House.

Even as we took our seats, the excitement built as a space suit clad DJ played futuristic tunes to set the tone.
The lights dimmed and an astronaut emerged from the back of the theatre as if bouncing on the surface of the moon. This was our first clue that Cirque Stratosphere was themed around the iconic ​Apollo 11​ moon landing.
The show creatively tells the narrative story of the moon landing with each thrilling act, combining contemporary circus, dance, music and storytelling.
Its production design and costumes are inspired by the 60's modernist fascination with all things futuristic and 'Space Age'.
I particularly enjoyed how the circus acts supported the clever story telling with The Orbiter Cyr Wheel act mirroring the training astronauts undertake in a giant gyroscope.
Gravity defying acts included a trio on Russian Bar with gymnastic aerial feats, Hoop and Trapeze performances, Acrobats including a very exciting Hoop diving duo, and our personal highlight, Duo Velocity.
Duo Velocity is a precision rollerskating duo that spin at high speed on a small elevated platform. Being a skater myself I was in awe at the skill and also slightly terrified for their well-being!
Another heart-stopping act and the Grande Finale was ominously named the 'Wheel of Death' where 2 brave performers leap and run at heart-stopping speeds, both inside and outside what can only be described as a giant human hamster wheel.
The 12 circus acts are interspersed with comic acts that pulled members of the audience to participate on stage.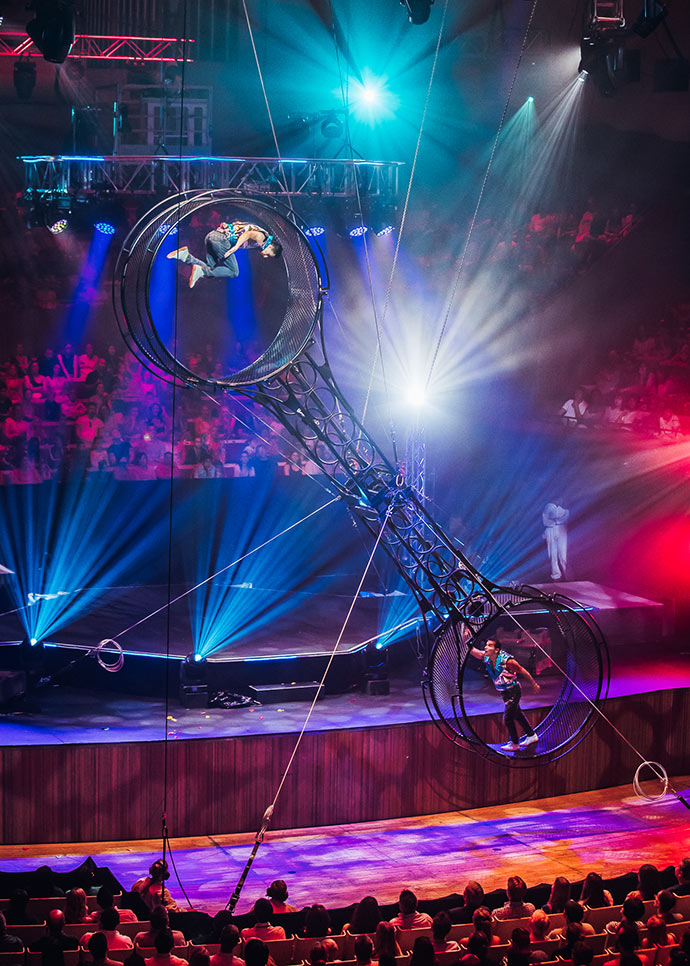 A big shout-out to the lighting design which was really quite incredible and made the performance very immersive.
A pair of young boys behind me audibly gasped and simultaneously exclaimed "cool" as the lighting rig descended with lights panning over the audience to mimic a space ship landing.
One of our highlights was the solar system of inflatable planets including earth orbiting around the room with swirling galaxy lights mimicking the vastness of space.
Cirque Stratosphere is a fun, visually spectacular and thrill-filled show suitable for all ages, that will delight audience members of any generation. The perfect summer highlight of these school holidays.
The performance runs for approximately 2 hours with a 20min interval.
I'd recommend it for families with school aged children or older.
Cirque Stratosphere
WHEN: 3 to 11 January 2020
WHERE: Hamer Hall, Arts Centre Melbourne
TICKETS:1300 182 183 or artscentremelbourne.com.au
Then follows with a return season at Sydney Opera House from 14 to 19 January 2020.
My Poppet attended this show as guests of MAD PR for the purposes of this review. All thoughts and opinions are our own.