Always dreamt of playing in a giant Snow Globe? Fancied swimming in a pool full of pink marshmallows? Maybe even having a tinsel bath?
Well your wildest dreams can finally become a reality at Melbourne's newest immersive festive experience Christmasland, by the people that brought you Sugar Republic.
Returning to Fitzroy's historic building and the original Sugar Republic Pop-Up location that was once home to MacRobertson Steam Confectionery Works,
This interactive sensory experience will take you back to all your childhood Christmases when the excitement leading up to the big day was palpable.
Sugar Republic founder Allison Jones has created Christmasland to be a venue for all ages, with a particular focus on the age 15-30 group who are often not catered for in Christmas-themed events.
"We want to see everyone, no matter their age, joining in the fun, whether that means jumping in the giant snow globe, getting a photo with Santa, dancing in the snow, or even taking a break over a milk shake at Mrs. Claus' Milk Bar," she says.
Emma and I were invited to preview Christmasland before it officially opened to the public, and as you can see in the video above, we both had a ball!
A celebration of all things festive, Christmasland showcases 10 immersive and exclusively designed spaces including Naughty & Niceville, Tinseltown, Candy Cane Lane and more.
The journey starts with a trip though the Pink Christmas Tree Forest where you can play a Favourite toys memory game and send a wish to Santa.
Photo opportunities abound, and it's really a fab place to snap that festive family photo to send to overseas friends or your Great Aunt.
Staff are on hand to take plenty of happy snaps. And if you want to take your photos to the next level, I'd recommend wearing fun matching outfits or even ugly Christmas Sweaters. Bring your own props for unique family Christmas photos.
Santa is at Christmasland every day. You'll find him hanging in the gingerbread cottage where you can also take and 'elfie selfie' with his cheeky elf on the shelf collection. Sometimes he wanders around so don't be surprised if you get photo-bombed by the Jolly man himself.
With shopping center Santa photo packages starting at round the $40 mark at most places, this DIY photo option is a much more entertaining alternative.
After a visit with Santa we head into Toys Toys Toys! With a giant advent calendar and a big Jack-in-the-box to pop out of. Every wall makes a good photo backdrop, so it's an Instagramers dream!
The Advent calendar is very cool and was hand painted by Ballarat illustrator Travis Price. You can open several doors which contain some silly Christmas cracker style jokes and puns.
One of the highlights of Christmasland is the Giant Marshmallow pool where you can slide right into a big tub of pink and white foam marshmallows, and then sample some real ones from So Soft Marshmallow Co.
Onto Naughty & Niceville where Emma spun the big wheel which landed on naughty twice!! They've got her figured out!
The 'Naughty' room was my favourite with a big pile of coal in the corner and a funny mugshot photo booth.
Of course you can still visit the 'Nice' room where you'll find a direct line to Santa and a few other surprises.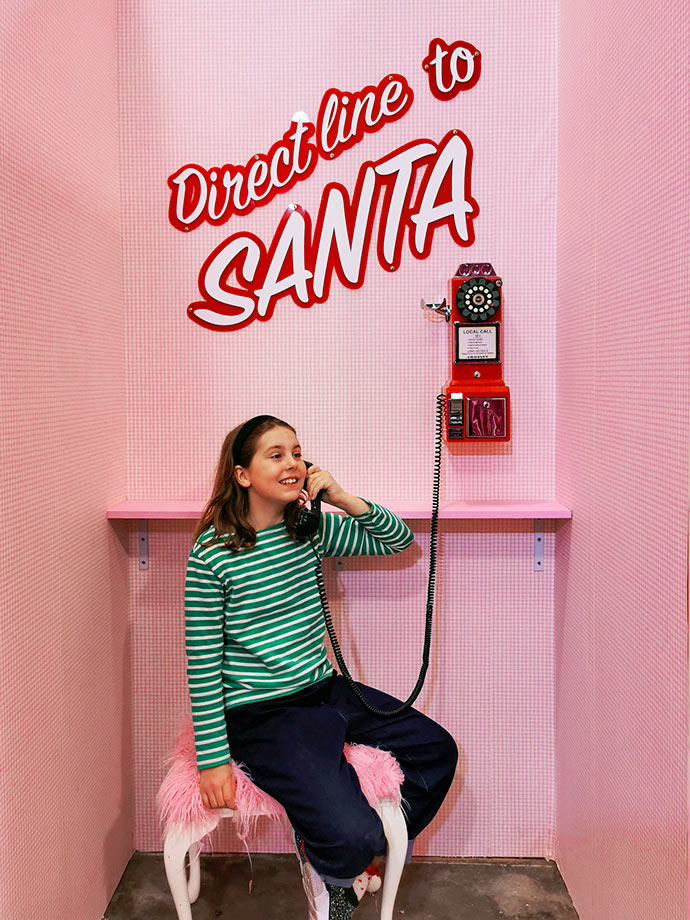 We passed thought an are called 'Showtime' which highlighted Christmas in pop culture like songs and movies before heading into Snowville.
Emma had a ton of fun playing in a giant snow globe full of fake snow. The fluffy snow really gets everywhere, so be prepared to pick it out of your hair for the rest of the day.
Did I mention there are plenty of fun photo opportunities? This little red car cutout was really cute!
Grab a sweet treat from the Market Stall on the way to Tinseltown. Four free confectionery samples are included with your entry ticket. Grab your favourites from from Darrell Lea, Jelly Belly, Mars, Skittles, Wizz Fizz and more.
If you like a bit of sparkle, Tinseltown is for you. This is the place you can have that tinsel bath that I mentioned earlier. If forest bathing is a thing, I'm sure tinsel bathing will totally catch on too, right?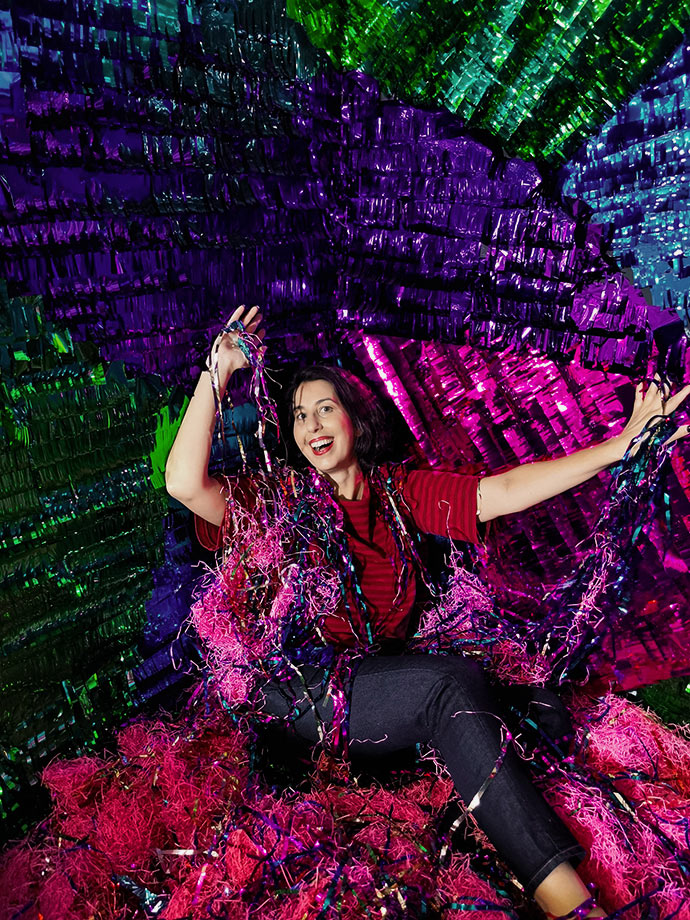 But of course the highlight of every Sugar Republic event has to be a swim in the giant ball pit. This year it's candy cane themed with red, white and pink ball, plus inflatable candy canes.
A swim in the ball pit pool is limited to 10 min with 10 people at a time. The clever attendants recommend you take your phone off silent before you enter so that if does get lost inside the ball pit it can be called and retrieved! I bet they've learnt that trick from experience. Ha ha!
Top Tip: Wear shoes that are easy to take on and off and socks for hygiene reasons.
Other fun experiences include:
Scratch and sniff baubles
Live snowfall every 30 minutes
Christmas neon wall
Sequin wall and giant bauble hanging chairs
Send a wish to Santa
We had a super fun time, and it was the perfect way to get into the spirit of Christmas. I'm extra motivated to put the decorations up a home now and get into the festive spirit.
Don't forget to grab a lolly milkshake at Mrs Claus' Milk Bar featuring iconic Aussie treats on the way out. I chose a Cherry Ripe and choc ice-cream combo, while Emma opted for a classic Cookies and Cream with Oreos.
Of course kids will love Christmasland, but I'd also recommend visiting with a group of adult friends before heading out to an evening of drinks an dinner. What a fun way to wrap up the year!
Christmasland
WHERE: 379 Smith Street, Fitzroy
WHEN: 10 November to 23 December 2019
COST: $35 for adults and $25 for children 2-12. Infants 0-2 $5. VIP ticket $50
Includes 1hr session and 4 samples of confectionery
Book online – no ticket sales at the door
LOVE IT? PIN IT!
My Poppet were invited to an early preview of Christmasland with no obligation of coverage – all thought and opinions are my own.