Try my Honey Ginger & Lemon tea for a sore throat, or at the first sign of an annoying cold. This easy remedy sore throat recipe is soothing and helps calm the irritation of a raspy throat.
I was laid up for a couple of days this week with a terrible sore throat, chills and a whopping headache. Looks like Winter has announced itself with vigour and I'm hoping it's not a sign of things to come.
From my experience as a pharmacist, I know that most winter lurgies are caused by viruses which don't respond to treatment with antibiotics.
The best thing to do is rest, eat plenty of chicken soup, and treat the symptoms with home remedies and over the counter medication (check with your friendly pharmacist first).
As soon as I even get a niggle in my throat I brew up a big mug of my signature Honey, Lemon & Ginger Sore Throat Tea. I always keep a big piece of ginger and lots of lemons in my fruit bowl at this time of year so I can be prepared.
I've been sipping this concoction for the last couple of days and it's been very soothing for my raspy throat. The honey is the important component as it forms a soothing film over the inflamed throat giving you temporary relief.
Interesting fact, sugar (or it's variations) are really the only pharmaceutically effective ingredient in most supermarket sore throat lozenges. The ginger can help clear a stuffy head and the lemon has plenty of vitamin C, which may (but probably doesn't) help fight off a cold.
This drink is so comforting, you don't even have to be sick to enjoy a cup, but I'd recommend cutting back on the honey if you are just drinking it in place of regular tea.
If you want to amp it up this sore throat recipe, add a half shot of whiskey to make a hot toddy style drink – purely medicinal of course. Best to keep the whiskey version for just before bedtime.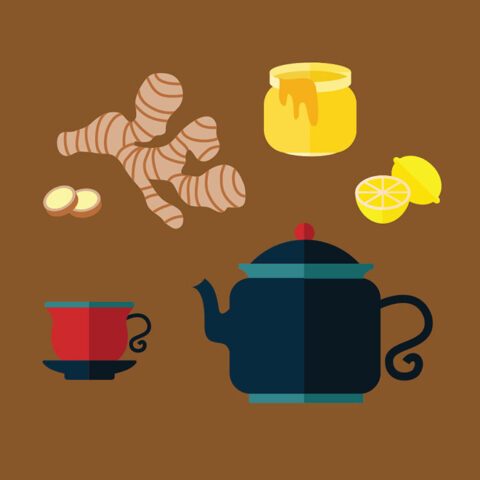 Honey, Lemon & Ginger Sore Throat Tea
Yield: 1
Prep Time: 4 minutes
Total Time: 4 minutes
Try this honey ginger lemon tea for a sore throat or at the first sign of an annoying cold. This easy remedy sore throat recipe is soothing. Can also be enjoyed as a Winter warming drink.
Ingredients
Juice of 1/2 a lemon
2 cm fresh ginger root peeled and sliced
3 heaped tbsp of honey
Brewed tea or boiling water
15ml whiskey (optional)
Instructions
Pour 1 cup boiling water or hot tea over the ginger and let it steep for 3 minutes.
Meanwhile, put the lemon juice and the honey in a large mug.
Strain the ginger tea into the mug if desired - I like to leave the ginger chunks in.
Stir to dissolve the honey.
Add whiskey if desired, I'd recommend this only at bedtime.
Notes
Adjust honey and lemon to taste. Take regular small sips for best effect.
Nutrition Information:
Yield: 1
Serving Size: 1
Amount Per Serving:
Calories: 238
Total Fat: 0g
Saturated Fat: 0g
Trans Fat: 0g
Unsaturated Fat: 0g
Cholesterol: 0mg
Sodium: 10mgmg
Carbohydrates: 55gg
Fiber: 2g
Sugar: 54.7gg
Protein: 1g
Nutritional information is an estimate only and may vary depending on ingredients used.
I wouldn't be a responsible health care professional if I didn't mention the following: If symptoms persist see your doctor or pharmacist. Sometimes viral infections turn into secondary bacterial infections and no amount of hot lemon drinks is going to fix that.
Do you have any home remedies that you turn to when you are feeling poorly?