Just mention the word 'waterslide' to most kids and their face will light up, so imagine the reaction you'd get if they got to visit one of the biggest and best water parks in the world – Atlantis Aquaventure!
I'm a big kid at heart so when the itinerary came through for my recent trip to Dubai and we had the option to visit Aquaventure, I did a little dance. I love to seek some thrills, and trust me, there are lots of thrills to be had on this 17 hectare water playground for kids of all ages.
If you are in Dubai for a holiday or just stopping through on your travels, Aquaventure is an entertaining change of pace and a great place to have some good old fashioned fun, whether you are travelling with kids or without.
Something for everyone
From toddlers to teenagers and sun seekers to daredevils, Aquaventure has plenty of play areas, slides and places to just chill that will keep almost everyone happy.
Families with small kids
Splashers Childrens Play Area  –  an enormous play area especially designed for little ones who aren't yet tall enough to go on the big slides. It includes ten slides, two dump buckets (which my kid loves), rope bridges, climbing areas, and water jets. Built like a fort, is plenty of opportunity for pretend play and shallow water for splashing about in. Parents will like that there are plenty of shaded seating areas and change/toilet facilities nearby.
Lagoon Areas – There are several beach style lagoon areas that have relatively shallow pool depths, perfect for families to splash about in whilst one parent takes a break on a nearby sun lounge. Food kiosks and toilets are located around these lagoon areas.
Families with older kids
Most water slides have a minimum height restriction of 1.2m which may leave some shorter thrill seekers disappointed, but if your kids are over 120cm (my Emma is a tall 125cm 6yo), they can really go to town! It's a good idea to base yourself in one of the lagoon areas and then everyone can have a place to meet if you are split up.
Fun rides you can go on as a family include Aquaconda (pictured) and Zoomerango where up to 8 people can ride in a giant inner tube, seeing the excitement on your fellow companions faces is delightful. Our group consisted of 5 grown women and you should have heard the laughter, this shared experience was a real highlight which I'd recommend to all families or groups of friends.
Grab an inner-tube, they are available in all sorts of combos including singles, adult doubles and child/adult double, and share a ride down the The Rapids a 1.6 kilometre river ride that criss-crosses the park and promises some white water excitement around every turn.
An absolute must do ride for kids and adults of all ages is the Shark Attack! Jump on a one or two person inner-tube and journey down into the Tower of Neptune, before emerging in the middle of a shark-filled lagoon. If the thought of sharks fills you with dread, don't worry, it sounds much scarier than it really is and the pay off at the end is totally worth it.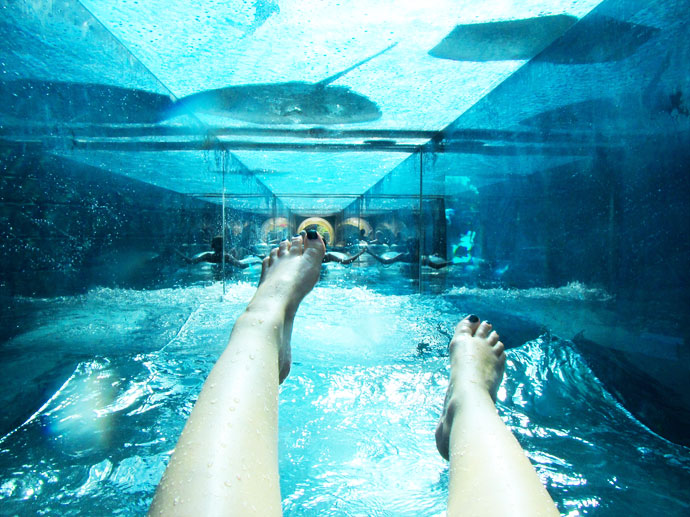 Adventure seekers
If you need to clear your lungs with a good old fashioned cathartic scream, I'd recommend The Leap of Faith. It wasn't my first time on this 9 story tall mega-slide which hurtles you down its near-vertical drop in a mere second (I went on it 3 times during my last visit – see an amazing picture here). But it still took all my will power to make the drop and I screamed all the way down, which felt amazing! If you are scared of heights, this is a good way to push past that fear.
But even I wasn't brave enough to try the Poseidon's Revenge, basically a trapdoor that drops you into a vertical tunnel at 60km an hour then propels you upside down. A girl has her limits!
Sun seekers
If all the talk or water slides, and rapids sounds way too exhausting you could always just chill out at the beach. Unwind on 700 metres of pristine white sands. Aquaventure Beach is the ideal spot for a little rest and relaxation.
When to visit: Avoid the weekend (Fri-Sat) and peak holiday season of July-Aug. We travelled in December which is considered winter (but is still nice and warm) and the park was not busy. There was no queues and plenty of empty sun lounges. If you are visiting during busier times get there early to make the most of your day and avoid long queues on the popular slides.
What to wear: Best to wear a rash vest to keep from getting sun burnt (even the best sunscreen will wash off after lots of water slide action). Avoid skimpy swimwear as you may loose them when crash landing into a pool. Very loose garments like large t-shirts are not allowed for safety reasons. During the very hot summer months swim shoes will protect your feet from the very hot pavements when walking between slides.
Supplies: Bring your own towel or you will need to hire one. Food and drinks can not be brought into the park, you will need to purchase it there so bring extra cash. Locker hire is available.
Park Route: Start with the big slides first to avoid queues and also by the end of the day you'll be pretty exhausted, climbing nine stories for the tallest slide can take a toll on you.
Tickets: Pre-book your tickets online to avoid waiting to get in and maximise your time in the park. BONUS – if you are travelling on the week of your birthday register here to get a free Aquaventure Pass. Entry prices are based on height – Above 1.2m AED 260, below 1.2m AED 215, 0-2 years FREE.
Guests of Atlantis The Palm Hotel have FREE access to the park during their entire stay.
Plan on spending a whole day there, the signage around the park is not great so expect to get a little bit lost and doubling back a couple of times until you get the lay of the land.
Other Highlights:
If you get a chance, stop in and visit the lobby of the Atlantis The Palm Hotel to see the most amazing blown glass sculpture by Dale Chihuly. Two years in the making, it's 3000 pieces of hand blown glass replicate an underwater world of coral and delicate sea creatures. The detail is stunning and the craftsmanship is incredible.
Security can be pretty tight around the Atlantis Hotel, and access to the lobby is a bit difficult if you are not a guest. Your best bet to walk in unquestioned is being well dressed (no bathers or thongs/flip flops) and looking like you belong.
"This post was brought to you in collaboration with Dubai Tourism. As always, all thoughts and opinions are my own"
PIN THIS FOR LATER