Whether you are in Dubai for a week or a day, the one experience you must do is head out to the desert and watch the sun set over the sand dunes.
On my most recent visit to Dubai our group had the pleasure of getting a little taste of traditional Bedouin life with Arabian Adventures on their Sundowner Dune Dinner Safari tour, and oh boy, what and adventure we had.
After getting picked up from our hotel, the Taj Dubai, we drove about 45min to the Dubai Desert Conservation Reserve where we met up with several other Arabian Adventures tour groups to watch a falconry display, meet our first camel friend and enjoy some refreshments. Then it was time to deflate the tires in preparation for our hair raising dune bashing adventure.
What came next I was not prepared for, a virtual roller coaster ride that was simultaneously exhilarating and nerve wracking. Our very experienced driver managed to make us squeal with delight whilst we held on for dear life as he drove the car over huge sand dunes. At times I felt slightly weightless as the vehicle crested the dunes, one of my fellow passengers commented "I don't know whether to laugh or vomit!", I think that quote sums it up! It was a ton of fun.
I need to point out that I did feel safe the whole time, the Arabian Adventure cars are top of the line Land Cruisers with added roll cages and the drivers undergo special training for off-road dune driving. That said, if you are pregnant, have health concerns or young kids, you can pre-arrange a gentler driving experience or even skip this section of the tour and head straight to the camp for dinner.
The sun was setting and we stopped amongst the dunes to take in the vast views as the sky changed from blue to pink and cast a golden glow over the desert. Giddy with adrenaline still pulsing through my veins, all my senses were heightened. I can still feel the silky sand sliding between my toes as the dune shifted under me, walking up a dune is like trying to climb a wall of water.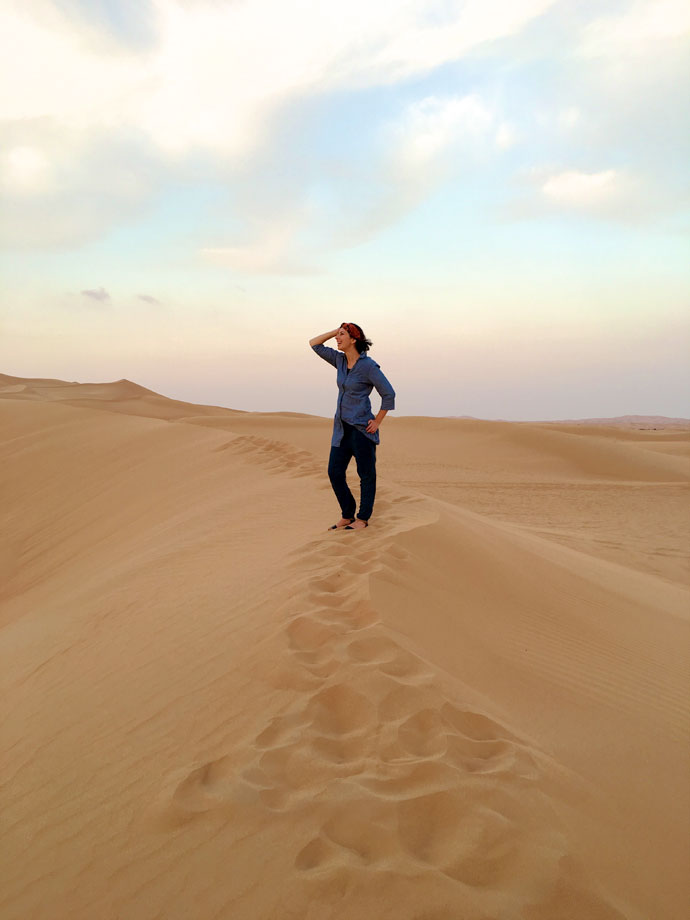 We spent quite a while admiring the sunset and taking photos, the light was so flattering. After mucking about on the dunes it was time to head over to the camp for dinner and some entertainment.
At the camp the camel handlers were setting up and we made a bee line straight for them, they weren't quite taking riders yet but the gents didn't mind us getting a bit closer to take some photos. The camels were calm and friendly, I suppose it's their job so they're used to being approached by selfie obsessed tourists.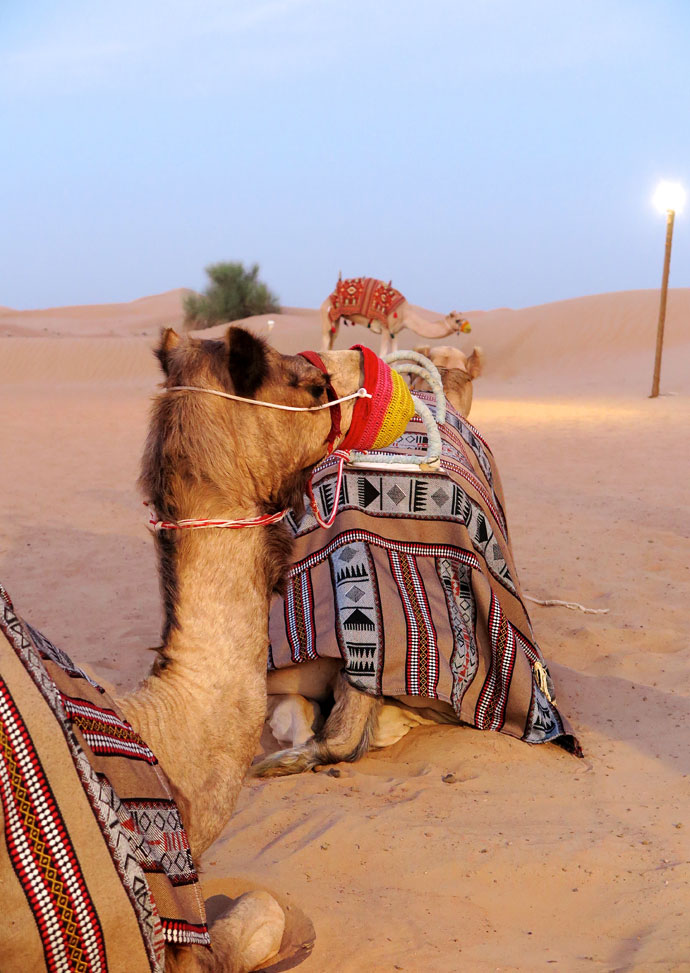 Lucky for us, we just happened to be in the right place at the right time for the first camel ride of the evening. The camp can host hundreds of guests, so as you can imagine a line quickly formed behind us.
Dinner was traditional middle eastern fare served buffet style. I love middle eastern cuisine and I was pleasantly surprised at how good it was considering how many people Arabian Adventures caters for every night. The meat was tender and juicy, the salads fresh, I was super hungry so I over ate a little and didn't have any room left for sweets. Yes a tragedy!
After dinner I sat and chatted with my travel companions. There was a belly dancing show, henna tattoos and even shisha pipes for those that were inclined. As the evening wound down the lights in the camp were turns off and a whole galaxy of stars lit up the night sky – the perfect way to end an Arabian Adventure.
Some tips to make the most of your Arabian Adventures Desert Safari Experience:
It's surprising how quickly the temperature drops once the sun sets, especially in the winter months, I'd recommend a light cardigan or shirt to throw on in the evening.
If you want to ride the camels, head to them as soon as you arrive at the camp to avoid long lines and dark photos. You'll find that wearing pants, shorts or leggings is most appropriate.
Minimum height requirement for camel riding is 110cm
The fine sand can play havoc with your camera gear so keep it in a bag until you need it. Whatever you do don't let it touch the sand.
This is a family friendly experience but please use your judgement for the dune bashing section of the tour as no car seats are available.
If you get motion sickness I recommend sitting towards the front of the vehicle.
Try all of the food, even if it's unfamiliar. Eating local food is my favourite part of travelling and adds to the whole experience. Vegetarians are well catered for too.
On UAE public/religious holidays, live music, live entertainment and alcoholic beverages may not be served.
Who: www.arabian-adventures.com
What: Sundowner Dune Dinner Safari Tour
Includes: transfers, dinner and drinks (inc beer and wine), camel riding, and dune driving.
How Much: from AED 360.00 (U$100)* for adults and AED 300.00 (U$80)* for children 2-12yo
*exchange rates are approximate and correct at time of publishing.
PIN THIS FOR LATER

"This post was brought to you in collaboration with Dubai Tourism. I was an invited guest of Arabian Adventures with an obligation to share my experiences in exchange for the opportunity. As always, all thoughts and opinions are my own"