Those of you that know me fairly well know that I kinda have a thing for fabric, I have a whole room full of it in fact. So many things about textiles rock my world, the colours, patterns and textures are just a feast for the senses, and of course there is the marvelous inherent potential that every piece of fabric has to be transformed into something even more amazing.
When I'm traveling I always keep my eyes open for interesting textiles. The fabrics that locals make, wear and use, gives me an insight into the culture and heritage of the community I'm visiting.
On my most recent trip to Dubai I was really lucky to meet up with a couple of Imogen's (Inside Outside Style) local readers, who took us to some amazing fabric and local fashion stores in Dubai. It was a real treat for a textile lover like myself, the only downside was having to restrain myself from touching EVERYTHING, and of course limiting my purchases (that part was torture).
If you are in Dubai for only a short time you'll be pleased to know that there are many fabric stores concentrated in a small area on the south side of the Dubai creek near the Dubai Museum in Bur Dubai, commonly referred to by locals as Meena Bazaar. This is where the city's South Asian community come to buy textiles and special occasion clothing.
Once purely a textile district, the area has diversified into jewellery (diamond and gold) as well as electronics, watches and cheaper fashion. We visited during the day, but I've been told the place is lit up like a Christmas tree at night so if you want to be dazzled by neon, visit when the sun goes down (probably the best idea in warmer months).
We started at a wonderful treasure trove called Handloom House (how cool is that logo?). Don't be fooled by the saris in the window, most of the fabric stores sell dresses too, so you could me mistaken for thinking 'no fabric in here'.
Handloom House had a huge range of sari fabrics, hand block printed silks and linens, very fine wool and cahmere pashminas and stunning embroidered bed covers and upholstery textiles. The style of textiles here are traditional mainly from India, Nepal and other south Asian areas, but the quality is much higher than I've seen anywhere at home. Prices are not cheap because they reflect the high quality of the product, but if you are looking for something special, you will surely find something here.
Make sure you head upstairs, the collection up there is stunning.
I was really fascinated by these pre-embroidered fabric sets to make a kameez and churidar (tunic top and trouser set). The collar bodice is embroidered but not always cut out, the rest of the outfit needs to be cut and sewn up to size. There is enough co-coordinating patterned fabric for the sleeves, plain fabric for trousers and matching silky fabric for a shawl.
Handloom House
Meena Bazaar, Bur Dubai
Dubai UAE
+971 4 3521281
Next up we popped into Glance Fashion (a few shops down from Handloom House) to have a look at some of the Indian special occasion dresses.
They were pretty fancy and I couldn't resist trying one on. I was surprised at how heavy it was, it had lots of structure in the bodice, and all the layers of fabric in the skirt had quite a lot of weight. They are one size only and most people have local tailors alter them to fit.
I'd love to have an occasion to wear a dress like this but sadly I don't get invited to many Indian weddings. Imogen picked up a really nice cashmere and silk scarf here, and I left the dress behind.
Glance Fashion
Meena Bazaar, Bur Dubai
Dubai UAE
www.glancefashion.com
If you like garment sewing, you are going to love Ratti, a fabric store with a huge range of wearable fabrics that ranged from suiting and wools to stunning Japanese digitally printed silks, French Chantilly lace, so so many sari silks and walls and walls of colour. It was one of my favourite stops.
Like many of the other stores in the area Ratti also sells special occasion attire and ready to wear saris. Some of the detailing on the skirts was stunning.
My favourite find at Ratti was the remnant bins, because silks are usually bought in sari lengths of around 6m, anything smaller is considered a remnant. My shopping companions picked up some really stunning silks for between $10 – $40 a piece (2-3m).
I caved and bought some lovely green embroidered soft tulle netting for about $6 in the 20 Dhs remnant bin, I'm thinking of making something fun or Emma from it.
I loved how attentive the staff were at all the stores, such a contrast to the fabric stores at home (lol). Even my $6 remnant was wrapped in cellophane and packed in a custom fabric bag.

Ratti Retail Showroom
Off Al Fahidi st, Bur Dubai
Dubai UAE
www.rattidubai.com
If you want something special made there are plenty of tailors in the area, I'm sure the staff at any of the stores could recommend a good one.
For a real old world souk experience, head to the nearby Textile Bazaar, also known as the Old Souk. Here you'll find lots of cheap souvenirs, scarves and other homewares. Expect to haggle.
There were some smaller fabric stores in the Old Souk area but I didn't think the fabric quality was as good as the retail stores. I'm not sure about the prices here as I didn't want to ask and get drawn into a negotiation when I had no intention of making a purchase.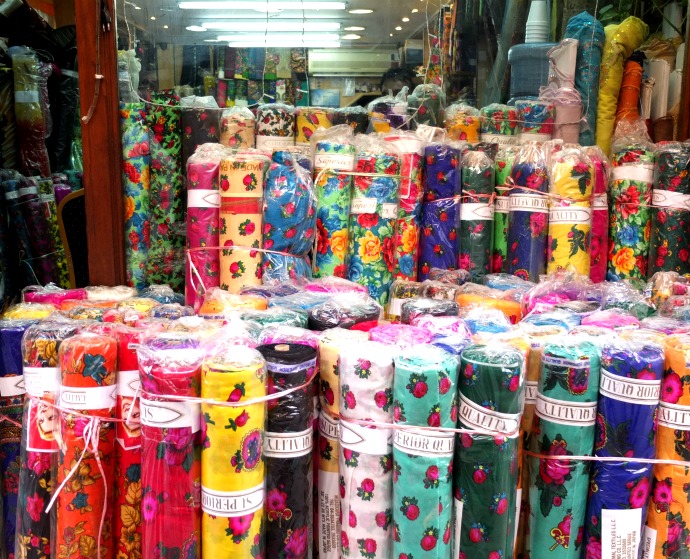 I love walking around the souks, but much prefer to buy at a store where the prices are fixed. Negotiating prices really exhausts me. Don't assume that stores with fixed prices are more expensive, if you are a lazy haggler like I am, you'll probably get a better deal at a store!
Getting there
By Taxi – Just tell the driver Meena Bazaar. Trafffic in the area can be pretty heavy at night especially so you may need to be dropped a couple of blocks away and then leg it.
By Metro – Green line stop Al Fahidi Metro Station 2
By Abra – Cross the Dubai creek on an Abra if you are coming from the Gold/Spice souk
Opening Hours
Generally 9:30am/10:00am till 9:30pm/10:00pm
Many shops shut from 1:00pm to 5:00pm (Ratti is open all day)
2:00pm till midnight on Fridays
PIN THIS FOR LATER