I do enjoy a good bit of gingerbread at Christmas time. I always imagined it to be difficult to make, so I've never really tried baking it myself until now.
Recently stumbled onto a very simple gingerbread recipe that called for just six ingredients, all of which I conveniently had on hand already. I was sure the recipe was missing something, how could it be so simple? But my gingerbread turned out great!
With no egg included, this Gingerbread Recipe is egg-allergy friendly!
These would make great gifts packaged up in cellophane with a little bow. Dip them in dark chocolate to make them extra decadent.
The original recipe called for just ground ginger, but I've also added sweet mixed spice which also has cinnamon, nutmeg, cloves and allspice.
Use whatever sweet spice mixture you have available. Make sure the butter is at room temperature (softened) and you won't even need an electric mixer. I just threw everything into a bowl and mixed it by hand.
I'd say it would be easy enough to convert this recipe to be vegan friendly if you replace the butter with a non-dairy butter alternative like Nuttelex. I haven't tried that substitution, but I'd be interested to hear how it works if you have.
The dark colour comes from the muscovado sugar and golden syrup, if you use regular soft brown sugar you may get a lighter gingerbread.
The dough comes together very easily. Knead on a floured surface and if dough is to soft (sometimes moisture content in brown sugars vary) add a little more flour or refrigerate for a while to help the dough firm up.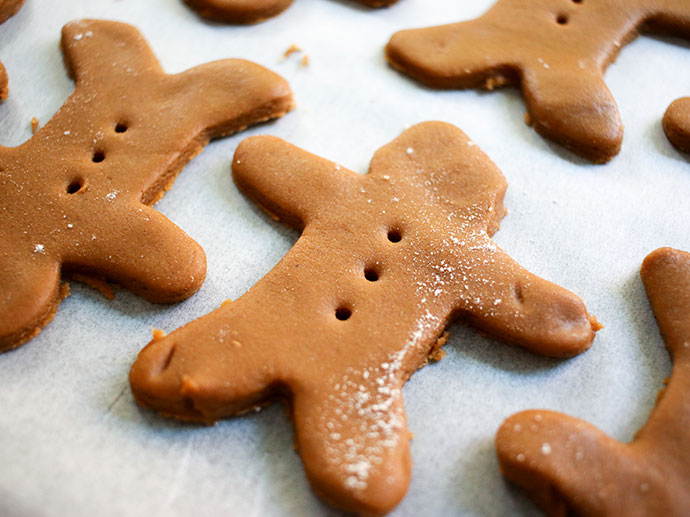 I couldn't resist making little gingerbread men, and because I'm lazy I've left them un-decorated, except for a few buttons that I added pre-baking.
Make sure not to over bake. I took them out of the oven just as the outside was crisping up but still with a soft center. Cooling is the key.
Take them off the hot tray with a spatula immediately and straight onto a cooling rack for best results.
If you are using this recipe for making a gingerbread house, you may need to bake a little bit longer.
You may also enjoy:
Quick & Easy Christmas Gingerbread Recipe - Egg Free
Yield: 24
Prep Time: 10 minutes
Cook Time: 8 minutes
Total Time: 18 minutes
A very easy Gingerbread cookie recipe that is egg free, and only required 6 ingredients.
Ingredients
125g unsalted butter softened
1/2 cup soft brown sugar or muscovado sugar
2/3 cup golden syrup
2 1/2 cups plain flour (and extra for rolling)
2 teaspoons ground ginger and/or sweet mixed spice
1 teaspoon bicarbonate of soda
Instructions
Preheat over to 160C (320F)
In a large bowl combine butter, sugar, golden syrup, spices and bicarb.
Mix well
Sift in flour slowly and mix until just combined
Take out of bowl and knead on a floured surface. if dough is to soft (sometimes moisture content in brown sugars vary) add a little more flour (or refrigerate).
Roll out dough to 5mm thickness and cut with shaped cutter.
Add button markings with a skewer if desired.
Bake in batches for around 8 minutes on a cookie tray lined with baking paper.
Cool on a wire rack and decorate if desired.
Notes
I added 1 tsp ground ginger and 1 tsp mixed spice.
Baking times may vary depending on cutter size used and your oven.
All My Poppet recipes use Australian standard 250ml cup measurements unless otherwise specified.
Recommended Products
As an Amazon Associate and member of other affiliate programs, I earn from qualifying purchases.
Nutrition Information:
Yield: 24
Serving Size: 1
Amount Per Serving:
Calories: 124
Total Fat: 4g
Saturated Fat: 3g
Trans Fat: 0g
Unsaturated Fat: 1g
Cholesterol: 11mg
Sodium: 7mg
Carbohydrates: 20g
Fiber: 0g
Sugar: 8g
Protein: 1g
Nutritional information is an estimate only and may vary depending on ingredients used.