Victoria's Yarra Valley is not synonymous with aquatic activities, but that's all about to change now that Park Lane Holiday Park in Healesville has opened its newest attraction, Parky's Water Park.
It's an inflatable obstacle course that adventurous families will love. A great way for the kids to burn off some energy and a super fun way to cool off during the warmer months.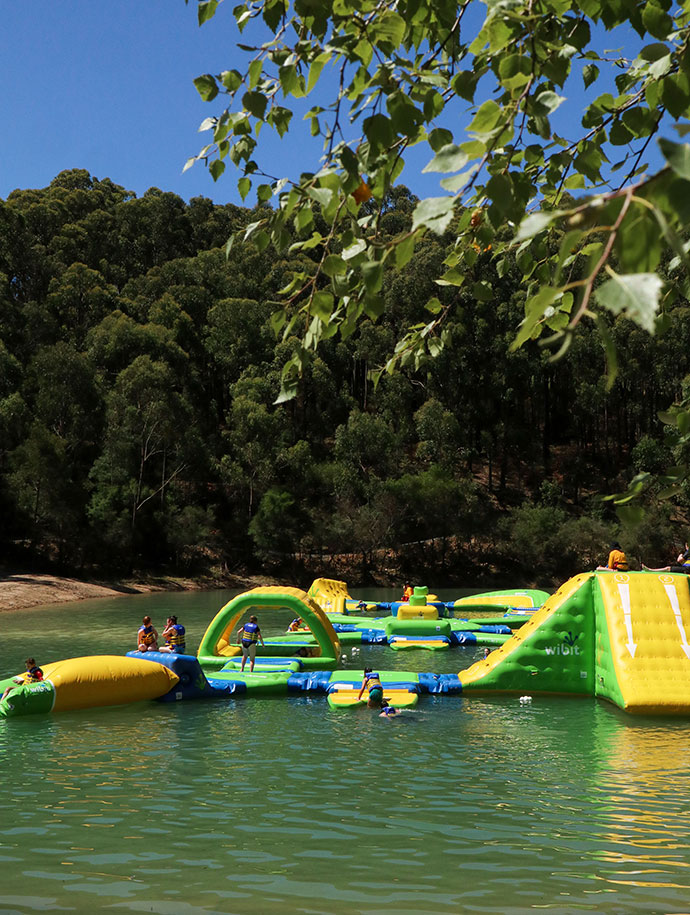 Emma and I were lucky enough to be one of the very first people to try out the new water park on its inaugural weekend. We happened to be staying in one of their brand new Glamping Pods for an upcoming review, and the Parky's opening just happened to coincide. Kismet!
Needless to say Emma was very excited and it was the highlight of her stay. What can I say, the kid is a thrill seeker!
I, on the other hand, was a little more reserved about the whole thing and was happy to watch from the sidelines. But as luck would have it, kids from 7-12 need a guardian with them to enjoy the water park, and because I didn't want to disappoint Emma, I donned my swim gear and Go Pro and hit the lake. The things we do for our kids!
I'm glad I did because it was so much fun! We made a little video too – you can watch it at the top of this post.
Emma, who is a huge fan of the TV show Ninja Warrior, really took to all the obstacles (except the cliff) with enthusiasm. She is full of energy so wiping out a ton of times didn't faze her, she just got straight up and did it over again.
Being light has a distinct advantage when it comes to the most spectacular challenge, The Flip. Check out the air that Emma got on this jump!
Turns out I'm not as fit as I thought and huffed and puffed my way through the course. Many of the obstacles require good upper body strength to pull yourself up and climb, so it's something I've got to work on for next time.
I still made it to the top of the tower a ton of times and my favourite challenge was the big slide. I even worked up the courage to jump off the cliff a few times too. When you're up on the top, it feels much taller than it looks, and I was so pleased that I didn't chicken out.
Our Verdict: A big thumbs up! Although my body felt it the next day, it was quite a workout.
Recommended for: Older kids, teens and adults that love action.
Cinti's Tips for a great Parky's Water Park experience
Wear a rash vest and swim shorts to keep from getting sun burnt and to prevent any chafe from the life vests. Avoid skimpy swimwear as you may lose them when crash landing into the lake. You'll also have people climbing up obstacles behind you, so bathers bottoms with good coverage are my recommended option.
The inflatables can get very slippery when wet, so aqua socks with a grippy sole may be helpful to get up obstacles easier. Also the edge of the lake is a little rocky so walking in and out is a little uncomfortable (although I think they are getting rubber mats to improve this).
Put on sunscreen about 30min before your session to give avoid it being washed off.
Arrive 10min before your scheduled session to allow enough time for proper life jacket fitting and to read and sign paperwork.
Choose a well-fitting life vest, the smaller and more secure it is, the more comfortable you'll be moving around. I actually wore a child size as I have a small torso.
Pay attention to the safety briefing, and follow the rules – they are created to protect you.
Eat a big breakfast that day, you'll need the energy!
Be prepared to wipeout A LOT! And most important of all, HAVE FUN!
WHERE:
BIG4 Yarra Valley Park Lane Holiday Park.
419 Don Road, Badger Creek VIC 3777
CONTACT: 03 5962 4328
HOURS: Weekends 11am – 7pm, School holidays 11am – 7pm daily.
First and last sessions are exclusive for park guests.
Closed in Winter and during inclement weather.
COST: Holiday Park Guests – $20, Public Patrons – $25
Available for party bookings
Height and age restrictions apply
My Poppet stayed as a guest of Park Lane Holiday Parks for purposes of this review. As always all thoughts and opinions are my own. This post contains affiliate links.