I'm always up for a little bit of adventure with a luxurious twist, so when the team from Park Lane Holiday Parks invited Emma and me to be the first people to try out their new Glamping Pods, we jumped at the opportunity.
We'd previously had a great time camping in the park's Eco Lotus Belle glamping tents, and couldn't wait to try out their brand new offering.
What are Glamping Pods?
If you like the show Tiny Houses, you'll love the cosy experience of staying in your own little cabin in the woods for a couple of nights.
The Glamping pods are a hand-built mini cabin that gives you the experience of camping with the comfort of a tiny house. They are very well insulated which makes them perfect for camping in cooler weather, and are fitted out with all the mod cons that you expect from a luxury camping experience.
Each pod sleeps two people, so this accommodation is best suited for a romantic retreat or getaway with a friend.
The Glamping pod precinct is brand new area of the park exclusively for the five pods and nestled amongst the native bushland. There is no car access to the area, so each pod has exclusive use of its own off-road buggy! More about that later
What's inside?
Each little cabin is comfortably decked out with hotel quality king sized beds which can be configured to two king singles on request.
The bedding is super luxe and we had a great night sleep on the crisp white sheets and fluffy pillows.
A little kitchenette area consists of all the items you'll need to enjoy an easy meal. Crockery, cutlery and importantly wine glasses are supplied. Other things you'll find in the tents are: kettle, tea & coffee, cleaning supplies & spare power points. A tap is attached to each site's deck area to make washing up and kettle filling more convenient.
A mini fridge and microwave complete the kitchenette – and a brand new camp kitchen (with cooking equipment exclusively reserved for glampers) has been recently completed in the main area of the park if you need more extensive cooking facilities.
There is also a TV and a comfy couch if you need to chill out in the evening.
Outdoor seating and a table is provided so you can sit, chat and enjoy your meals on your own private deck.
Handy Tip – Take your own flexible tub to wash your dishes in. It's also handy for holding stuff like food and towels in the back of your buggy.
You'll notice there is no bathroom in the glamping pods, I mean it's still camping after all. There is an en-suite exclusively for glamping pod guests that is self-contained with a shower, toilet and vanity. It's an uphill 50-100m walk which may not suit everyone, but you can use the buggy if you need to.
We generally walked unless it was for a shower (threw our stuff in the back of the buggy) or at night. If you are with kid, you may want to have a small 'potty/container' on hand for nighttime use.
The Buggy!
You've never seen a more excited kid than Emma when she saw our off-road buggy. Because the pods are a little bit out-of-the-way (and down a hill) from many of the park facilities, the buggies are a fun way to get around without too much effort.
You'll need to park your car away from the site and transfer your things into the back of your buggy to get to the Glamping Pod area. It was a kind of a fun way to get our adventure escape started.
The buggies are electric, you'll need to plug them in overnight, and are very easy to drive. The speed is limited to keep it safe for all the park residents, and they are geo-fenced so you can't take them out of the park grounds.
We had a great time driving our buggy around the park – it was a real highlight for Emma.
Things to do in Healesville and Around the Park
Whether you are looking to relax, explore or get active, there are plenty of things to do within the Park Lane Holiday Park to keep couples or families entertained. Of course you can always head into Healesville which is a few minutes down the road, or even explore further afield in the Yarra Valley.
Come face-to-face with Australia's wild and wonderful creatures at the Healesville Sanctuary, a refuge specializing in native Aussie wildlife. With your general entry ticket valid all day, you can spend as much time as you want exploring the zoo and marveling over koalas, dingoes, wombats, wallabies and kangaroos.
Here's what we got up to:
Walks
In the evenings we took a gentle walk around Lake Piccaninny amongst the lush tree ferns that surround the lake. The forested area is right next to the glamping pods so you don't have to go far, but it really feels like you are a world away.
On the opposite side of the park, Badger Creek babbles peacefully and is also fun to explore.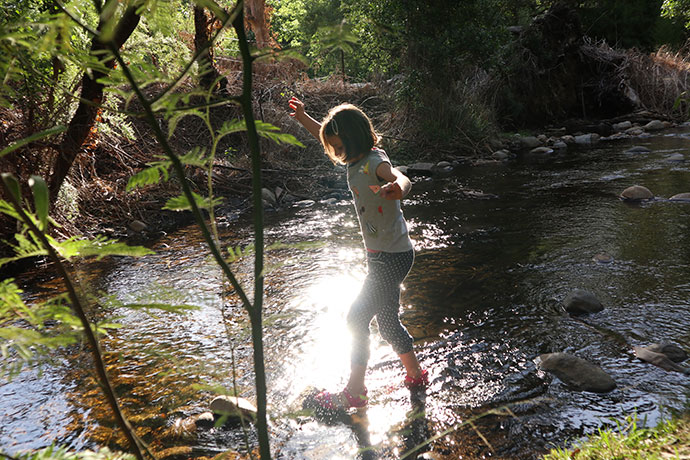 Wildlife Spotting
The park and surrounding areas are full of local wildlife. We made plenty of bird friends and even without a handful of seeds, the local avian residents are very friendly and curious.
We spotted plenty of Rosella, Sulfur Crested Cockatoo, King Parrot, Kookaburra, Ducks and Rainbow Lorikeet, and those were just the ones I could recognise. A couple of parrots visited our deck while I was having a cup of tea, it was so delightful.
You can purchase small bags of seed at reception for $2 – don't be tempted to feed them people food as it's bad for them.
If you are brave enough to go spotlighting at night you will see possums and maybe even deer that wander through the wooded areas. Other wildlife you may spot include koalas and if you are very very lucky, platypus.
Play
Emma always loves visiting a Big 4 holiday park because of their iconic Jumping Cushions. She seriously bounced on that thing for over an hour every day! It was a great opportunity for me to have some quiet time while she entertained herself with other kids her age.
Kids of all ages will enjoy the playground areas at the Yarra Valley Park Lane Holiday Park. There's a couple of outdoor playgrounds, the famous jumping cushion, a big koala that is perfect for photo opportunities and a recreation room with games.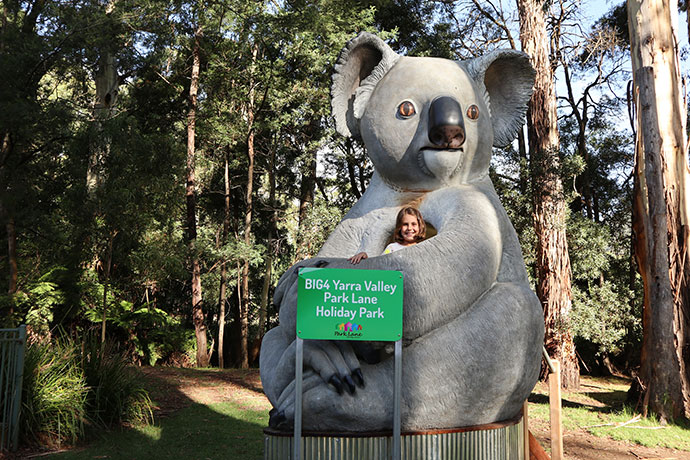 If you are feeling active, you can have a hit of tennis on the tennis courts.
Water Fun
The park facilities include and outdoor swimming pool and hot tub, but we were after some extreme aquatic action and had a crazy fun time on the parks newest attraction – Parky's Water Park.
Read all about our inflatable water park experience here.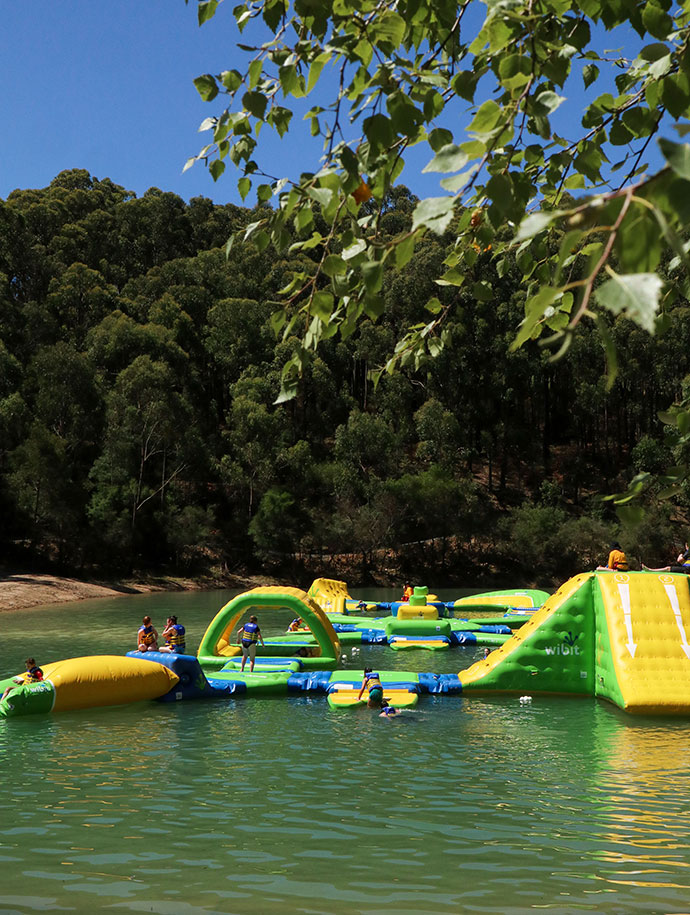 Relaxing & Eating
Of course the aim of a getaway, for me anyway, is to Relax with a capital R.
I loved just listening to the bird calls in the evening while we enjoyed our easy dinners. There was lots of time to sit around and just enjoy the surroundings. I took some craft to work on while Emma played on a nearby playground, and in the evening we watched a little bit of TV before an early lights out.
Hardly any light pollution meant lovely clear skies perfect for star-gazing. My favourite activity when camping.
It was actually so quiet that I had trouble getting to sleep on the first night. We live on a fairly busy road and I'm just used to traffic noise I guess!
Meals were un-fussy, just a selection of deli foods and simple to prepare salads that didn't require cooking. I'm about easy meals when it comes to camping.
I can' t wait to go back, and next time I think I'll drag Mr Man along for a child free weekend escapade. He is not a fan of camping, but the comfort and convenience of these Glamping Pods may just win him over.
YARRA VALLEY PARK LANE HOLIDAY PARK
Yarra Valley Park Lane Holiday Park is located a few minutes out of Healesville in Victoria's Yarra Valley, and is around an hours drive from Melbourne.
WHERE: 419 Don Road, Healesville VIC 3777
PHONE: 03 5962 4328
AVAILABILITY & BOOKINGS: Check Prices on Booking.com
PIN FOR LATER
My Poppet stayed as a guest of Park Lane Holiday Parks for purposes of this review. As always all thoughts and opinions are my own.