If you are looking for a unique Yarra Valley accommodation experience, why not try glamping? We spent a few nights in a stunning Yarra Valley Glamping site and have written a thorough review of our experience. Read on if you would like to know if glamping is for you!
I love the idea of camping – getting close to nature, enjoying big starry skies and spending quality time with friends and family, it's all great in theory.
But my reality has always been – having to pack the car to the gills only to discover you've left something essential like sleeping bags at home, or waking up on rock hard lumpy ground after the air mattress has deflated in the middle of the night.
After more than one, less than stellar camping experience, this girl is done. No more camping for me, but 'glamping', that's something I can get behind.
When the lovely folks from Park Lane Holiday Parks got in touch to tell me about their newest luxury campsite offering in the Yarra Valley, I couldn't wait to say 'good-bye' to the city for a couple of nights and 'hello' to a mini glamping adventure in a tent I didn't have to pitch myself.
When I told Emma we were going 'Glamping' she went into super-duper planning mode and started writing her list of important items we needed to pack.
It was a really easy getaway to pack for, only food and our own clothing required as the tents are very well kitted out with everything you need for a comfortable stay – but more about that later…
The Mr was working so I invited a couple of girlfriends along instead – it ended up being a perfect 'girl's weekend', just what we all needed to recharge our batteries.
The Location
Yarra Valley Park Lane Holiday Park is located a few minutes out of Healesville in Victoria's Yarra Valley, and is around an hours drive from Melbourne.
The holiday park itself is nestled in a peaceful Australian bush environment with plenty of space for the kids to run around in and wildlife to enjoy.
The new luxury camping precinct has recently been developed in a secluded area of the park, away from the hustle and bustle of the caravan and cabin camping area.
We arrived during the week and had the whole place to ourselves, it was really tranquil and relaxing.
CHECK AVAILABILITY & PRICES – here on Booking.com
The Glamping Tents
These gorgeous Eco Lotus Belle tents really put the 'glam' in glamping. You can choose from a either a Single tent which accommodates 2 people in a king size bed, perfect for a couples getaway; or a Family site (like ours) which has two tents on an adjoining deck which sleeps 4, with one king size bed in a large tent and two king singles in a smaller tent.
The tents are more akin to a luxury hotel room than your run-of-the-mill camping setup, this is really 5 star camping at it's finest!
What's Inside?
Inside you'll find super comfortable beds with crisp white linen and pillows that felt like they were made of clouds. In all honesty, the bed was much more comfortable than my own at home!
The main tent was tastefully furnished with a sofa, dining table and chairs, bedside tables with lamps and a dresser. The tents are powered so you also have a mini fridge, (and something I wasn't expecting because it's not advertised on the website), a TV.
Fans are also provided for comfort in warmer weather. Outdoor seating is provided so you can sit and chat on the deck.
Emma and I shared the king bed in the main tent and my girlfriends each got their own single bed in the smaller tent. I'm not sure if I would be comfortable with Emma being in a tent on her own if it was just the three of us, I think this set-up is best suited to families with older kids, or a small group of adults (like in our case).
Just like staying in a hotel, toiletries and fluffy towels are provided, which is one less thing you need to pack.
You can also leave kitchen stuff at home, because crockery, cutlery and importantly wine glasses are supplied. Other things you'll find in the tents are: kettle, tea & coffee, cleaning supplies & spare power points. A tap is attached to each sites deck area to make washing up and kettle filling more convenient.
Click through the photos below to take a look inside the tents
The family belle tents come in four different interior styles, with each providing a unique experience of their own. Ours was the 'Eclectic tent', but you can also request to book the Retro, Boho or Industrial decor themed tents.
Themes for the single (couple's) tents include Vogue, Natural, Provincial and Scandinavian.
The Glamping Site Facilities
Fun for the kids
Being located at a holiday park really gives you the best of both worlds. With the glamping tents having their own secluded area, and set fairly far apart from each other, we enjoyed the peaceful surrounds.
But a seven year old gets a little bit bored listening to three 'old ladies' chat, so she loved that Yarra Valley Park Lane Holiday park has a pool, playground and giant jumping pillow. She made friends with other little campers immediately, which kept her entertained for most of our stay.
The Bathroom Situation
I was expecting to have to use the general shower and toilet block with the rest of the park (and was totally cool with that), but was delighted to discover that the glamping precinct had it's own private en-suites, four to share amongst eight sites.
The showers were hot and powerful, and the en-suites which were self contained with a toilet, were roomy enough to comfortably shower and change in. Each had a key code that gained you access and the walk was about 50m from our tent. A small torch was provided to help find your way at night.
Because I had a direct line of sight to the closest en-suite, I had no issues with Emma using the bathroom by herself through the day.
What's for dinner?
Cooking facilities include a well appointed camp kitchen (with cooking equipment exclusively reserved for glampers) and a BBQ area with picnic tables.
We mainly used the BBQs for cooking, but did use the camp kitchen for the toaster, microwave and to wash up dishes. My only (minor) gripe is that the cooking facilities are a bit of a trek from the tents and you need to lug every thing over and back, especially if you plan on eating in your tent.
I asked about the possibility of bringing your own portable camp stove, but due to fire risk, open flames are not allowed near the tents. But apparently there are plans in place to build a communal BBQ area for the Belle Tent Precinct, which will make the self catering even easier.
Our stay – What we loved about Glamping
We stayed for two nights in total.
Day one was gloriously sunny and we enjoyed sitting in the shade of the trees that surrounded our campsite. We all headed down to the pool to cool off, and even though it was pretty rowdy and full of kids (which is to be expected) we still enjoyed our dip.
I just loved the leafy outlook around the campsite and it was a bit of a treat when several King parrots decided to call in for a visit. The whole area is full of wildlife and as well as King Parrots, cockatoos, kookaburras and a couple of very cheeky, and very large brush tail possums, all loved hanging around.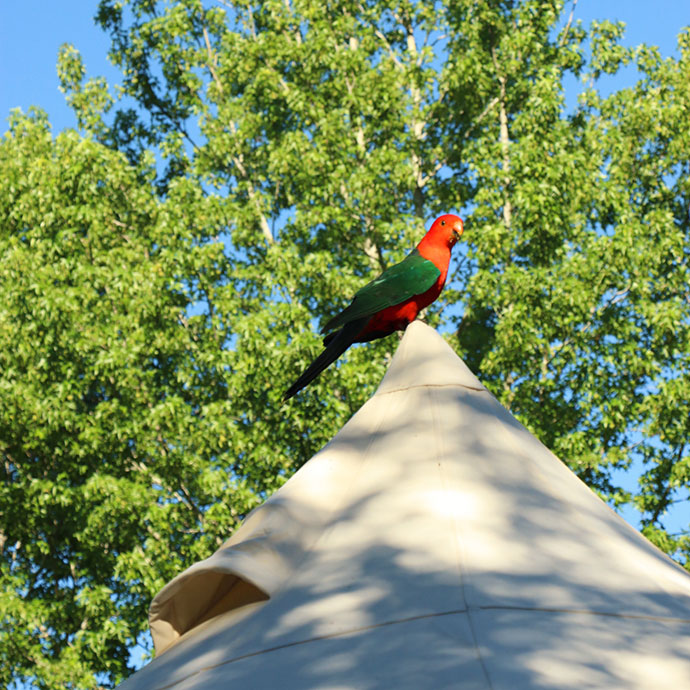 Even though the Yarra Valley area has a ton of stuff to do, we chose to stay at our campsite and enjoy the surroundings with a glass of bubbly and a few nibbles before dinner. We planned on self catering all our meals, and went a little overboard with the amount of food we brought along.
But the absolute highlight of the stay was stargazing on our first night. The sky was perfectly clear, and because there was no light pollution (apart from the pesky full moon) we got a spectacular view of the stars.
I download his app onto my phone – Star Chart – and we spent most of the evening trying to identify constellations.
The moon was full and so bright, that it looked like a spotlight in the sky. My plans of practicing some time-lapse astrophotography were foiled, but we had some fun with our torches doing light painting instead.
Day two was a washout. Emma managed to squeeze in another swim, but after lunchtime the heavens opened up and it just rained all day, and all night!
It was unfortunate, but them's the breaks and sometimes it rains when you're camping. I'm happy to report that the tents stayed dry inside, no leaks or drips, but the floor did get a bit muddy from us traipsing in and out through the day.
I never planned on using the TV, but we were happy to have it on our second evening and had a little impromptu movie night, with pop corn and all.
If I'd realised it was going to rain so much I would have packed a few board games to help pass the time. We spent most of the day eating and I snuck in a cheeky nap.
The Verdict
We thoroughly enjoyed our glamping experience despite the bad weather on day two and would certainly consider staying again.
It's not a budget camping option, with single tents starting at $180 per night and family tents at $220, but the comfort levels are top notch and are comparable to boutique style accommodation.
The bed was possibly the most comfortable I've ever slept on – comparable to a 5 star hotel for sure!
It's the best bits of a camping holiday without all the work of setting up (and packing down – which is just the worst!)
The location is really beautiful and is the perfect place to unwind, and it's only 1hr from the city.
The perfect camping experience for those like me who don't like to 'rough it'.
Lot's of fun for a group of friends or a family seeking a unique experience without sacrificing all the mod-cons.
YARRA VALLEY PARK LANE HOLIDAY PARK
WHERE: 419 Don Road, Healesville VIC 3777
PHONE: 03 5962 4328
CHECK AVAILABILITY & PRICES – here on Booking.com
LOVE IT? PIN IT!
Have you tried Glamping? Share your experience with a comment below
You may also like this post – Yarra Valley Glamping Pods
My Poppet stayed as a guest of Park Lane Holiday Parks for purposes of this review. As always all thoughts and opinions are my own.