As I headed into the city with Emma and her cousin to see the latest production at the Athenaeum Theatre , Alice in Wonderland Live, the chatter amongst the girls was just how Lewis Carroll's magical tale would actually be translated on stage.
This timeless story of a girl who falls down a rabbit hole into a topsy-turvy world where nothing is as it should be, has been a constant source of inspiration for the last century, as we learned in last year's WONDERLAND exhibition at ACMI.
It's easy to make Alice shrink and grow on-screen with the magic of animation and special effects, but on stage? Well, that takes a special sort of creativity, and the creators of this play have in spades!
With a clever use of lighting, stage effects, puppetry and creative performances, a talented cast of just eight actors manages to play around 20 delightful characters.
The opening scene, the poem of the Jabberwocky, made it clear from the very beginning that the original source material was the inspiration for this production, not it's later Disneyfied adaptations.
"Beware the Jabberwock, my son!
The jaws that bite, the claws that catch!
Beware the Jubjub bird, and shun
The frumious Bandersnatch!"
True to the original book, there is plenty of word play and pun based humor that older kids and adults will enjoy. Younger children will love the colourful characters, cute puppetry and physical comedy (especially by Tweedle Dee and Tweedle Dum).
It was really entertaining to see how cleverly scenes from the classic story of Alice in Wonderland had been interpreted. As soon as Alice appeared to fall down the rabbit hole, with her feet firmly on the stage, we were hooked!
Emma is a bit of a theatre nerd and was really delighted by all the stage magic.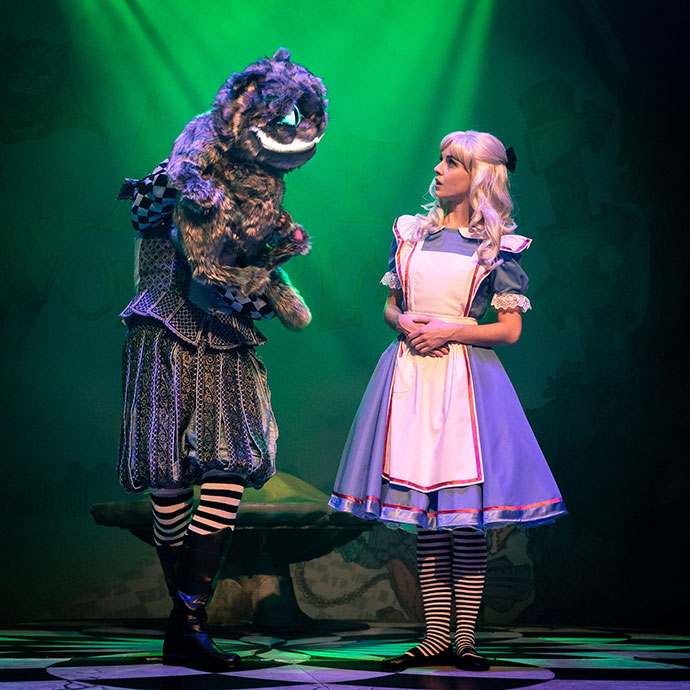 In one key scene where Alice is shrinking, the actress cleverly holds an imaginary bottle which gets bigger and bigger in her arms as she gets smaller.
It was easy to imagine her shrinking, but amusingly one very young audience member called out "why is she not getting smaller?" which was adorable and made the rest of us giggle.
The period costuming was stunning and the puppetry was really well done. It was hard to pick a favourite character but I think the Door Mouse and the Caterpillar came very close.
This show is only one hour long, which is perfect for a young audience. I'd recommend it for 7 years plus.

Alice in Wonderland LIVE is playing at:
Melbourne's Athenaeum Theatre from January 10-12
Frankston's Arts Centre on January 13
Bendigo's Capital Theatre on January 15
Perth's State Theatre Centre on January 22 and 23.
Visit the Alice in Wonderland website for more information.
Images Supplied
My Poppet attended a performance of Alice in Wonderland at the Athenaeum Theatre on January 10 2019 as a guest of MAD PR.