Hawthorn East locals must be pretty happy with the newest addition to their leafy suburb, a cafe that not only offers fresh locally sourced produce, but also has a Michelin calibre chef at the helm. Unassuming and with minimal signage, Mr & Mrs Anderson is one of those places that those in the know like to keep to hush hush, lest it gets too popular and then can't themselves get a table.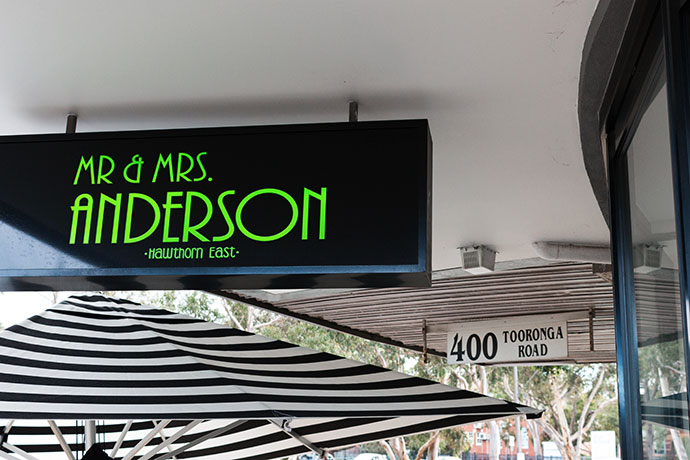 I was invited for a visit and headed over with a friend for a little bit of Friday brunch action. Yes, my job is hard sometimes (wink)!
We were greeted warmly by co-owner, Roulla Saisanas who was keen to bring the paddock to plate philosophy to the suburbs, with as much fresh produce as possible grown on their own farm in Gippsland. Chef Lasse Povlsen (known as GD) who has worked in some of the fanciest restaurants around the world, as well as some of Melbourne's best fine dining establishments, regularly visits the farm to forage for what's in season. Anything that the farm can't provide is sourced from local producers.
Inside the space is modern and cosy with hand-painted Mexican tiles adding a rustic charm which makes the decor cheerful.
Roulla was excited for me to try a couple of the new menu items so I ate enough for three, but hey, I'm not complaining!
My brunch companion, enjoyed the farm style porridge made with soy and almond milk-soaked oats and topped with apple puree and rhubarb ($14.50). Perfect on a cold winter morning and rated a solid two thumbs up for flavour.
I was a bit of a glutton and devoured both the smoked salmon with farm harvested seasonal veg ($19.50), and on the staff's recommendation, the warm garden salad of barley, pumpkin, brussel sprouts and pomegranate with a magical colour-changing neon green horseradish buttermilk dressing ($17.50).
If that all sounds a little too healthy for you, don't fear, there is some sweet indulgence on the menu too.
I'd recommend sharing the next dish because it's just so decadent, a caramelised white chocolate brioche with matcha truffles and raspberry sorbet ($16.50). The little truffles were so good, I'd love to have them as a sneaky treat at home with a cup of tea, I wonder if GD would share the recipe?
If you are looking for a fresh take on brunch or a casual but fancy lunch (without the fancy prices), make a bee line for Mr & Mrs Anderson before the word gets out and the queues stretch out the door.
Mr & Mrs Anderson
398 Tooronga Road, Hawthorn East
(03) 9882 9888
Hours:
Mon to Fri 7am–4pm
Sat & Sun 8am–4pm
I was an invited guest of Mr & Mrs Anderson with no obligation to write a review. All thoughts and opinions are my own.