Now that the weather has really cooled down I seem to be eating lots of carb laden comfort food, it's making me feel a little bit sluggish so I'm making a conscious effort to include more vegetable rich meals in our repertoire. I went to the green grocer yesterday and picked up some gorgeous colourful seasonal winter vegetables to brighten the dinner table.
I've thrown together this Roasted Pumpkin & Beetroot salad and included some locally grown walnuts for added crunch.
It's quite easy to make and can be served as a main or side dish, toss it through some quinoa, wild rice or cous cous if you want to add some grain.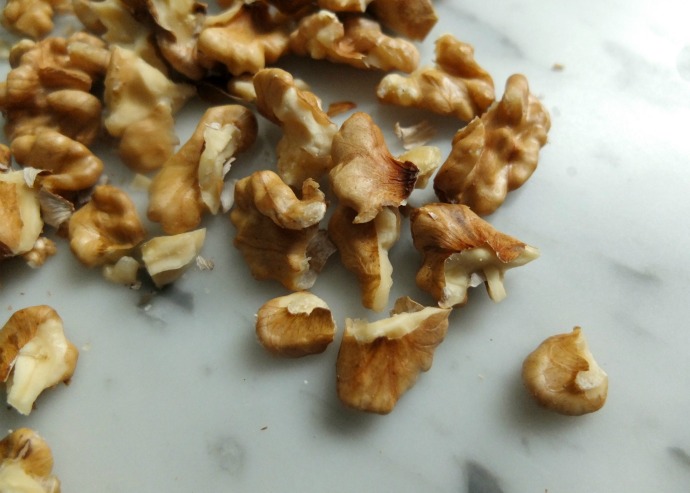 It was the perfect dish to try out my 'new to me', vintage enamelled roasting pan that I found at the op shop last week, the bright colours of the salad co-ordinates perfectly with the 70's orange hue of the pan and my favourite vintage tea towel.
Having marble benches means I usually avoid beetroot because of the risk of staining, but because you don't need to peel the beetroot for this recipe, there is really no mess at all. I'm pretty please with how it turned out, super tasty and so quick to prepare, I'll certainly be adding beetroot to more dishes in the future. Nest time I may crumble some blue cheese over the top.
Roasted Butternut Squash, Beetroot & Walnut Salad
Yield: 2 serves main or 4 serves as a side
Prep Time: 10 minutes
Cook Time: 1 hour
Total Time: 1 hour 10 minutes
This tasty and healthy salad makes a substantial vegetarian meal on its own or a hearty side dish. Can be eaten warm or cold.
Ingredients
1/2 Small Butternut Squash
1 medium Beetroot
3 medium Red Onions
6-7 Walnuts shelled
1/2 bunch Parsley washed and large stalks removed (1 cup firmly packed leaves)
olive oil
1 lemon
salt & pepper
Instructions
Preheat oven to 180 C
Remove beet leaves and give beetroot a good scrub to remove any dirt, scrape away rough top but leave unpeeled and base of stalks intact.
Cut beetroot onto wedges.
Peel and cut pumpkin into cubes.
Peel and quarter onions.
Place in roasting tray and drizzle with olive oil to coat. Season with salt and pepper.
Roast for 1 hour or until vegetables are soft.
Lightly toast walnuts in a dry hot pan, taking care not to burn them.
Assemble the salad on a large shallow bowl or plate, lay parsley leaves as a base then pile roasted vegetables on top. To finish sprinkle walnuts over the top and drizzle with olive oil and the juice of a lemon.
Nutrition Information:
Yield: 4
Serving Size: 1
Amount Per Serving:
Calories: 106
Total Fat: 6g
Saturated Fat: 1g
Trans Fat: 0g
Unsaturated Fat: 5g
Cholesterol: 0mg
Sodium: 87mg
Carbohydrates: 14g
Fiber: 3g
Sugar: 5g
Protein: 2g
Nutritional information is an estimate only and may vary depending on ingredients used.
Tasty both warm or cold and perfect for packed lunches if there are any leftovers.