Bake these easy Butterbeer Cupcakes for your next Harry Potter themed party or event. A few choice pre-made ingredients help you magic up these cupcakes quicker than a House Elf!
What is Butterbeer?
No Harry Potter party is complete without one of the wizarding world's favourite beverage treats, Butterbeer! It's a sweet drink sold at taverns in the Harry Potter books, and is now available for us muggles to enjoy at the various Harry Potter theme parks around the world.
I've actually tasted real Butterbeer when we visited The Magical Making of Harry Potter at Warner Bros. Studio Tour London.
SO, what does Butterbeer taste like?
Butterbeer is a super sweet carbonated drink like butterscotch cream soda with a sweet foamy top. I enjoyed it but I must admit it was way too sweet for me.
Because Emma doesn't like fizzy drinks, I made a Butterbeer flavoured cupcake for her recent Harry Potter Birthday Party instead. Along with Pumpkin Pasties and Harry's favourtie Treacle tart, the butterbeer cupcakes were a real hit.
How to make Butterbeer Cupcakes the easy way
There are tons of recipes on the web that make all the components for Butterbeer Cupcakes from scratch, but I just didn't have time for that, so I did what I do best, and came up with a few cheats to make my life easier.
Hey, I'm a busy mum, so I got a little bit of help from the supermarket baking aisle and bought a boxed cake mix – no shame in that.
The predominant flavour of Butterbeer is caramel/butterscotch. I used that inspiration, along with some pre-made toppings and fillings I already had at home, to put together a Cheat's Butterbeer Cupcake Recipe.
It was easy to jazz up some plain vanilla cupcakes with a delicious Dulce de Leche (caramel spread) filling. You'll find several brands of caramel spread in the jam section of your supermarket, or sometimes in the baking aisle. I find the Nestle brand Caramel top 'n' fill good if you can't get real Dulce de Leche.
Just scoop out a little bit of the cake with a melon baller and fill the hole with a teaspoon of caramel spread. It's a nice surprise when you are biting into the cake.
I'm not going to lie, this cupcake is pretty sweet, but so is real Butterbeer. I'd recommend going easy on the frosting as a little goes a long way.
You can omit the butterscotch sauce in the frosting if you want to reduce the sugar, but I think a little drizzle on top of the piping makes the cakes look really cute.
I used a Wilton 1M piping tip for the decoration, and a syringe to drizzle the butterscotch sauce on sparingly and accurately. (I tried squirting it straight out of the bottle but it came out way too heavily.)
If you are planning on making these Butterbeer Cupcakes for a party, the cakes and frosting can be prepared the night before and then decorated on the morning of the party.
Looking for more Harry Potter inspired recipes? Try these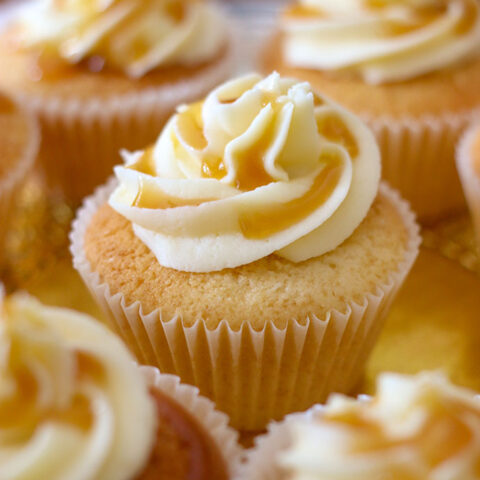 Easy Butterbeer Cupcakes
Yield: 12
Prep Time: 20 minutes
Cook Time: 15 minutes
Total Time: 35 minutes
Bake these easy Butterbeer Cupcakes for your next Harry Potter themed party or event. A few choice pre-made ingredients help you magic up these cupcakes quicker than a House Elf!
Ingredients
CAKE
1 Box Vanilla Cake Mix
Ingredients indicated on cake mix box
1/4 cup Dulce de leche or caramel spread
FROSTING
250g butter at room temp
3 cups icing sugar mixture
1 tbsp milk
¼ cup butterscotch or caramel topping (sundae sauce) - 2 tbsp for frosting and remainder for drizzle
Instructions
TO MAKE CAKES
Preheat oven to temperature recommended on cake mix box
Line a standard 12 x ⅓ cup cupcake tray with paper liners.
Prepare cake mix as directed
Spoon mixture evenly into prepared tin and bake for 15 minutes or until a skewer inserted into the center comes out clean.
Stand in pan for 5 minutes before transferring to a wire rack to cool.
TO MAKE FROSTING
Place the butter in a large mixing bowl. Use an electric beater to beat for 2 minutes or until very light and fluffy.
Gradually add the icing sugar and beat until the mixture is very pale and fluffy.
Gradually add the milk and 2 tbsp of caramel topping then beat until smooth and well combined.
If the frosting is too stiff add an extra tbsp of milk.
Once cakes are fully cooled, pipe frosting with a large open star tip (1M) or as desired.
Drizzle with extra caramel sauce.
Notes
You can also use your favorite basic vanilla cake mixture if you'd like to make these cupcakes from scratch.
Nutrition Information:
Yield: 12
Serving Size: 1
Amount Per Serving:
Calories: 686
Total Fat: 23g
Saturated Fat: 13g
Trans Fat: 1g
Unsaturated Fat: 8g
Cholesterol: 51mg
Sodium: 848mg
Carbohydrates: 118g
Fiber: 1g
Sugar: 82g
Protein: 4g
Nutritional information is an estimate only and may vary depending on ingredients used.