We all know the much loved story of a certain boy wizard who for seven years went to a certain magic school and conquered evil. But what about the rest of the kids, just trying to stay out of trouble at a school that proves to be very dangerous for children?
PUFFS is a hilarious play about those kids who's biggest goal is just to come third. Third or Nothing!
Now playing at the Alex Theatre in St Kilda, this off-Broadway comedy was a huge hit in New York where it premiered in 2015.
My little Potter-head and I headed into St Kilda to see a family-friendly weekend matinee performance and we loved it!
Of course Emma insisted on wearing her Hogwarts Robes to the show, marking her out as a 'Brave' but the Puffs didn't mind.
The characters and story have been adapted for an Australian audience with lots of funny local references including our 'hero' Wayne coming from Queensland and a Butterbeer joke that is just genius!
Full of fast paced witty dialogue, well performed physical humor and really funny visual gags, it's an entertaining romp and a must see show for any Harry Potter fan no matter what house you identify with.
Those not familiar with all the Harry Potter stories and movies will probably miss half the gags and references, but will still enjoy the enthusiastic performances from this local Aussie cast.
If you were sitting next to Emma you wouldn't have missed any of the in-jokes and she pretty much ran her own audio commentary breaking down every reference for anyone in ear shot. It was a joyous experience just sitting next to her and seeing how invested she was in the story and characters.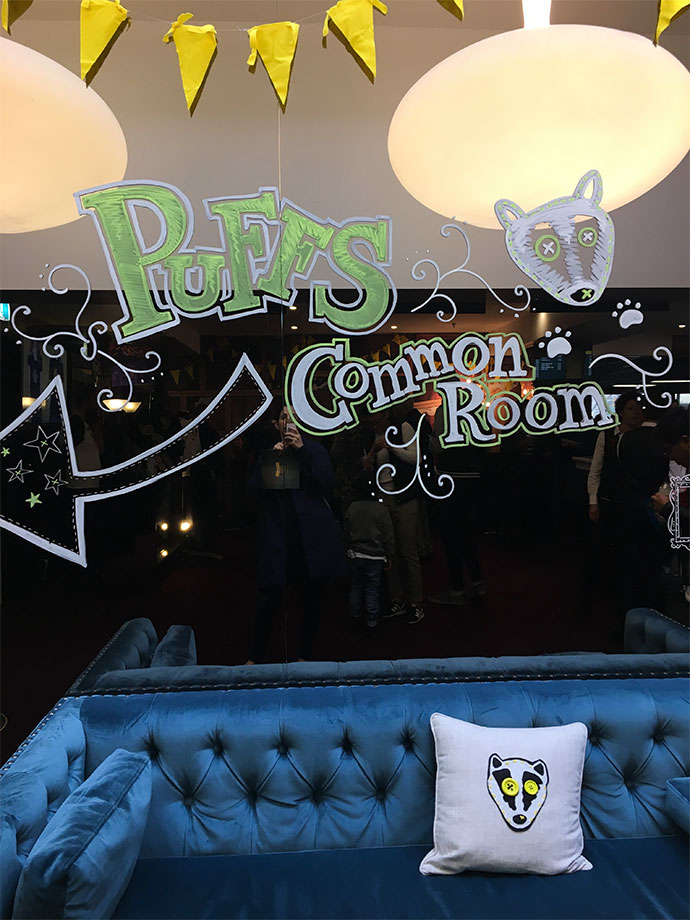 We loved how the Alex Theatre was decked out to look like the Puff common room, with lots of extra 'easter eggs' for those with keen eyes. (Don't miss the notice board just inside the theatre doors!)
The pre-performance and interval sound design was really clever and added to the fun.  Take a peek at our video above for a little taste of Emma's theatre experience.
Stick around for a while afterwards and you may get a chance to meet some of the performers and say Hi!
PUFFS is a heartfelt story for those of us that may not be the bravest, coolest, or smartest person they know, but are willing to put in the effort (even if it ends in failure). Its message of acceptance and resilience in the face of adversity is a timely reminder that not everyone is destined to be a 'star', and that's ok.
Where: Alex Theatre, 135 Fitzroy Street, St Kilda. 3182
When: Tuesdays to Saturdays 7:30pm, Sundays 5:30pm, Matinees: Saturdays 2:00pm and Sundays 1:00pm ENDS Season extended to 29th July 2018
Cost: $49.90-$79.90
Website: www.puffstheplay.com/australia
Even though the matinee shows have been "lightly transfigured so that wizards aged eight and up can share in the magic of Puffs without all the naughty swears", there are still a few subtle mature references that will go over most kids heads.
It's pretty fast paced with the actors playing multiple characters (some of whom die), so it's best suited to kids 8 and over.
If you are kid free or with teens over 15, head to an evening show for fully uncensored laughs.
Emma and I attended PUFFS as a guest of MAD PR for the purposes of this review.