Craft up some adorable Halloween Bats from recycled toilet paper roll tubes. Don't be fooled by their scary fangs, these little Vampire Bats are wearing bow ties and ready to party!
Decorate your home with a whole colony, and hang them right-way-up or upside-down, just like real bats!
Make just one toilet paper roll bat or a several.
These fang-tastic bats look great decorating a buffet table, strung together to make a garland or hung from on the walls or off dried branches.
A great way to upcycle empty toilet paper rolls. This Halloween kids craft project is very budget friendly, and when Halloween is over, they can go straight into the recycling bin.
How to make Toilet Paper Roll Bats for Halloween
These fun little bats with their cheerful bow ties make cute Halloween decorations.
Kids will enjoy painting the paper roll tube, decorating the face and folding the paper wings.
I've included a printable template for the wings and face. There's a link in the instructions below.
If you don't want to recycle a toilet paper roll, you can always use a paper towel roll or a wrapping paper tube and cut it down to size.
Tip: For extra spooky, nightly thrills, you can decorate the wings of your bat with using glow-in-the-dark paint or glue.
You will need:
Empty toilet paper roll (or cardboard tube cut down to size)
Black A4 paper (for bat wings)
Pencils/pens
Scissors
Black paint
Paint brush
Double sided tape
Craft glue
Bright coloured felt scrap (or paper scrap)
Thread
Glow-in-the-dark paint/glue (optional)
How to:
1. Print the template page at 100%.
2. Colour in the eyes. Cut out the wings template, bow tie template and the face pieces.
3. Trace and cut the wings template onto black paper, making sure to mark the fold marks. You could also use a scoring tool to mark the creases.
4. Trace the bow tie template onto brightly coloured felt scrap (or piece of paper), and cut out wings and bow.
5. Fold the black paper wings as per the template reference markers. Then fold down top of the wings, 1 cm (1/2″) from tips.
6. Paint the toilet paper black. Set aside and allow the paint to dry. Optional: You can use a hair dryer to speed up the paint drying process.
7. Hold the toilet paper roll with both hands. Using your thumbs push down a roll end with the edges bending toward each other. Repeat with opposite end of the roll.
The roll will now look like a parcel with four peaks to resemble ears and feet.
8. Attach the eyes and teeth pieces with glue or double sided tape onto the toilet paper roll near one end.
9. Tape the middle of the wings piece to the back of the bat.
10. For the finishing touch – tightly tie and knot thread around the middle of the brightly coloured felt piece, gathering it into a bow tie shape.
11. Cut off any excess thread and then glue the bow to the bat's body, just below the face.
Your toilet paper roll bat is ready to hang!
LOVE IT? PIN IT!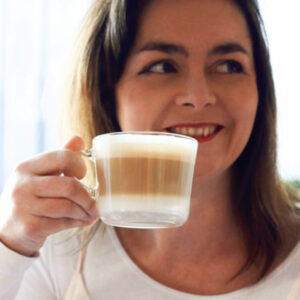 Melissa is a hyper creative artist, and content creator.
To see more of Melissa's work, follow these links: