From whimsical yarn havens to treasure troves of buttons and trims, and even a bookshop dedicated solely to crafting, Melbourne has some hidden retail gems that cater to a diverse range of crafty pursuits.
Big box stores and online shopping for craft supplies is fine, but nothing replaces the thrill of unearthing a unique piece of fabric from a remnant pile, squishing perfect yarn, or gleaning inspiration from a shelf full of beautifully crafted books.
Join me on a crafty journey as I reveal some of Melbourne's best-kept craft supply secrets.
The number one question that I get asked all the time is "Where do you get your wool/fabric/supplies from?"
It can often be hard to find very niche supplies locally or at a reasonable price, unless you know where to look that is!
Over a couple of weeks, Emma and I visited all my favourite crafty stores, specifically the ones that specialize and excel in their niche, but don't shout it from the roof tops.
Some of these stores don't even sell online, you'll have to get off the couch to explore these treasure troves.
All of my best kept secrets were either discovered by accident (just driving past), or via word of mouth from a friend of a friend, and now I'm going to share the secrets with you.
Just you, me and the internet, so keep it under your hat ok.
Time to buckle yourself in. I'm going to take you on a crafty tour of Melbourne.
To be honest, each of these stores are so great,
I could write a whole blog post on each (and maybe one day I will), but we've got a lot of ground to cover, so… Let's get started!
Craft supplies in Melbourne's North
I used to live in Essendon so I know my way around Melbourne's inner north.
Sadly I don't get across there as often as I'd like, but I still make the trip if I'm looking for something specific that I know the following stores stock.
These four stores are within 15 minutes of each other, so you can easily cover them all in a morning if you are efficient.
TRIMMINGS N REMNANTS (Now House of Adorn – see new address below)
Trimmings n Remnants has recently moved to a new large warehouse location just down the road from the old store, (which I loved but was falling down apparently).
It's an Aladdin's cave of sequins, feathers, millinery supplies, sparkly spandex and of course, trims.
If you need to make a dance costume or embellish anything, you'll find what you need here.
You can buy sequins by the kilo. By the KILO!
They have shelves and shelves of jars filled with beads, buttons, toy eyes, jewellery and bag findings, and a few surprises like these little kewpie dolls. My sister beaded her wedding dress with some gorgeous supplies from here.
I come here if I need: Swimwear fabric, special elastic (metallic or coloured), feathers, zips by the meter and anything sparkly.
https://www.houseofadorn.com/
10 HOLLOWAY DRIVE,
BAYSWATER 3153
PH. 03 9543 2268
YARN BARN
Blink and you'll miss the Yarn Barn. Kerry and his son have been running this old fashioned business for 15 years, and have a history in the Australian textile industry for many years more. I could spend all day in this little shop playing with all the yarns that Kerry spins from Australian merino. It's not a fancy place, but the quality, colour range and prices are good.
I had to restrain myself from buying one ball of every colour. If you are into spinning or felting, the Yarn Barn has merino wool tops sold by weight. There are a ton of colours to choose from at the bargain price of $7 per 100g.
Kerry showed me through to his back room where he has a plying machine. I was fascinated. You can design your own yarn by mixing and matching any colour or fancy yarn you like and the machine will ply (twist it together) to create something unique. It costs $10 per ball with a minimum of 500g.
Whilst there I also spotted some vintage Irish linen thread which is perfect for rug sewing, you just can't get linen thread easily anymore.
They also stock a large range of un-dyed merino yarn for DIY dying.
I come here if I need: Lots of wool roving, linen thread, well priced yarn
https://www.yarnbarn.com.au/
New location
26 WESTFIELD BOULEVARD,
WESTMEADOWS 3049
Call before visiting PH. 0417 664 441
Now it's time for some fabric shopping. The next two places are around the corner from each other so if you don't find what you need at one, the other is sure to have it.
RATHDOWNE FABRICS
When I was sewing to sell for my market based business, this store was my number one destination for quality fabrics at a reasonable price.
The staff there are lovely and even though I haven't been in such a long time, they still remembered me asked how my mum was doing, we'd often go in together.
I must have bought an awful lot of fabric back then.
What's special about Rathdowne fabrics is that they source exclusive fabrics from end of designer's production runs, so it's likely that you won't get that fabric anywhere else.
They also have an amazing range of wool fabrics at the moment, vintage suiting and coating. I wonder where they unearthed that?
Their range of dress making fabrics is excellent and they also have a furnishings section with high end ranges for reasonable prices. Make sure to have a rummage through the remnant bins to find a bargain.
If you are in the area it's worth popping in just to see their huge collection of vintage sewing machines. I'm surprised a group of crafty cat burglars haven't planned a spectacular sewing machine heist to liberate all these gems.
I come here if I need: something a bit different for dressmaking, designer denim.
https://www.rathdownefabrics.com.au/
154-158 VICTORIA STREET
BRUNSWICK, VIC, 3056
PH. 03 9388 5444
GJ's DISCOUNT FABRICS
Now located in Fairfield is GJ's.
If you are a quilter this place is heaven. It has ALL the quilting fabrics, I guarantee you won't leave empty handed.
You can get lots of indie patterns her too, as well as a big range of haby and quilting tools.
I've never seen such a huge rainbow array of Kona Solids, and they have some very reasonably priced linen too. If you need a space to sew with some friends, they have an upstairs room for hire.
But if that wasn't enough, head into the back room and put your sunglasses on because it's going to get bright!
The back room has a big, big range of dance and stretch fabrics. While I was there they had a call from one of the 'Dancing with the stars' dressmakers who needed some chiffon URGENTLY!
I come here if I need: linen fabric, quilting fabric to match something specifically (they have all the colours).
https://www.gjsdiscountfabrics.com.au/

31 STEANE ST, FAIRFIELD VIC 3078
PH. 03 9482 5528
Craft supplies in Melbourne's South-East
Now it's time to head southside, which is where I live now. It took me a while to find some new local suppliers for my crafty needs, but I did and they are pretty good.
A couple are just recent discoveries (to me anyway), which goes to show that there are always surprises to be found in your own neighbourhood.
ASTORIA PAPER PRODUCTS
Did somebody say piñata? Prepare yourself for sensory overload, this place is amazing.
I find any excuse to visit because it's so fun. Apart from a huge range of party supplies, balloons and costumes.
They have lots of paper goods and packaging supplies available in bulk which are perfect for craft businesses. Lots of paper food containers are perfect for crafts and product packaging too, so it's really worth checking out if you want to take your handmade products to the next level.
Look out for cello bags, reams of tissue paper and kraft paper bags. Also if you need confetti by the kilo they've got it sorted.
I just discovered that they had raffia there which is perfect for basket making in 1kg hanks for only $29.
Note: they are closed on Saturdays and Jewish holidays.
You may want to ring ahead just in case.
Also while you are in the area grab a Bagel from Glick's, it's right around the corner.
I come here if I need: paper doileys, party supplies, honeycomb decorations, tissue paper, just for fun.
https://www.astoria.com.au/
8 WILLIAM STREET
BALACLAVA, VIC 3183
PH. 03 9527 1776
DARN CHEAP FABRICS
Darn cheap is now my local go to for garment fabrics.
Their range of everything is gorgeous and every time I go there it just inspires me to get sewing.
Lately I've been sewing stretchy clothes for Emma, and their range of jersey and interlock is great. Lots of trendy designs as well as a good range of basics.
They specialise in fashion forward designs. If you want high end fabric for a special dress, they have a bucket load – silks with digital prints, laser cut designs and other really cool stuff, but are very reasonably priced.
Emma loves it in there, especially looking at all the novelty buttons. Just like me as a girl.
Their range of trims, ribbons and buttons is the best south of the river, if not in Melbourne. A must visit! You will usually find me there on saturday mornings.
I come here if I need: jersey for t-shirts and tracksuits, fancy fabric, amazing trims and buttons.
They also have a location in Fitzroy
https://www.darncheapfabrics.com.au/
1184-1188 GLENHUNTLY ROAD,
GLENHUNTLY, VIC 3163
PH. 03 9563 6833
WONDOFLEX YARN CRAFT CENTRE
I stumbled on Wondoflex earlier this year in my pre-knitting days, I liked it back then, but now that I'm a knitter I LOVE IT!.
I'm a bit late to the game, it has been there for about 60 years, and I hope for another 60 more. It's huge and has everything you could ever dream of.
So much beautiful yarn. I WANT ALL THE YARN!
Every colour, thickness, fiber, this place is awesome. The staff is lovely, knowledgeable and very helpful, and the best thing is on Fridays and Saturdays they open up the back room which has lots of yarn ON SALE.
I stocked up big time the other day and have lots of knitting planned over the next few months.
They also have a huge range of needles, spinning supplies and fiber dyes, as well as running classes.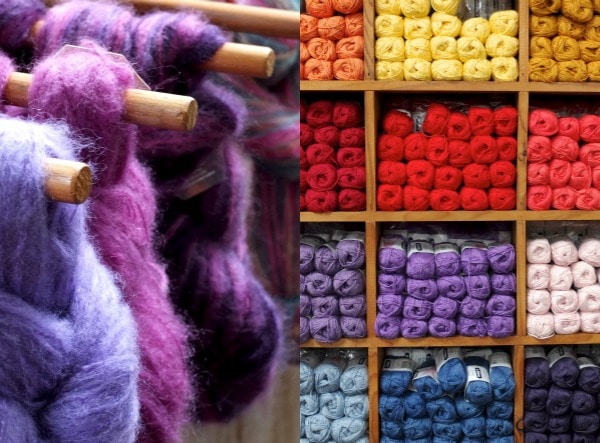 I come here if I need: Yarn, knitting needles, advice.
https://wondoflex.com.au/
1353 MALVERN ROAD,
MALVERN 3144
PH. 03 9822 6231
CAN DO BOOKS
Last but not least is my new favourite bookshop which specialises in just craft titles!
There are 1000's of titles in sewing, knitting, craft, gardening, woodwork, art, photography and more. If you can't find it there, you probably won't find it anywhere.
Online shopping is convenient but nothing beats actually looking through a book before you buy it to see if it's right for you. Can Do Books is a family run business and when I say family, I mean pets too. Who can resist these adorable eyes?
Stephanie the owner, is a very capable crafter and takes the time to make projects from the books she stocks to display in the showroom.
I come here if I need: good books, inspiration.
https://www.candobooks.com.au/

39 CLIFFORD ST,
HUNTINGDALE VIC 3166

PH. 1300 308 261
Well that's all folks! I'm exhausted, what an epic adventure.
I hope I've helped you discover some new crafty places to visit and I'd love to hear about any other places I should know about.
I'm sure there are tons.
Originally published Oct 2014 – Fact checked and updated July 2023