Dressing up as a witch is always a popular costume choice for kids at Halloween. Now you can add some extra fun to a homemade witch costume with a DIY Witch Nose made from a humble egg carton.
If you are looking for a quick and easy Halloween craft project idea, this fun recycled egg carton witches nose is super simple to make and will have the kids cackling!
I'm always loathe to throw out egg cartons, they are so versatile as a material in all sorts of recycled arts and craft projects. Inevitably I'll end up with a big pile and then my husband will pop them in the recycling bin during a big tidy up.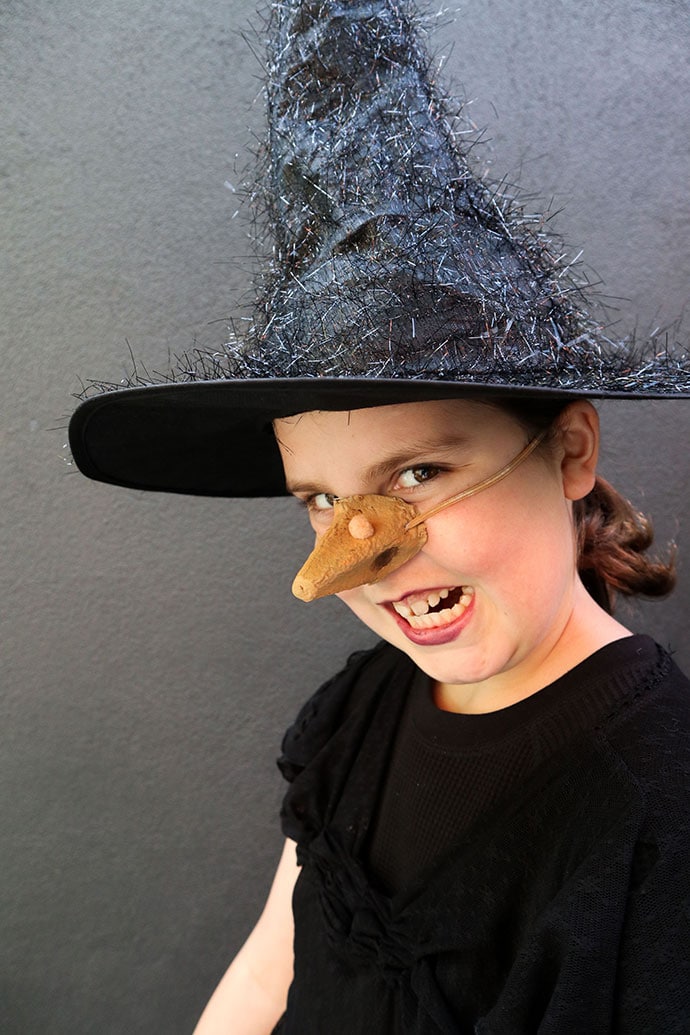 With Halloween nearing, it struck me how much the center of the cartons looked like a witch's nose.
Maybe it's because we recently watched Hocus Pocus during a Family Halloween Movie Night and I had witches on my mind.
Emma loves dressing up, and even though it's unlikely that trick or treating will be on the cards this year, we are still embracing Halloween shenanigans at home with some homemade costumes.
Prosthetic artists have know for decades that altering the shape of a nose can totally transform the look of a face. Kids will love getting into character and role playing in costume with their new witch nose. Just a few black garments and an inexpensive witches hat is all you need to complete the Halloween Costume.
Even better – Crochet a Witches Hat with this pattern!
Now Emma is off to make some mischief!
Q: What do the fastest witches use to get around?
A: Vroomsticks!

How to make a Witch Nose from an Egg Carton
Elevate your homemade witch costume with a fun prosthetic witches nose made from a humble egg carton.
With only a few readily available craft supplies, you can have fun putting together a handmade Halloween witch costume.
Kids will love painting and decorating their own prosthetic witch nose in any colour they wish.
If you can't get hold of thin elastic, try tying on the nose with some ribbon or yarn.
You will need:
Egg carton – cardboard
Acrylic Paint (in preferred colours)
Paint brush
Scissors
Small pom poms (green, black and/or light pink)
Glue Stick
Thin elastic (about 50cm/19″)
How to:
1. Carefully cut out the central pointed cone from the cardboard egg carton.
2. Trim off any round edges. At this stage place on face over nose and trim down any excess to ensure the edges sit flat on face. As a guide, longest flattest edges of the cone shape will align with cheeks.
3. Kids can paint the nose their desired colour. Either green or a tone to match their skin.
4. Paint some nostrils on the bottom of the nose in a darker colour. You may decide to punch some real holes out in the nostril area to make breathing easier. Allow paint to dry.
5. Glue on a small pom pom to the top of the nose as a wart. You can choose a pom pom colour to match the nose or something darker for added contrast.
6. Punch 2 small holes at the side of the egg carton witch nose and thread though desired length of elastic. Tie off ends to secure.
7. So the elastic blends in better. Stain it with a small amount of paint or some make up. I've just lightly dabbed some paint on with my fingers. You will only need a thin coating. If you are wearing face makeup, just paint over the elastic when you apply your makeup.
All done!
We made several noses. A couple of green ones, and one similar to Emma's skin tone so it looks more natural.
They are hard to photograph flat, due to their dimensionality but look great on. I love the little pom pom warts. So cute!
Emma had a fun time dressing up as a witch for our mini photo shoot. It's amazing how much fun you can have with an old egg carton!
Are you a good witch or a bad witch?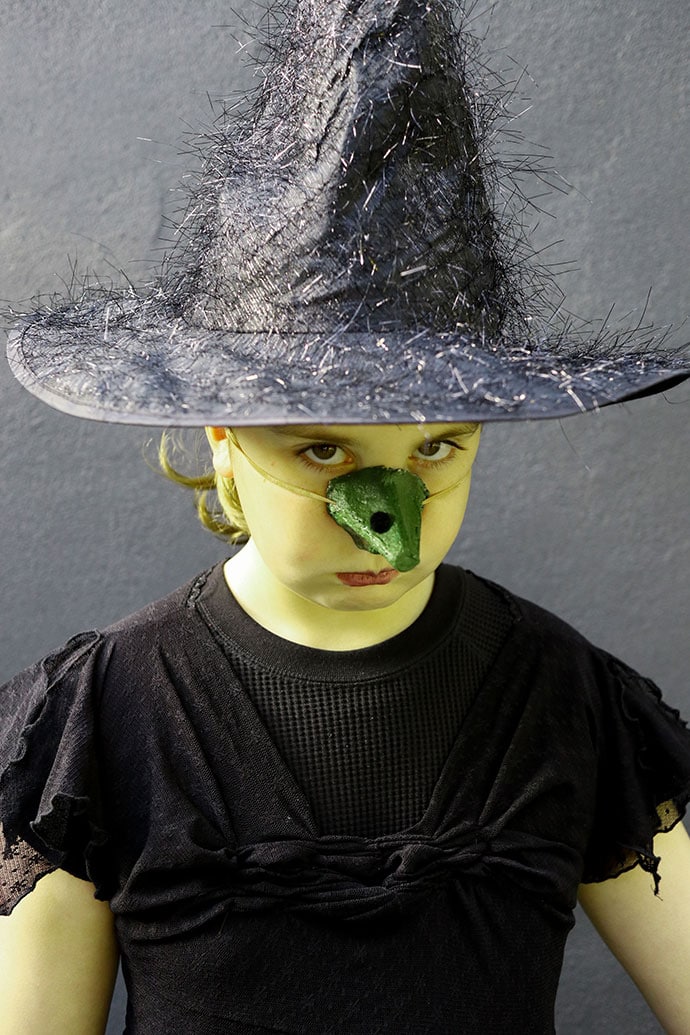 You may also enjoy these Halloween Costume Ideas: