Yep it's Comic-Con season at Casa My Poppet! For the last couple of weeks I've been busy working my crafty mummy magic transforming a pile of ordinary craft supplies into a cosplay costume worthy of meeting Emma's high expectations.
Every year the planning on her part seems to start earlier and earlier, I can't even count the number of very important bedtime conversations Emma has with me about who she will go as this year, it's very serious business for an eight year old.
The constant deliberations are pretty endearing, but also drive me bat-shit-crazy! I look forward to the actual event just so I can have a short reprieve from the 'What will I wear this year?' conversation.
In the past she's cosplayed as some comic book characters like Raven from Teen Titans, and Princess Bubblegum from Adventure Time.
This year, Emma finally decided on going as Poison Ivy: DC Comics Super-Villain and Batman adversary. A botanist and notorious Eco-terrorist who uses plant toxins and mind-controlling pheromones for her criminal activities, usually aimed at protecting endangered species and the natural environment.
This kid loves the villains! – Read about Why Girls need Superheroes AND Super Villains as Role Models
The hardest part about making a cosplay for Emma is expectation management, this kids has such big ideas. When the Poison Ivy costume was on the cards, she described a vine shooting contraption that would be built into a pair of gloves, I mean I'm pretty good but not that good!
Overall the Poison Ivy costume was fairly straight forward to put together, the challenging part was gathering the materials. I didn't realise how hard it would be to source green stretch fabric and green tights, obviously green is not an on-trend the colour this season.
If I was more organised, I would have ordered well ahead of time online, but in the end I just hit the pavement and sourced everything locally.
The stretch velvet for the leotard wasn't my ideal choice, the colour was a little too blue and I was worried it would be difficult to sew with. But in the end it was not too bad and I actually like how the sheen on the fabric makes the costume look kind of vintage.
I shot an Instagram stories video while I was sewing, and thought you'd enjoy seeing the process too, so I re-edited it for Youtube. You can watch above.
The costume took about one week to finish all up, there was lots of hand sewing involved and more than a little bit of blood shed from needle stick injuries. But I've survived and created this sartorial masterpiece! – I'll give you more details below.
Melbourne OZ Comic-Con isn't till next weekend, but because it's always pretty hectic there, I thought it would be fun to have a photo-shoot before the event. We headed over to the St Kilda Botanical gardens and I think you'll agree, the end result looks amazing. Emma really loves getting into character, and as soon as she put on the cosplay, she insisted we call her Ivy!
I hope you enjoy the photos, there is a ton here, but they all turned out so great, I couldn't bear not too include all the best ones.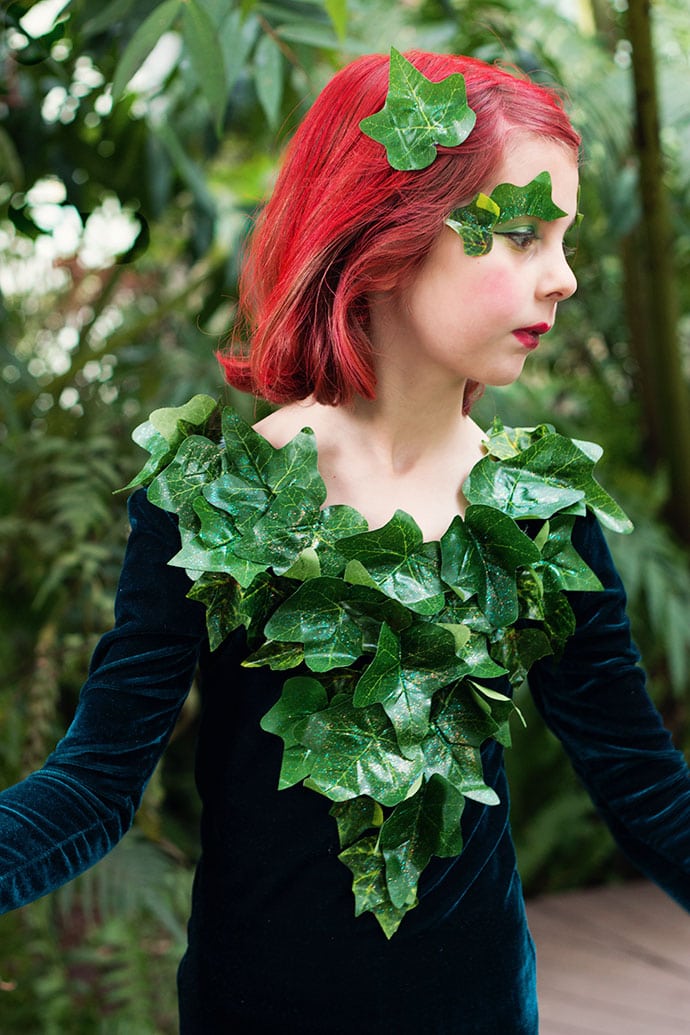 How to make a Poison Ivy Costume
Depending on your sewing skills you can attempt to make this costume from scratch (like I did), or take a few shortcuts and use a pre-made leotard. I'll included some shopping links below for those of you in the States that are Amazon shoppers.
This DIY tutorial could certainly be adapted to make a woman's costume.
You will need:
Stretch green fabric (or pre-made green leotard)
Leotard sewing pattern (I adapted this Burda 9914 to fit Emma – purchased from the op-shop)
General sewing supplies to make leotard (including elastic and jersey needle)
Faux Ivy vines (try and find ones with fabric leaves)
Glitter paint (for extra sparkle)
Green tights
Sewing needle and thread
Metal hair clips
Hot glue gun
Red hair spray paint
Makeup including green eyeshadow and red lipstick
Black or green boots
How to:
Check out the video above for a quick run down of how I put together the leotard.
1/ Make or purchase a green leotard.
2/ Prepare the leaves by pulling them of the plastic vine stalks, and paint them with glitter paint if desired. Leave to dry.
3/ Hand stitch leaves to leotard around neckline and cuffs.
4/Hand stitch or glue leaves onto boots. I was lucky to find a pair of faux suede boots at Kmart that were loosely covered in fabric, ideal for stitching to. Later the leaves can be removed without damage.
5/ Make hair clips (in lieu of headband). Hot gluing a plain metal hair clip to the back of an ivy leaf.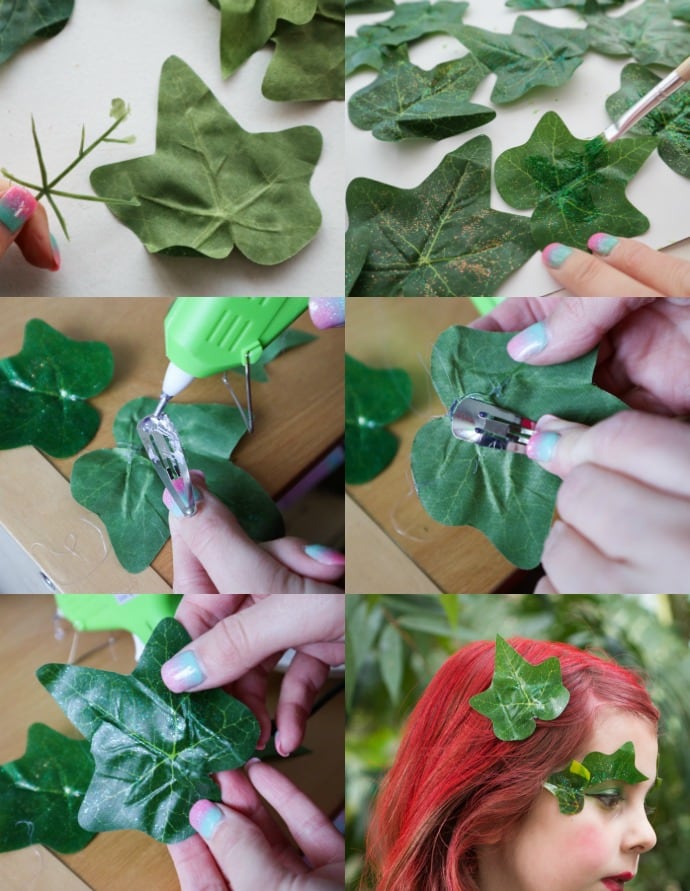 This is where I sourced my supplies from in Melbourne, the green tights were the hardest to find, but I managed to track down an adult pair (which fit ok) in a local party and costume supply shop in Elsternwick (they were the last pair).
Easy Poison Ivy Makeup
I'm not really skilled at applying make-up so I kept the whole look simple and tried to use products we already had at home. The only supplies I had to purchase were red hairspray, eyelash glue for sticking on the eyebrow leaves and bright green eyeshadow – Sent the Mr out for these and he managed to find his way around the cosmetic department just fine.
1/ First thing I did was spray Emma's hair red with temporary hair colour. Make sure you cover clothing and face with an old towel because this stuff gets everywhere. Best to spray on a few light coats, drying and brushing gently in between to get a more natural effect. Washes right out with shampoo later.
2/ Eyes are green eye shadow finished off with a cat eye liquid eyeliner.
3/ Cut some ivy leaves to make the eyebrow feature and adhere with a few drops of eyelash glue.
4/ Apply red lipstick and add a touch of green eye shadow to center of lips. Poison Ivy has poisonous lips and a deadly kiss!
5/ I've smudged a little lipstick onto her cheeks to complete the look.
So there you go! One Poison Ivy Costume done and dusted! Now she's ready to head to Comic-Con and give the Superheroes a run for their money!
More Comic Book and Video Game Costume Ideas:
LOVE IT? PIN IT!