We are heading to Oz Comic-Con tomorrow. We had a fun time last year when Emma dressed as Raven from Teen Titans, and after many, many weeks of deliberation, she finally settled on Princess Bubblegum from Adventure Time. Princess Bubblegum (PB for short) is made of bubblegum (hence the pink), and is the ruler of the candy kingdom. Not just a pretty face, Emma likes her because she is a scientist and inventor "She's really smart mum!". Ok, I've been told.
If you are looking for the Princess Bubblegum Crown instructions scroll down, but first let me tell you about how I put the costume together.
I agreed to make a Princess Bubblegum costume with the thought that I could just buy a pink dress from the op-shop and add a lilac collar and sash, but there were no pink dresses to be found so I had to make one from scratch.
I used a couple of vintage patterns, one for the bodice and another for the puffy sleeves. Neither had a peter pan collar so I drafted that myself. It wasn't perfect but will a little cajoling, it's passable.
Fabric shopping was a challenge, Miss Emma is very exacting and the only fabric that matched the colour perfectly was a polyester knit at $20 a meter so I bought just 1.3m in hopes that it would suffice. Luckily it was wide and fairly reversible, so I did some creative cutting and only had a few scraps to spare.
So after much cutting, fiddly zip inserting, sewing and hand stitching, we have one very fancy Princess Bubblegum dress that meets her royal highness's approval.

What do you think? Did I do a good job? I'm pretty pleased at how it turned out, even though it looks simple it was quite a lot of work, 8-9 hours for the dress alone. The crown was much easier (thank goodness).
If you aren't a good sewist here are some ready made dresses that would work great for this costume.
Emma was really chuffed and we thought it would be fun to do a photoshoot before Comic-con. Rather than a wig we opted for pink hair spray, I think it looks much cuter and there will be no 'itchy wig' complaints tomorrow.
More DIY costume ideas:
How to Make a Princess Bubblegum Crown
You will need:
paper crown template (I'll show you how to make one below with A3 paper and pencil)
Stiff yellow felt – 1 or 2 large sheets (A3 size, the stiffest you can find)
Blue plastic gem (round)
20cm firm elastic
Scissors
Craft glue
Sewing needle and yellow thread (or sewing machine)
Pegs
How to:
Make Template
1. Fold A3 sheet of paper in half and sketch the shape of the crown on the fold. Use the gem as a guide, the proportions of crown will depend on the wearer.
2. Cut out the template and test on your model. I shortened the height and narrowed the width of the band.
Making the Crown
3. Trace your template onto the felt twice. I adjusted the height so I could just fit 2 on a sheet, if your crown is taller use a second sheet.
4. Cut out the crown shapes from felt.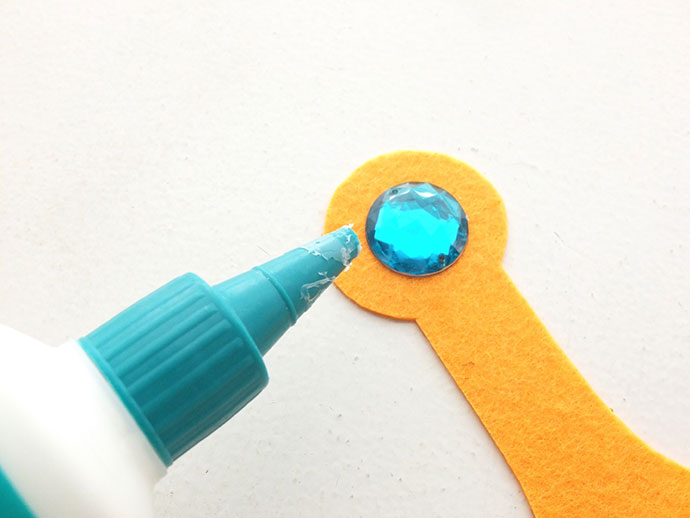 5. Go ahead and glue on your gem, then leave to dry.
6. Pin on elastic onto the back of one side of the headband, and measure on head to determine the elastic length.
7. Hand or machine sew elastic to secure, and trim any excess elastic.
8. If your felt is stiff enough the crown is ready to wear, but for a sturdier crown I've added another layer of felt.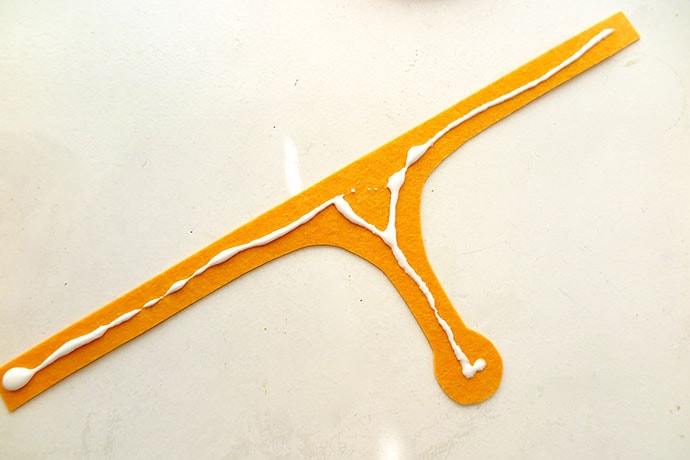 9. Add plenty of glue to second felt piece.
10. Insert and glue to inside of crown matching up the edges.
11. Clip with pegs and allow glue to dry.
That was pretty easy to make and the result looks great!


Are you or your kids Adventure Time fans?