Emma's love of all things Harry Potter has yet to subside. As she delves further into the books and movies, her interest in the more peripheral characters is growing. Her latest character crush is Luna Lovegood – a free-spirited Ravenclaw who always seems like she is 'off with the fairies'. Emma describes her as 'dreamy'.
"The girl gave off an aura of distinct dottiness. Perhaps it was the fact that she had stuck her wand behind her left ear for safekeeping, or that she had chosen to wear a necklace of Butterbeer caps, or that she was reading a magazine upside down." – Harry Potter and the Order of the Phoenix
For Emma's Harry Potter themed birthday party she dressed as Ginny Weasley, complete with red hair and freckles. I didn't mind making her a full Hogwarts Uniform for her Ginny Weasley costume as I figured she would wear it again at Oz Comic-Con this year.
But nine-year olds change their minds quickly, and it turns out Emma had her heart set on cosplaying as Luna. Of course I'm always up for a challenge when it comes to costume making, so I said yes! It was time to make a Luna Lovegood Costume.
It took me a little more effort than expected to put together this Luna Lovegood costume from scratch, but I think the end result was worth it – read on for more details.
We had a fun little cosplay photoshoot the day before Comic-Con at Rippon Lea Estate – The photos turned out so great, it was hard to choose just these few.
I present Emma as Luna Lovegood! Enjoy!
Luna Lovegood Cosplay
Items required for a Luna Lovegood Costume:
Pink Jacket (boucle tweed fabric)
Blue tights
Striped socks
Hi-top sneakers
Blonde Wig (optional)
Lion Head Hat (optional)
I wasn't keen on making everything from scratch, so I hit the Op-Shops to see if I could find something suitable. We already had the tights, socks and sneakers, so I just needed to make a jacket and skirt for the main part of the costume.
The jacket was quite hard to find but I eventually scored a woman's size jacket at the 5th Op-shop I visited for $12. It was quite large so I altered it to make it fit properly.
The alteration was actually quite a big job. I pretty much had to take the whole jacket apart, cut it down, and sew it back together again. But in saying that, it was much quicker (and cheaper) than making a tailored coat from scratch.
I was silly not to take before photos as the difference between the 'before and after' was quite impressive.
The skirt was made from vintage fabric and a vintage sewing pattern. I chose the most similar fabric in my stash to the reference image. You can buy the exact Luna Lovegood fabric design here from Spoonflower.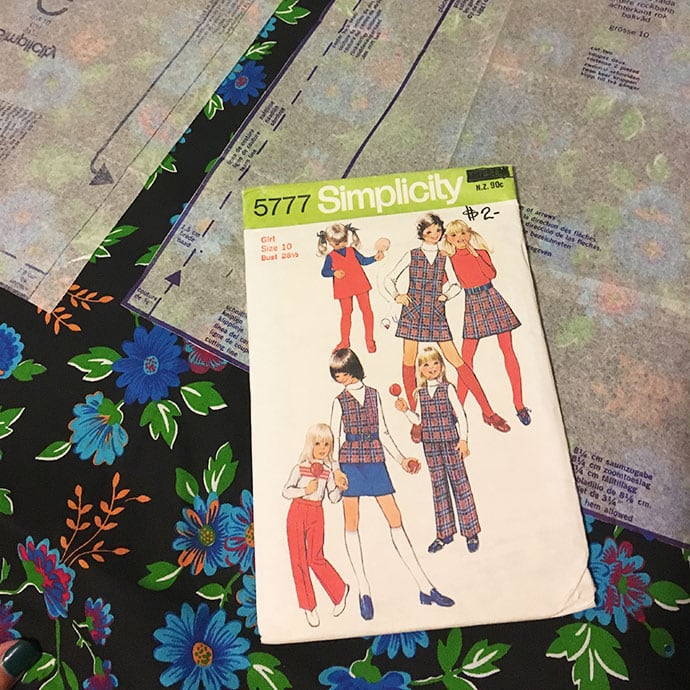 Luna Lovegood Costume Accessories
The only new items purchased were the blonde wig, and a $1 pair of sunglasses (on sale at Kmart) to turn into Spectra Specs.
Finding a pair of Spectra Specs in Australia at short notice was pretty much impossible, so I made a pair from scrapbook paper glued onto card and then double-sided taped onto a regular pair of sunnies. They turned out pretty cute I think.
DIY Luna Lovegood Spectre Specs
You will need:
Pink patterned scrapbook paper
1 pair sunglasses, preferably with round lenses
Thin card
Glue stick
Double sided tape
Pencil
Scissors
Craft blade
1 sheet A4 paper
How to:
With a pencil. trace the outline of your sunglasses frame onto a plain piece of paper, try to trace the shape of the lens also.
To make a template, draw around that shape and add in the winged section on the sides. You only need to draw one side at this stage.
Cut out the half you have drawn, fold it down the center (where the bridge of the nose goes) and copy onto the other side. This is the basic template for your Spectrespec frame.
Glue patterned paper onto card.
On the back of the card trace the outline of your paper template.
Carefully cut out shape with scissors or a craft blade.
With double-sided tape, attach onto your pair of sunglasses.
All done! A DIY pair of Spectrespecs!
If you live in the US, you can purchase an officially licensed pair of Spectre Specs available with free Prime shipping – see link below
No Luna Lovegood costume is complete without a copy of The Quibbler. After all, Luna's father is the publisher and editor of The Quibbler and she's the first to get every issue.
Our Quibbler magazine was just a regular magazine with this printable design glued onto the cover. I did a little bit of resizing in Photoshop to make it fit. It was the perfect prop to finish of this Luna Lovegood cosplay.
Emma is really into the details when it comes to recreating cosplay costumes. She was especially particular about the bag.
I couldn't find any blue woven fabric like in the original image, so I decided it would be easier to crochet one instead. I used a few different yarns held together and then wove coloured wool roving fibres through to give it a hand loomed texture.
It's a great size and was super handy to pop all of her shopping and props in during Comicon. A very practical addition to her Luna Lovegood costume.
There have been many requests for the crochet bag pattern – here it is!
Luna Lovegood Lion Hat
Now I must admit that I was probably a little bit ambitious when I decided to crochet a Lion Head hat, just four days before Comic-Con without a pattern. I'd seen one on Pinterest made by an amazing crocheter, Crochetaholique, who makes them to order and sells them on Etsy. I contacted her to see if it was okay to make my own for Emma and she gave me her blessing.
You can purchase a custom-made Lion Hat by Crochetaholique here.
I documented the process of making the crochet lion hat here on my IG stories. Don't ask for a pattern because I just made it up as I went along. I estimate it took me about 18-20 hours to make in total.
Do you love it? I think it's one of the best things I've ever made. So many people stopped us at Comic-Con just to get a picture of the hat.
It was quite heavy, especially over the wig, so I ended up wearing it for most of the afternoon at Comic-Con and Emma would pop it on just for photos.
I can imagine this lion hat would also look amazing as part of a Wizard of Oz Cowardly Lion costume.
I hope you enjoyed this post. We had a lot of fun both putting the Luna Lovegood costume together and taking the cosplay photos.
If you'd like any more details about how I made the costume or accessories just leave me a comment and I'll get back to you as soon as I can.
Will you be dressing as Luna Lovegood for Halloween or Comic-Con this year?
You may also enjoy:
LOVE IT? PIN IT!