Get your crochet hooks out Potter fans because I've got a fun and practical crochet pattern for you to make – Luna Lovegood's Tote Bag.
I made this blue crocheted cross-body bag for Emma's Luna Lovegood Cosplay Costume, just like the one in the movie.
Of course you could make this basic bag pattern in any colour you like – it's the perfect size for carrying a few items in and will fit an A4 book or folder. It's very comfortable to wear across your body, leaving your hands free for other activities.
Emma is really into the details when it comes to recreating cosplay costumes. She was especially particular about the bag.
I couldn't find any blue hand loomed fabric like in the original image, so I decided it would be easier to crochet something with a similar texture instead.
To create a mottled effect I used a few different yarns held together to crochet the bag. Most of the yarns were ones I've picked up at thrift stores or leftover from other projects so sadly I can't share a particular brand with you. You'll need to experiment to achieve a similar effect.
I actually ran out of the original dark blue yarn about 80% up the bag, so had to blend in a couple of other yarns that were slightly thinner. You can see it in the finished item photo if you look closely, but it's passable and didn't bother Emma at all. (I'm not sure she noticed.)
To finish the colourful speckled look of the textile, I wove in red, yellow and green wool roving fibres through the bag stitches to give it a hand loomed texture.
Emma found her Luna Lovegood Bag super handy to pop all of her shopping and props in during Comicon. A very practical addition to her Luna Lovegood costume.
Any costume with a bag gets the thumbs up from me, because it means I have to carry less stuff in my handbag.
This tote bag was made to suit Emma proportions, but can easily be adjusted to a larger person. I've included the sizing below, but you can made it larger by adding extra chain stitches to the base to make it wider, adding more rows to make it longer, or lengthening the strap.
There have been many requests for the crochet bag pattern, so here it is. Enjoy!
I just need to preface this pattern with the fact that I didn't take notes or photos while I was making it, so I've had to work out the pattern from the original bag (which I just improvised on the fly).
Even though I'm pretty sure the pattern should work fine, there may have been something I missed or miss-remembered. If the pattern is unclear, or you need any extra clarification, feel free to yell out.
Luna Lovegood Tote Bag Crochet Pattern

You will need:
Blue cotton yarn verigated or several strands held together to make DK/worsted (8ply/10ply) equivalent, about 150g
4 mm crochet hook (US F/5 – G/6)
Tapestry needle
Wool roving (assorted colors) – optional
Crochet stitches used:
US TERMS
ch – Chain
sl – slip stitch
dc – double crochet (UK treble)
hdc – half double crochet (UK half treble)
sc – single crochet (UK double crochet)
Crochet pattern:
Finished measurements: bag section 27x27cm (10.5″x10.5″), strap width 4cm (1.5″), strap length, 84cm (33″)
Gauge (approx) over 10x10cm (4″x4″): 13st x 8 rows (double crochet) – not critical
This bag is worked in a spiral from the base up. Strap is worked as a continuation of base then end is joined on opposite side.
Bag section
Ch 40 (counts as 37 chains and 1st dc of Round 1).
Round 1: Work 1 dc in 4th chain from hook, 1 dc in each of the next 36 ch, 2 dc in last; working on opposite side of chain, 1 dc in each of the next 36 ch, 1 dc into the 3rd stitch of chain dc equivalent, sl to join — 76 sts. (see diagram below)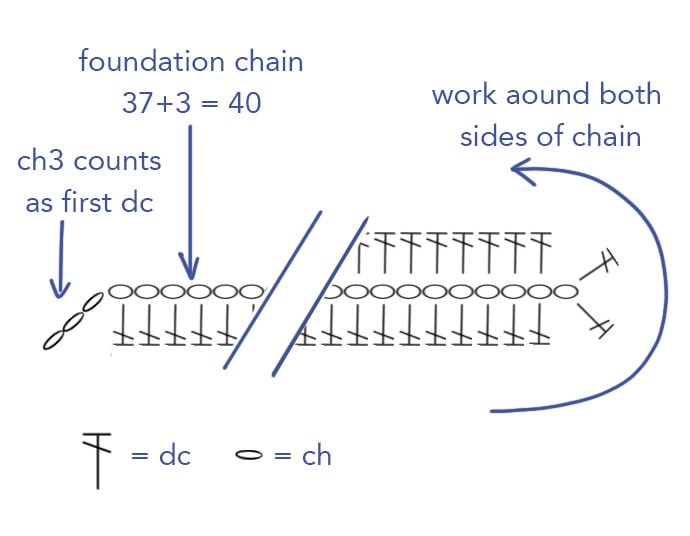 Round 2: ch 1, work 1 dc into every dc st of previous round, from now on continue crocheting in a spiral working up without, sl join on each round.
Round 3: dc into space of ch on previous round, work 1 dc into every dc st of previous round.
Round 4-21: work 1 dc into every dc st of previous round (or till desired height is reached).
Round 22: work 1 dc into next 41 st, work 1 hdc into next 25 st, work 1 sc into next 13 st. DO NOT BREAK YARN.
Bag Strap
Bag strap is worked back and forth.
Turn to start work from inside of bag.
Every Row: ch 3, dc 7, turn.
Continue for 58 rows or until desired strap length is reached. Join to opposite side by slip stitching or sewing together.
Weave in any ends.
To embellish
Add extra coloured yarn or roving fibres to the crochet bag to give it a woven look.
Take a small amount of coloured wool roving and pull it into a strand, use a tapestry needle to thread it through the tops of the crochet stitches.
Add strands of fibre about every 3-4 rows.
Now your bag is ready to hold your wand, Quibbler and other essential items!
If you have any questions about this Luna Lovegood Tote Bag crochet pattern, just leave a comment below and I'll get back to you as soon as I can.
You may also like: