Our very talented crochet contributor Michelle has come back from a relaxing holiday and has created a new crochet bag pattern exclusively for My Poppet. I love this modern take on the old fashioned string bag, it looks great and is super practical too.
Over to Michelle…
It's Michelle here with a tutorial for a crochet Market Bag. Pop it in your handbag on your next trip to the shops, it's roomy enough to carry your groceries home and the solid base will stop your carrots falling out the bottom.
You will need:
2.5 balls kitchen string for the bag body
1 x 50g ball 8ply/DK cotton in contrast colour for the base and handles
4.5 mm hook
Open Stitch marker

US Terms Used Abbreviations:

st: stitch
sl st: slip stitch
sk: skip
ch: chain
sc: single crochet (UK double crochet)
blo: back loop only
dc: double crochet (UK treble)
How to Crochet a Market Tote Bag
Making the Base:
Using your contrast colour, chain 41
Row 1: sc into 2nd chain from hook, sc 39, ch 1, turn
Rows2–10: sc 40, ch 1, turn. Stop at the last sc on the last row and don't ch 1 or turn.
Now we are going to stitch around all sides of the base to prepare forming the sides of the bag base
o Without turning, sc back into same space as last stitch worked.
o Working along the left side of the base, sc 7 (one into each row space), 2 sc into last space.
o sc 39 along bottom of foundation chain, 2 sc into last st
o sc 9 back up along the right hand side of the base (100 sts)
We'll be working in the round from here
o Placing a marker into first stitch, sc into back loop only (blo) to end. Continue this way for another 12 rows
o Join with a sl st. Break off yarn
Making the Bag Body:
Row 1: Join in string yarn and ch 4 (counts as first dc and ch 1), sk 1 st, *dc 1, ch 1, sk 1. Repeat from * to end. Sl st into top of first ch 3.
Row 2: Sl st into next ch space of previous row. Ch 4, * dc into next ch space, ch 1 Repeat from * to end
Rows 3 – 20: Work as for Row 2
Row 21: Placing a marker into first st, sc into each ch sp and stitch from previous row. Join with a sl st.
Rows 22–25:Ch 1, sc in blo to end. In final row, join with a sl st into first sc. Break off yarn.
Making a Crochet Strap
Lay your bag out flat and determine bag sides, place a marker in the side stitches. Count 2 stitches back from side stitch, join in yarn, * sc 5, ch 1, turn. Repeat from * until strap is long enough. I've made mine 100 rows (aprox. 59 cm) but you can adjust to your preferred length.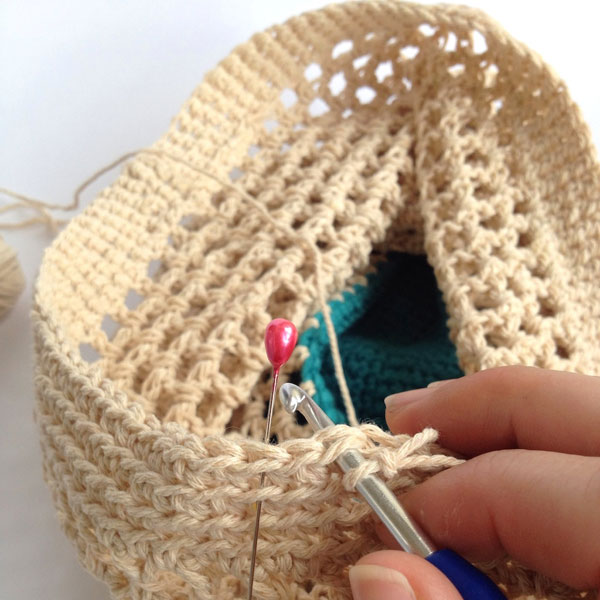 Making sure you don't twist your strap, line it up on the other side of the bag and with right sides facing together, sl st strap to bag. Weave in ends and you're done.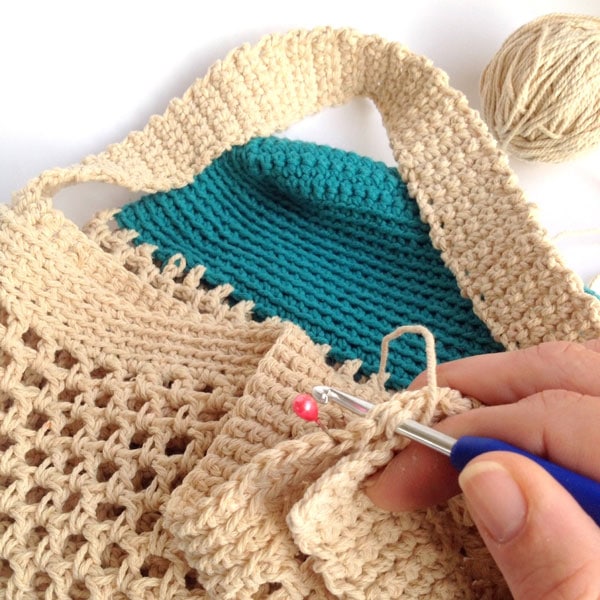 Optional: I've sc along the sides of my strap to neaten them up and also make them less likely to stretch but you can skip this step if you prefer.
I hope you've enjoyed making this project. If you have any questions or would like to share your work, pop into my Ravelry group. I'd love to hear from you.
About Michelle Robinson
Michelle is the face behind Poppy & Bliss. Her passion is crochet and her style is modern, vibrant and fun.
She teaches workshops in various styles of crochet, designs modern crochet patterns, occasionally remembers she has a blog at Poppy & Bliss but shares most of her work on Instagram