I'm doing my best to reduce our consumption of single use plastic in our home. It's an ongoing challenge but I feel that when it comes to our fruit and veg shopping, I'm making some progress.
We always take along our own reusable carry bags to the market and supermarket, but until now, our fruit always just rolled around loose at the bottom of our trolley.
There is no problem a little bit of crochet can't solve, so I got my hook out and started crocheting.
This simple crochet pattern for reusable net produce bags is easy to whip up and so versatile. The bags are super stretchy and hold a large amount of whatever you want to bag up.
The handy drawstring keeps the bag closed and all its contents corralled.
Not just for fruit, these little crochet drawstring bags are great for holding all sorts of things.
Great for keeping balls of yarn tidy, storing toys like wooden blocks, keeping socks and underwear together when travelling, or packing up sports equipment.
When they get dirty, just throw them in the washing machine and they'll come out as good as new.
Other Zero-Waste Reusable Products you can make yourself:
This mesh bag crochet pattern is super easy to make, even for beginners. Most of the crocheting is just chain stitches, so you can't really go wrong. I've added lots of step-by-step pictures to explain any tricky bits.
Of course, smaller items will slip right through the gaps in the mesh, but I've already thought about that and I will be sewing up some net fabric drawstring bags when I find some suitable fabric scraps. Stay tuned.
How to sew Reusable Mesh Produce Bags – Get Instructions Here
What yarn did I use?
When I mentioned to American Yarns that I was looking for a suitable thin cotton yarn for this crochet bag produce pattern project, they thought Cotton Fair by Premier Yarns would fit the bill.
Cotton Fair is a lightweight 4-5ply yarn that is a blend of 52% cotton and 48% acrylic. It's super soft and squishy, comes in a really lovely range of colours, and with nearly 300m per ball, is very economical.
I really like this yarn. Its light weight makes it perfect for summer garments and blankets, and it has a beautiful subtle sheen which makes it feel like a very high-end yarn. If you are into amigurumi crochet, Premier Cotton Fair is perfect for making toys.
My verdict: Premier Cotton Fair is an excellent quality yarn and is great value at over 300 yards per ball. I can't wait to make more projects with this yarn and am planning to knit Emma a t-shirt with it this Spring.
I'm so excited that American Yarns is now permanently stocking this yarn in 13 colours.
How to crochet a Reusable Produce Bag
Finished size (unblocked): length 32cm (12.5″), width 24cm (9.5″) – very stretchy
Gauge: not critical for this project
You will need:
Stitches used US terminology:
Chain Stitch (ch)
Single Crochet (sc) US = double crochet (dc) UK
Double Crochet (dc) US = Treble stitch (tr) UK
Slip Stitch (sl)
Net Produce Bag Crochet Pattern instructions:
Note: This pattern is worked in a spiral
Make a ring – 6 ch, sl st in 1st ch to form a ring
R1 – Make 8 sc into the ring.
R2 – Make 2 sc into each stitch of the round. (16 stitches)
R3 – *Ch 2, 1 sc into next stitch, repeat from * to end of round. (16 chain loops)
R4 – *Ch 4, 1 sc into 2 chain loop space, repeat from * to end of round.
R5 – *Ch 6, 1 sc into 4 chain loop space, repeat from * to end of round.
R6 – *Ch 8, 1 sc into 6 chain loop space, repeat from * to end of round.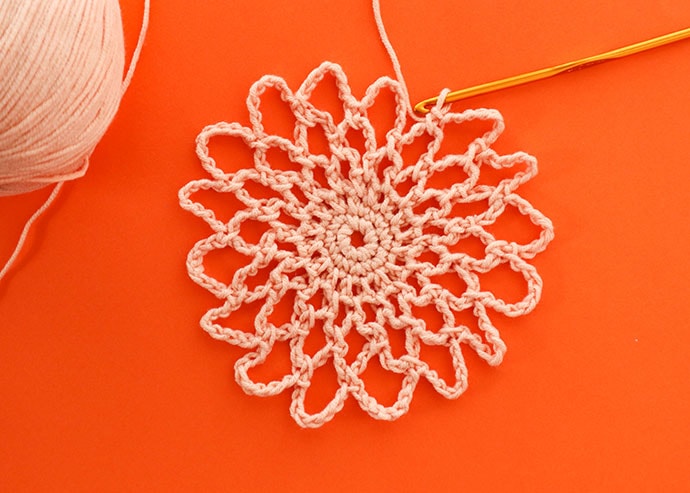 R7 – *Ch 8, 1 sc into 8 chain loop space, repeat from * to end of round.
R8+ – Continue as per R7 for another 16 rounds or until total length when bag laid flat is around 30cm (12″)
It starts off looking like a flat doily, but as you continue the sides will eventually build up and the bag will lengthen.
Final row – ch 3, 2 dc into same 8 chain loop space as last sc from previous row *6 dc into each consecutive 8 chain loop space, repeat from * to end of round. Sl st in 3rd ch of previous row to close round. Break off yarn. Weave in ends.
Make Drawstring:
– Make chain stitch cord about 65 cm (25″) length.
– Weave cord in and out through the gaps between each 6dc cluster in last row of bag (ignore the first ch3 2dc cluster).
– Tie ends of cord together to secure.
All done! Not so hard to make and extremely practical.
I hope you enjoy this free produce bag crochet pattern – Tag me on Instagram @mypoppetmakes if you make your own, I'd love to see them.
Feel free to leave any questions or queries in the comment section below and I'll answer as soon as practicable.
All yarns featured are available from www.americanyarns.com.au
LOVE IT? PIN IT!