Brighten up your bathroom with this colourful checkered crochet bath mat. The pattern works up quickly with bulky cotton yarns and an easy to follow tapestry crochet pattern.
I've jumped onboard the checkerboard pattern trend, and designed a fun crochet bath mat pattern with a new bulky cotton yarn from American Yarns.
When I saw the colour range of Premier Cotton Fair Bulky, I knew that I couldn't settle on just one, so I picked a contrasting combination that would really brighten up my bathroom floor.
I've previously used the original lighter weight version of Cotton Fair (which I loved) to make my very popular Crochet Reusable Produce Bag Pattern, and was keen to give the bulky yarn a try.
If you've never attempted tapestry crochet, this is an easy pattern to start with, with the added bonus that it only uses one ball of each colour.
I've included both written and charted instructions, both of which are very easy to follow.
Choose any colour combination that works with your decor, there are lots of colours in this yarn range to choose from. Just note that strong contrasts work best for a graphic check effect, or go with 2 harmonious colours for a more subtle design.
Normally I'm pretty relaxed about gauge, but I recommend making a swatch to get the gauge correct for this project as the yarn quantity is pretty dead-on for 2 balls, and if you have a loose gauge you will run out of yarn.
I was playing yarn chicken in the last few rows, but luckily it was ok with about 7-9m/yds to spare.
Any small amount of yarn you have left over would be perfect for making a washcloth or dishcloth with this easy dishcloth crochet pattern.
About Premier Cotton Fair Bulky Yarn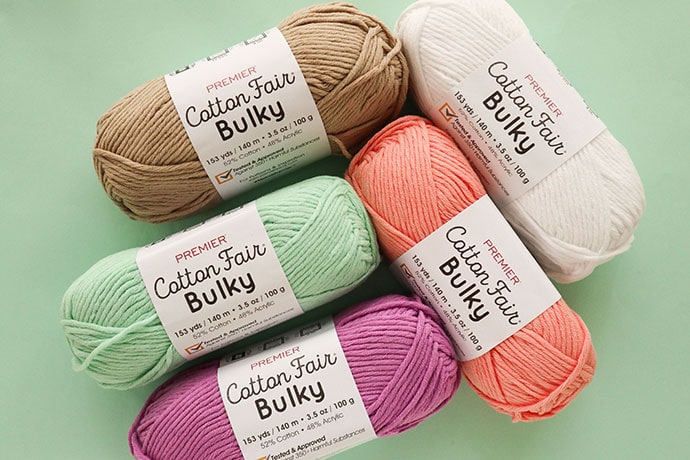 Premier Cotton Fair Bulky is a 52% Cotton/48% Acrylic blend yarn which gives it the breathability of natural cotton yarn with the durability, lightness and softness of acrylic.
Similar weight (bulky/12ply) all cotton yarns tend to be much heavier and can stiffen with washing.
It's constructed with eight, 2-ply strands (S-twist) which are a little too loosely twisted in my personal opinion, but I think a looser twist helps with better drape for garments.
Pros:
Cotton Fair Bulky is soft to the touch and feels nice against the skin.
Comes in a really nice range of solid colours, and a smaller selection of variegated colours which co-ordinate with the solids.
Nice sheen to the yarn and stitch definition when worked.
Breathable and Oeko-tex tested and approved.
Works up quickly with large hook size or needle.
Robust and easy care – Gentle machine wash, dry flat (no tumble dry)
Great for homewares, blankets, cushions, mats/rugs, containers, and accessories like bags, hats and slippers.
Cons:
Very splitty! It's quite loosely twisted and can be difficult to catch all strands when crocheting. I got the hang of it, but needed to slow down and pay more attention to each stitch. May be less of an issue with knitting.
Slightly too bulky for garments, as I think the weight of the yarn would stretch out the garment. For garments I'd recommend the 4ply version of Premier Cotton Fair.
Verdict:
A very nice premium cotton blend yarn that is ideal for projects where you need durability, but you also want them to feel nice to the touch.
Lighter weight than equivalent 100% cotton yarn but still a bit too bulky for garments in my opinion.
The splitting issue is not exclusive to this yarn, as most cotton yarns tend to be 'splitty'. You may need to adjust your crochet/knitting technique to counteract this. Some people may find it too frustrating, but it's not a deal breaker for me as the overall quality of the finished project it worth the extra effort.
Let's make a Checkered Bath Mat with Tapestry Crochet
Tapestry crochet is a fun way to make multi-coloured patterned crochet designs that are fully reversible. As an added bonus there are no ends to weave in because every yarn colour runs through every row.
It may look complicated at first glance, but it's actually very easy as it's essentially just single crochet stitches.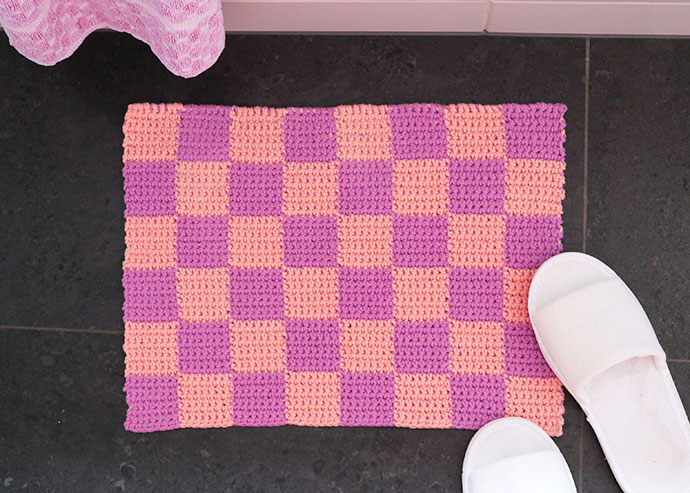 The only tricky part is remembering when to change colours.
A checkerboard pattern design is perfect for anyone new to tapestry crochet, as the changes happen at the same places as the rows below, so you don't have to refer to the pattern after a while.
In my checkered bath mat design, each 6x6cm square is 8st across and 8 rows tall. EASY! Just count to eight.
Use any colour combination you wish, just make sure you keep track of which colour is Colour 1 (C1) and which is Colour 2 (C2).
Both written and charted instructions included. I've used a smaller hook size than suggested on the yarn label as tighter stitches in tapestry crochet help hide the non-working yarn.
Finished size: 48cm x 36cm (19″x 14.25″)
Gauge: 14st x 14 rows per 10x10cm (4″x4″) – (you may run out of yarn if your gauge is looser than this)
You will need:
Stitches used US terminology:
Chain Stitch (ch)
Single Crochet (sc) US
Checked Bath Mat Crochet Pattern instructions:
This pattern is worked using tapestry crochet in back and forth rows
I recommend you visit this post for clear step-by-step tapestry crochet instructions if you are new to tapestry crochet. It has some great tips and advice.
When switching colours, always change the yarn to the new colour when you have 2 loops on the hook from the previous half completed stitch. You will be completing the stitch with the new colour.
First ch in every row does not count as a stitch.
Set up row – ch 50cm (20″) length of chain with C1 (you will be crocheting over/around this chain rather than into the chain for the first row. Leave any tail at the end).
If you prefer the classic method, ch 64 stitches and crochet into each chain in row 1, but keep in mind you will have a ridge of C1 along the bottom of your work.
Section 1 (Rows 1-8)
Row 1 (RS) – Ch1 (doesn't count as sc here and throughout), (8sc with C1, 8sc with C2) 4 times, Turn. (64st)
Row 2 (WS) – ch1, (8sc with C2, 8sc with C1) 4 times, Turn.
Rows 3-8 – Repeat Row 1 & 2 another 3 times for a total of 8 rows.
Section 2 (Rows 9-16)
Row 9 (RS) – ch1, (8sc with C2, 8sc with C1) 4 times, Turn.
Row 10 (WS) – Ch1, (8sc with C1, 8sc with C2) 4 times, Turn.
Rows 11-16 – Repeat Row 9 & 10 another 3 times for a total of 8 rows.
Rows 17-48 – Repeat section 1 and section 2 another 2 times.
To finish weave in ends. Slide stitches in row 1 along bottom chain to reflect the tension of the overall piece. Undo any remaining chain stitches and weave in ends, making sure to secure first and last sc stitch.
Wet block or lightly steam block to finished size if desired.
Tapestry Crochet Bathmat Charted Instructions
I you prefer to follow a charted pattern, feel free to print it here, you'll find the link below.
To Print: Download Tapestry crochet chart here and select landscape option on your printer setting.
I hope you enjoy this free checkered bath mat tapestry crochet pattern – Tag me on Instagram @mypoppetmakes if you make your own, I'd love to see them.
All yarns featured are available from www.americanyarns.com.au