Update a plain denim jacket with a crochet fur collar that can be easily made in less than an hour. Custom made to suit any jacket with no special crochet skills required – Let the cozy yarn do all the hard work!
When I was a teen in the 90s, I always wanted a cool denim jacket with a furry sherpa fleece collar – They were all the rage back then, but my parents said no, and I was broke, so no fleecy denim jacket for me.
Well the 90s are cool again, so I'm channeling a fun retro denim vibe with this easy DIY Faux Fur collar denim jacket crochet project.
No need to hit up the vintage stores for a fur collar denim jacket, because this simple re-fashion project lets you makeover a plain denim jacket with a fluffy collar.
If you don't have a denim jacket in your wardrobe already, hit up your local Op-shop (thrift store) for a budget priced selection.
This crochet faux fur collar not only looks cool, it's super cozy too. No need for a neck scarf if there's a chill in the air, just pop your collar and you are set!
When you get bored of wearing a furry collar (or the weather gets too warm), just carefully snip off the sewing stitches which attach the crochet, and return your jacket to its original look.
Keep the collar just in case you choose to re-attach it again next season.
Looking for more denim jacket makeover inspiration? Check out this Vintage Patch Denim Jacket Refashion
The yarn
I used Premier Bunny Yarn from American Yarns for this project. It's a super soft faux fur yarn made from polyester with a fringe style construction.
I'm not really a fan of novelty yarns, but for this small project it was ideal.
I've seen this yarn mainly used for toys, which look amazingly huggable. But I must say, I'd only recommend using this yarn in complex projects like toys if you are very experienced.
Fluffy yarns (this yarn included) can be tricky to work with, so start with easy projects to get a feel for it, and save yourself frustration. I've included some handy tips for working with this yarn below.
This is a jumbo size yarn, so you'll find it works up very quickly with big needles or hooks.
Its saving grace is that because the fluffy fibers are so good at masking the stitches, it doesn't show when you make a mistake, so as tricky as it is to get perfect stitch counts, no one will notice.
I think the results are worth it in the end to create a very soft and fluffy faux fur style fabric.
The colour range is limited but pretty.
Premier Bunny yarn isn't suitable for every project, but if used judiciously, you'll get really fun results.
I'm pretty happy with my how my collar turned out with only a small amount of yarn required – about 40g/16m total.
Tips for crocheting with Faux Fur and Fluffy Yarn
Use a large hook and keep tension loose – Even though the core of the yarn may be fine, you need to allow for all the extra fluff to pull through the loops. Using a large hook will create open fabric without tangling the fluff. An exception to this is if you are making a toy that needs stuffing.
Crochet into back loop – Keep the crochet fabric fluffy by working into the back loop and freeing up most of the fluffy fibers. It's also easier to get your hook around just one loop.
Use simple stitches – You can't see stitch definition with this yarn so don't make things to complicated for yourself. Keep it simple!
Feel for your stitches – Because it's very hard to make out the parts of the stitches, or even how many stitches you've made, it is easier to feel for the stitches and count them that way too.
Go slowly – The fluffy yarn tangles easily, so go slowly when pulling your loops through.
Don't stress – Don't worry if you make a mistake or insert the hook into the wrong part of the stitch, this yarn is very forgiving and you can't notice minor errors.
The 'No Pattern' Crochet Pattern
There is no specific crochet pattern for this project as every jacket is slightly different depending on the collar size and style.
Instead I'll show you how to use a paper template of your jacket collar to guide you and inform the shape of the crochet.
I recommend using hdc (half double crochet) stitch for this project for the following reasons:
Hdc is compact and has an extra yarn over (compared to single crochet) which uses more yarn making the stitch denser and fluffier.
Hdc creates 3 loops (front loop, back loop, and extra loop on back of stitch) so you can always find a loop to crochet into even if you can't see one. If you can't find a stitch loop to crochet into, you can also crochet into the space between stitches.
How to Hdc – Half Double Crochet (US term)
Start with loop on hook, yarn over (2 loops on hook)
Insert hook into stitch
Yarn over and pull up loop (3 loops on hook)
Yarn over and pull yarn through all three loops – stitch complete
Let's makeover a Denim Jacket with a crochet Faux Fur Collar
This faux fur crochet collar is quick and easy to make – It only took me around 30 minutes to crochet.
You'll need to do a little bit of simple pattern tracing to help you plan your collar shape, but once you start, the crochet works up very quickly.
Choose a classic fur colour for your collar, like brown or cream, for a traditional look. Or go wild and really jazz your jacket up with something bright like coral, purple or even turquoise!
You will need:
1 Ball Premier Bunny Yarn (I've used brown, but cream would also look great) – You'll need around 40g (16m/18yds) depending on your collar
Denim Jacket
Paper (to trace collar shape)
Pencil
Scissors
Sewing pins
Hand sewing needle
Thread (in color to match jacket fabric)
How to:
Making the collar pattern template
1. Lay the jacket collar flat to prepare for pattern tracing.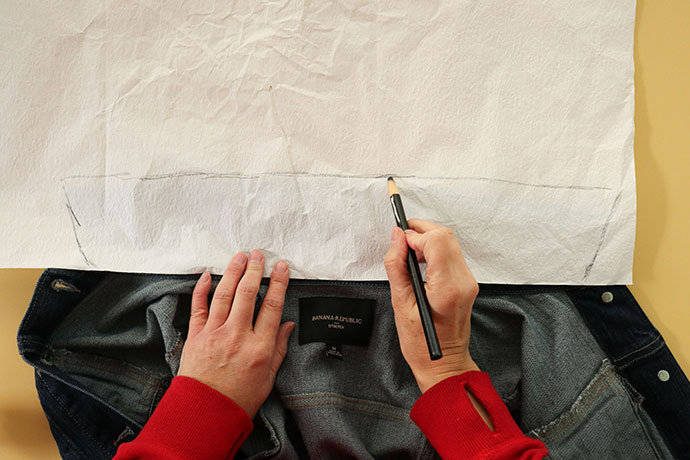 2. Trace the shape of the collar onto a piece of paper with a pencil or marker.
3. Cut out the paper collar template. It should be symmetrical and as close to the shape of the jacket collar as possible. We will be using the paper template as a pattern for the crochet.
Crocheting the collar topper
4. Start the crochet by making enough chain stitches to match the length of the base of the collar template, try to make your chain stitch loose. I started with 30 chain stitches.
5. Ch1, turn, then hdc into each chain below.
6. Continue with Ch1, turn and hdc into back loop on every row, making sure you hold the crochet to the paper template to check if you need to add increases on the sides or not. The stitches will naturally fan out so you may not need to increase on every row. To increase make 2 stitches into the one stitch you are crocheting into in the row below.
7. Finish when you have reached desired height. Mine needed 4 rows in total.
Note: Don't worry about your final stitch count. I weirdly ended up with 27 stitches even though I added some increases in. I must have missed some along the way but in the end the final shape is what matters.
8. Weave in ends.
Attaching the crochet fur collar to the denim jacket
9. Pin the furry crochet collar topper onto the denim jacket collar. Start from the base of the collar.
10. Line up the the top edge of the collar with the crocheted collar panel and pin in place.
11. Try to match up the edge of the crochet stitches to the edges of the denim collar, the fluffy bits will hang over the edges.
12. Hand sew into place with blue thread that matches the colour of the denim. Make sure to grab the crochet stitches not just the fluff on the yarn.
All done! Enjoy your cozy new furry jacket collar.
The fur is quite lofty, but I think it will flatten out nicely with a bit of use, and after some washing it may even resemble sherpa style fleece more closely.
If you want to keep the fluffiness after washing, I'd suggest giving it a brush though with your fingers or even a wide comb to bulk up the fibers.
You can purchase the yarns featured from www.americanyarns.com.au