Customize a denim jacket with a cool collection of sew-on patches that reflect your hobbies and interests. Your unique patch denim jacket is sure to become a favourite eye-catching garment that is fun to wear.
Whenever I'm op-shopping (thrifting) I always make a beeline for the craft supply section. Often I'll find a decent amount of embroidery thread, zippers, and when I'm very lucky, vintage souvenir patches.
Being a lover of all things vintage and a self confessed travel tragic, I can't pass up a cool vintage travel patch, the more obscure the better.
Over the years I've accumulated quite a big collection, and until recently they were just gathering dust in my craft room.
Then I stumbled on this amazing jacket via Pinterest and I knew just what to do with all of my patches.
As well as the travel themed patches, I also purchased a few fun patches that elicit nostalgia for things I enjoyed as a kid, and that reflect my nerdy obsession with all things Star Trek (TNG onwards – not the original series).
I didn't have a suitable denim jacket to sew my patches onto, so I searched and searched my local op-shops until I found this one at a second hand clothing stall in the Chapel st Bazaar.
It's a men's denim jacket, which has a slightly oversized look. Perfect for throwing over a chunky knit, and the larger surface area means I can fit lots more patches on there.
I've got a few cutesy patches left over that Emma has earmarked for her own patch denim jacket. We're going to be patch jacket twins!
Where to find cool patches
If you are looking to quickly amass a collection of new and vintage patches for your own denim jacket, my best suggestion is taking a look on Etsy and Amazon.
Etsy has a fun range of patches created by independent artists and designers, as well as some original vintage patches.
I picked up a few of my favourite ones pictured below from Etsy, including some cool Star Trek patches from a store that specializes in Sci-Fi Patches and pins.
Amazon has a big range of fairly inexpensive patches, including bulk lots of 10-50 piece random assortments, if you don't mind a surprise.
I've collected most of my patches over many years, and they are mainly from op-shops, thrift stores and vintage stores. Generally I find them in the section with sewing and craft supplies.
A few vintage patches were generously gifted to me by a friend who collected them on her travels as a teen in the 80's and 90s. How cool! I wish I'd bought a few patches on my own travels when I was younger, but I collected enamel pins instead.
More fun ways to use your patches:
Let's Customize an Old Denim Jacket with Sew-On Patches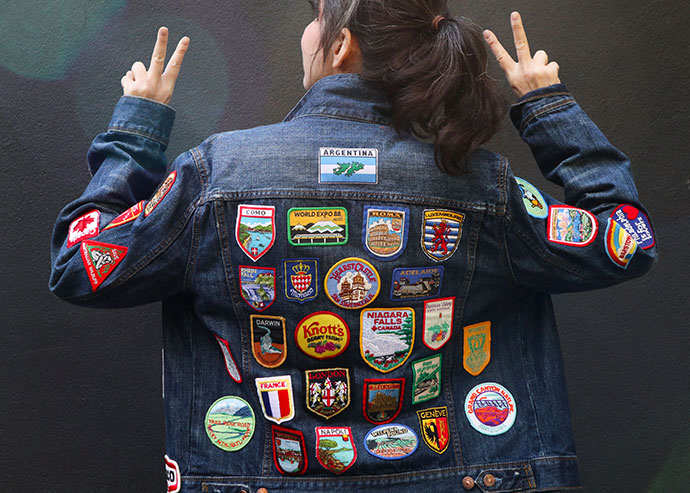 Make a unique wardrobe item that reflects your personality 100%.
Whether it be with patches collected on your travels that bring back fond memories, patches that reflect your hobbies, nerdy fandom, or identity; a patch filled denim jacket is sure to become a real talking point.
Dig out your old denim jacket from the back of your closet, or pick one up second hand from a thrift store. It's time to let your freak flag fly and share your passions with the world, via the medium of customized denim.
Is it better to sew on a patch or Iron-on a patch?
Sewing on patches can be very time consuming, and trying to push a needle through stiff patch fabric can really hurt your fingers. But if you want your patch denim jacket to last the test of time, sewing is your best option.
Many patches now come with the option of an iron-on backing. If you are pressed for time, or are adhering your patch to an area that won't get much movement, iron-on may be an ok solution.
I prefer sewing on patches, as opposed to gluing them or using iron-on backing for 3 reasons:
A sewn on patch will be more secure and won't fall off with heavy wear or laundering.
If you ever want to remove, or reposition the patches, there will be no glue residue left on the fabric.
Glue or iron-on adhesive can make the fabric behind the patch stiff and will make a jacket with lots of patches very inflexible and uncomfortable to wear.
You will need:
Embroidered Fabric Patches (Iron-on Patches)
Pins and/or tape
Matching sewing thread
Hand sewing needle
Thread wax (optional)
How to:
1. Gather you patch collection, sort and separate which patches will go on the front, back and sleeves of jacket.
2. Lay out patch design and temporarily secure with tape or pins. I found tape was good for initial placement to stop the patches from shifting too much, and then when I was 100% happy I'd secure with pins. Make sure you try your jacket on to see how the patches look (especially on the sleeves) and reposition accordingly.
3. Working with a thread that matches the edge of the patch, sew each patch on with a whip stitch or running stitch. (Sorry I didn't get any photos of this bit as I did most of my sewing at night in front of the TV)
Sewing tips:
Run your thread over the thread wax to make it stronger, easier to slide through fabric, and less likely to get tangled.
Felt edged patches are easiest to sew and can be secured with a simple running stitch or whip stitch.
Embroidered edge patches tend to be quite stiff, so the best way to sew those on is to sew/catch the threads on the edges rather than trying to sew through the main patch section.
Use a thimble to help push your needle though the denim and thick patches.
4. Depending on how many patches you have, sewing them on may take a few hours to a week (like mine did). Make sure all your threads are secure, and your patched jacket will stand up to lots of wear.
Don't forget to leave some space for any extra patches that may catch your eye. I've got room for just a few more.
I've placed most of my vintage travel patches on the back and sleeves, and saved some of my quirky patches for the front of the jacket where I can see them.
Now I'm just waiting for things to open up again so I can wear my sweet vintage patch denim jacket out and about!