Today I have a super easy crochet bucket bag pattern for you made with a new yarn called Bernat Maker Home Dec. It's a chunky tubular cotton yarn that has the feel of t-shirt yarn, with the added bonus of being much lighter.
American Yarns gave me a couple of balls to play with, so I had some fun testing it out and creating an exclusive crochet pattern just for you.
Bernat Maker Home Dec is quite a unique yarn. It's made of a tubular knit cotton outer which surrounds a nylon core.
There's so much to love about this yarn! I really enjoyed working with it.
Because it's much lighter and thinner than regular t-shirt yarn, it's more versatile, perfect for lots of home decor and garment applications. I like the chunky look of t-shirt yarn but it's often too heavy for many projects, so Bernat Maker Home Dec is the perfect alternative.
Bernat Maker Home Dec is soft, but will hold up to wear and tear, and you can throw it in the washing machine and dryer if it gets dirty. Great for throws, cushions or accessories.
Crocheting or knitting with it is a breeze. It slides over your hook/needle really easily and creates very nice stitch definition.
Depending on your hook/needle size, you can create a loose drapey fabric (lovely for garments) or a really firm hard wearing fabric (great for bags and homewares).
The colour range is small but quite nice, (although I'm not really a fan of the variegated shades).
Great for beginners as it works up (and frogs) quickly and doesn't split.
When I picked up this yarn I was planning on knitting a chunky cushion cover with it, but after crocheting a swatch, I knew that this yarn and crochet were just meant to be. The cushion cover idea went out the window, I was making a bag.
How to make a Crochet Bucket Bag
A girl can never have too many bags, and bucket bags are a great everyday all rounder.
I'm a bit of a lazy crafter so as I was working in the main body of the bag, I realised that I could cheat a little and add a pre-made strap, rather than crochet my own.
I don't really like crochet straps on bags anyway, they tend to stretch out and look a bit 'homemade' ( not in the good way). Adding the leather is a nice contrast to the softness of the yarn and it gives the bag a more boutique look.
The strap and drawstring is removable, so you can crochet a few bag bodies in assorted colours to match your wardrobe, and just change out the strap when required.
I've used leather boot laces for the drawstring ties, but you could also use a waxed leather or cotton cord, thin rope, or even ribbon.
This is really the easiest bag pattern going around, and the best thing is you'll only need one ball of yarn to make this project. Time to make a Crochet Bucket Bag!
Finished size: Height (no strap) 25cm/10″, Base 20cm/8″ diam.

You will need:
1 x ball Bernat Maker Home Dec (290 m/317 yds) – colour used CLAY
8mm crochet hook
Stitch marker or Scrap yarn for stitch marker
1 x clip on bag strap (about 95cm/37″ long)
Leather cord 2x 85cm/33″ lengths
Scissors
Plastic sheet (optional for base insert)
Where do I find Bag Straps?
Great question, here are a few suggestions.
The first place you can look is in your own wardrobe, you may already have a handbag with a clip-on strap that you can use. The great thing is you can swap over the strap whenever you want to use your old handbag again.
I went the the op-shop (thrift store) and found a $5 purse with this attractive strap. It needed a small length adjustment so I took it to my local cobbler to shorten.
If you are handy with leather work, try making one yourself. The clip fasteners are available at most craft stores.
Ask your local cobbler (shoe repair store) to make one for you. You may need to supply the clips.
Etsy, Ebay and Amazon have a huge selection of handbag straps in every colour and design you could possibly imagine.
Stitches used:
How to:
Crochet the Bag Body
Pattern Instructions:
Pattern is worked as one piece in the round so there is no joining or turning. Work in a spiral and use a stitch marker to help keep your place.
Gauge 4″x4″ (10x10cm) = 13 stitches and 14 rows
MAKE THE BASE
Start by making a Magic loop – Magic Loop Crochet instructions here
Round 1: 10 sc into magic loop (10)
Round 2: 2 sc into each stitch (20)
Round 3: *1 sc, 2sc into next stitch*, repeat ** till round complete (30)
Round 4 & 5: sc all stitches (30)
Round 6: *1sc in next 2, 2sc in next stitch*, repeat ** till round complete (40)
Round 7: *1sc in next 3, 2sc in next stitch*, repeat ** till round complete (50)
Round 8: sc all stitches (50)
Round 9: *1sc in next 4, 2sc in next stitch*, repeat ** till round complete (60)
Round 10: sc all stitches (60)
Round 11: *1sc in next 5, 2sc in next stitch*, repeat ** till round complete (70)
Round 12: sc all stitches (70)
Round 13: *1sc in next 6, 2sc in next stitch*, repeat ** till round complete (80)
Round 14: sc all stitches (80)
Round 15: sc all stitches INTO BACK LOOP ONLY (80)
Base is done.
Because you are working in a spiral you will have a small jog (gap) in round 15 where you work into the back stitch. It's not very noticeable, and doesn't bother me too much.
MAKE THE SIDES
The sides are super easy to make, just crochet all the stitches until the bag is as tall as you like.
Round 16-51: sc all stitches for 36 rows (or till side is 25cm/10″ tall).
Slip last stitch and weave in end.
Assembling the Bag
This part is a doddle.
Lay the crochet section flat and clip on the bag straps an equal distance apart about 3 rows down from the top edge.
The crochet fabric is very strong so there is no chance the bag will tear away or break. You may get a little stretching in the stitch gap like this. (see below).
Weave leather cord in and out of stitches, about 4 rows down for 1st cord, and 5 down for second cord with about 2 inch spacing.
Make sure the ends of each cord finish facing out and on opposite sides.
Tie off the leather cord ends.
Optional step – If you prefer a firm base on a bag, go ahead and cut out a circle from a plastic sheet to fit the base (plastic packaging is ideal). I quite like a soft, floppy bag, so I left this out.
And you're done! How easy was that?
I'm pretty pleased with this project. It turned out much better than I expected, and I love how the leather matches my clogs. Can't wait till the weather warms up so I can wear my new accessory combo.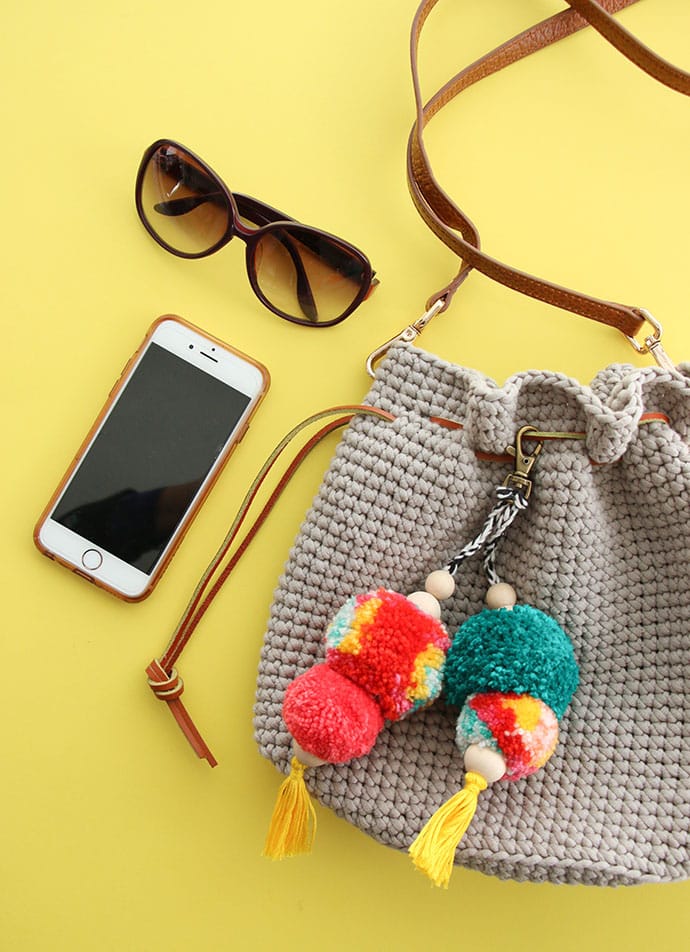 My Pom pom bag charm is an easy way to add a pop of colour and changes up the look of the bucket bag.
Loving the classic look of the Clay colour yarn with the tan leather, but I also quite fancy making one in Pea Green.
Which colour will you choose?
You can purchase Bernat Maker Home Dec yarn from www.americanyarns.com.au