Add a little bit of cheer to your home with this modern crochet rainbow cushion. It's the perfect size to prop up your head when reading, or as an extra lumbar support.
This rainbow pillow is a fun little crochet project to make with just a few balls of yarn. Its simple modern design would look great in a contemporary nursery, or kids room.
The crochet pattern only requires a few basic stitches, and is a great project to make if you are just starting on your crochet journey.
I've added a few tips in this post explaining why you should try, yarn under single crochet. And I've also included instructions for an invisible decrease crochet stitch. Read on for that info.
Start your free Creativebug Trial and Learn How to Crochet with online classes
This style of crochet is also known as Amigurumi, which uses single crochet stitches to make 3D shapes which are then stuffed. The same stitches used in this project can be used to make all sorts of cute crochet toys.

Choose any colours you wish to make your crochet rainbow – Pastels or Brights!
I've used a lovey selection of colours in the Fair Isle Sugar Yarn Range from American Yarns.
Fair Isle Sugar is a great everyday yarn that is perfect for general crochet, and is especially good for Amigurumi, because it gives great stitch definition.
About Fair Isle Sugar Yarn:
70% acrylic 30% nylon
100g balls 156 meters (3.5oz/170 yards)
8 PLY (medium/DK)
Silky-soft luxurious hand-feel
Lustrous finish
Machine wash cold on gentle cycle, tumble dry low
17 colours available – Dye lotted
Great Value – Discontinued line and on sale for $4.50 AUS per ball
Emma has already claimed this little rainbow pillow for her bed.
The rainbow cushion is stuffed really firmly, so not only does it look good, it's comfortable too. The semicircular shape makes it ideal to prop up your head when reading, or as an extra lumbar support.
How to make a Crochet Rainbow Cushion
You will need:
Crochet Stitches used (US terminology):
Magic Ring
inc = make 2 sc stitches in 1 stitch
dec = combine two stitches into one with an invisible decrease (see below)
How to make an Invisible Decrease – An alternative to sc2tog
In the past I've used a sc2tog for my decreases.
Get the instructions for sc2tog in this post.
It's a fine stitch, but can leave small gaps which are a little annoying if you are stuffing a shape and the filling shows.
Thanks to this blog post from Planet June, I discovered the invisible decrease.
It's super simple to make, and is barely noticeable.
Here's a step-by-step breakdown of the invisible decrease crochet stitch:
1. Insert hook though the FRONT LOOPS only of the next 2 stitches.
2. Pull yarn though both loops. Now 2 loops on hook.
3. Complete stitch by pulling yarn though both loops.
You've just decreased 2 stitches into one.
Rainbow Cushion Crochet Pattern instructions:
Gauge: 2.5×2.5cm (1″x1″) sq = 5st x 5 rows in sc
Finished Size:Height 22cm/8.5″, Width 33cm/13″
Notes:
Pattern is worked continuously as a spiral in the Amigurumi style.
Use a stitch marker to keep track of where one round ends and the next begins. Place the stitch marker in the last stitch of the round.
This rainbow pillow is made up of 3 separate shapes – Two tubes and one ball which are then sewn together.
Each shape has the same pattern for the ends, the only difference is how many rounds are crocheted in the middle sections.
Shape 1 (Apricot) – length 43cm/17″ total length
Shape 2 (Violet) – length 28cm/11″ total length
Shape 3 (Aqua) – length 7.5cm/3″ total length
To avoid gaps between sc stitches I recommend using a YARN UNDER (as opposed to yarn over) crochet stitch – see instructions for Yarn Under Amigurumi single crochet at the end of this pattern.
All pattern pieces:
Starting section:
R1 – start 8 sc into a magic ring [8]
R2 – inc in each st around [16]
R3 – *sc, inc* rpt 8 times [24]
R4 – *sc 2, inc* rpt 8 times [32]
R5 – *sc 3, inc* rpt 8 times [40]
Insert stitch marker to keep track of rounds in next section.
Middle section:
Shape 1 (Apricot) – sc all stitches [40] for 79 rounds
Shape 2 (Violet) – sc all stitches [40] for 50 rounds
Shape 3 (Aqua) – sc all stitches [40] for 10 rounds
Stuff firmly as you go (especially for the longer tubes)
Closing section:
R1 – *sc 3, dec* rpt 8 times [32]
R2 – *sc 2, dec* rpt 8 times [24]
R3 – *sc, dec* rpt 8 times [16]
Add extra stuffing until shape is firmly packed.
R4 – dec in each st around [8]
Fasten off by running yarn end though 8 remaining stitch loops and tightening.
Leave a 28cm/11″ yarn tail for sewing on Aqua ball (Shape 3), weave in ends for other sections.
Crochet Rainbow Pillow Assembly
1. Line up all sections and mark center.
2. With tail of ball section 3, sew through both tubes as per diagram below and secure with some hidden stitches.
3. Gently shape long tubes around ball section and mark where the ends line up.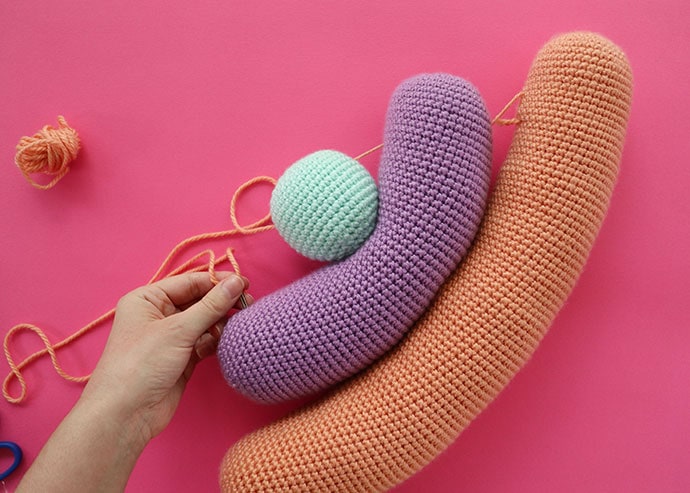 4. Stitch though all sections as per diagram below. Add extra stitches to secure if required.
All done! Enjoy you new little rainbow cushion.
Yarn Under single crochet for Amigurumi

I've been told on numerous occasions that I crochet 'wrong'.
Why? It's because I don't yarn over when I crochet in the traditional way.
My whole life I've used a hook over crochet style, which seemed quicker, easier and more logical to me. It also puts less stress on my hands.
I didn't realize I was doing it 'wrong' until readers asked how my single crochet stitches looked like little X shapes.
Turns out it was my HOOK OVER (yarn under) technique.
You can see the difference in the photo below where I've used a traditional yarn over style for a few stitches. You can see the stitch shape looks like a little V.
Compare it to the rest of the stitches where the stitch shape looks like and X.
After a little research, I'm not alone in using a yarn under (hook over) technique, especially among the Amigurumi crochet crowd. It seems many Amigurumi crocheters do the same.
Turns out the X shaped single crochet stitches are more tightly packed and leave less gaps around stitches. This is perfect for items that need to be firmly stuffed so no filling shows or leaks out.
I also think it looks neater.
The tension tends to be a little tighter. You may need to adjust your hook size accordingly.
I do all my crochet stitches with a hook over technique, and the only one that looks visibly different is the sc stitch.
How to Yarn under (hook over) single crochet
1. insert hook though stitch, grab yarn with hook, with hook on top. Pull though stitch. (In regular sc you would wrap the yarn over the hook)
2. With 2 loops on hook. Grab yarn with hook on top, and pull yarn through both loops.
Stitch completed.
I hope you found this little aside interesting. If you try a hook over technique, tell me how you get on.
All yarns featured are available from www.americanyarns.com.au
LOVE IT? PIN IT!