If you've got a few spare granny squares leftover from a crochet project, I've got the perfect way to use them. Make a stylish Granny Square Headband!
After making a Granny Square Needle Book a little while ago from my large granny square stash, I thought it was time to dive into the pile again and make another quick and easy granny inspired craft project.
As I mentioned in that last post, this big bag of crochet squares came to me by way of a friend (I think), and I've set myself the challenge of using them in fun and interesting ways.
Amongst the colourful array of granny square designs, there were a few plain coloured ones in shades of peach and lilac which coordinated beautifully with each other.
There were only 4 in total, which ended up being the perfect amount to sew together and make a cute headband.
The colours are very retro inspired, and the contrast in hues really shows off the headbands twist front design.
Emma immediately loved it and insisted I photograph her wearing these oversized sunglasses, reminiscent of a golden age Hollywood starlet!
How to make a Two-Tone Granny Square Headband with a Twist!
This retro style colour blocked twist crochet headband is quite easy to make, and will take you less than an hour to whip up with ready made granny squares.
I've used 2 colours because I like how it really shows off the twist on the top.
Of course you can make this crochet headband in just a single colour if that is more your style.
If you don't have any suitably sized crochet granny squares laying around, it's easy enough to make some with just a small amount of yarn.
Even if you are new to crochet, granny squares are one of the simplest crochet projects for a beginner. There are 100's of tutorials and videos online with instructions for how to crochet granny squares. This free e-book by Shelly Husband is a great place to start.
To make a granny square in a similar size to the ones I have used for this project, I recommend using a 5ply (sport weight) yarn with a small 3mm-3.5mm crochet hook.
Another alternative to making individual granny squares is to crochet a long rectangle in the same dimensions.
The most suitable yarn for this headband is either wool or acrylic yarn has a little more stretch and will keep its elasticity. Cotton yarn has little give and won't bounce back once it stretches, making your headband loose after a few wears.
You will need:
4 Crochet Granny Squares (around 11cm/4.5″ sides) – 2 of each colour (see note at bottom about sizing)
Matching yarn or embroidery floss
Yarn needle
Scissors
How to:
1. Join granny squares by whip stitching edges together though the back loop of the edge stitches.
2. Sew granny squares together in a row of 4 to make a long rectangle. Two of colour A, then two of colour B.
To create the twist knot
3. Fold long granny square rectangle in half with right sides facing. Match edges of end squares, but offset the sides halfway as shown.
4. Fold the granny squares so they form an 'S shape'. You should have a 4 layer sandwich!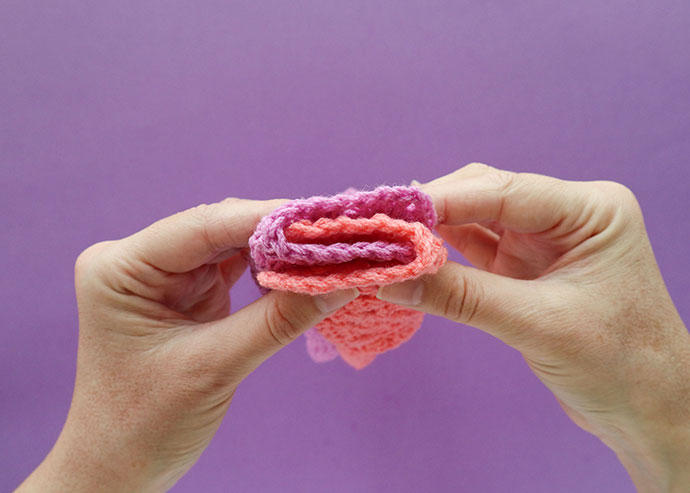 5. Sew back and forth (ladder stitch) through the edges of all 4 layers.
6. Gently pull thread to gather and securely fasten off. The stitches will be hidden inside the twist knot.
7. Flip inside out and your head band is ready to wear!
Sizing
The finished headband looks small, but it's very stretchy and fits from a child to a small adult head comfortably.
As a general rule, each crochet granny square will stretch up to an extra 1″ so take that into account when you measure your head for sizing.
For larger heads (or if you have lots of hair), add another granny square to increase diameter.