It's always pleasing when my loves of craft and travel combine. On my recent trip to Sabah, in Malaysian Borneo, I had the opportunity to visit a local Batik workshop and try my hand at the traditional textile art of Batik.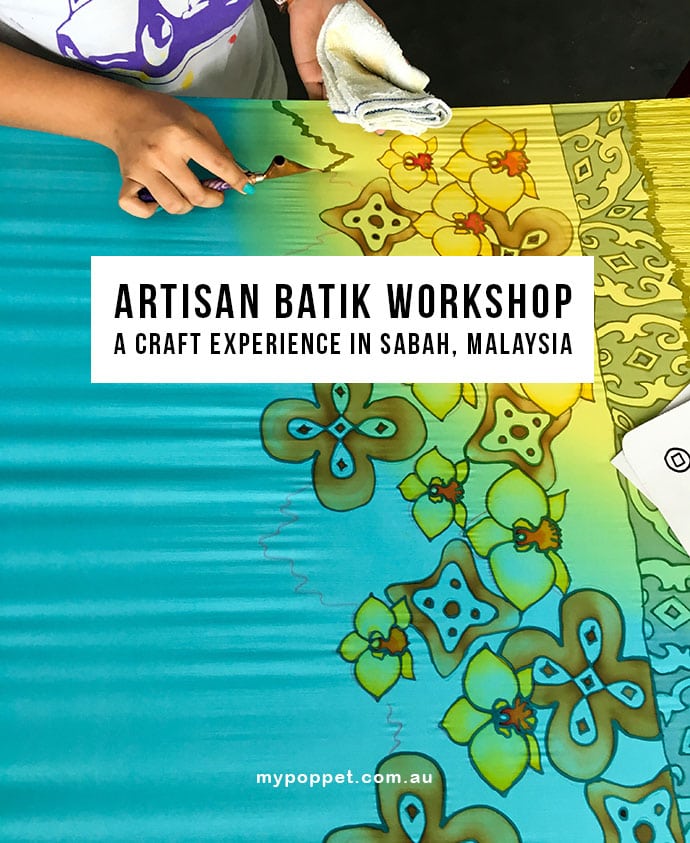 The workshop is located in the basement of Galleria Artisan, a retail gallery that specializes in showcasing traditional and contemporary craft work of local artisans, and has a range of products that also include amazing examples of weaving and basketry.
To curb the local loss of skills in the textile art of batik, a social enterprise has been established to provide training to young people from indigenous local communities in Sabah. The training courses are 6 and 12 months long and teaches not only about the batik making process, but also all aspects of design, from traditional motifs to modern batik for use in contemporary fashion design.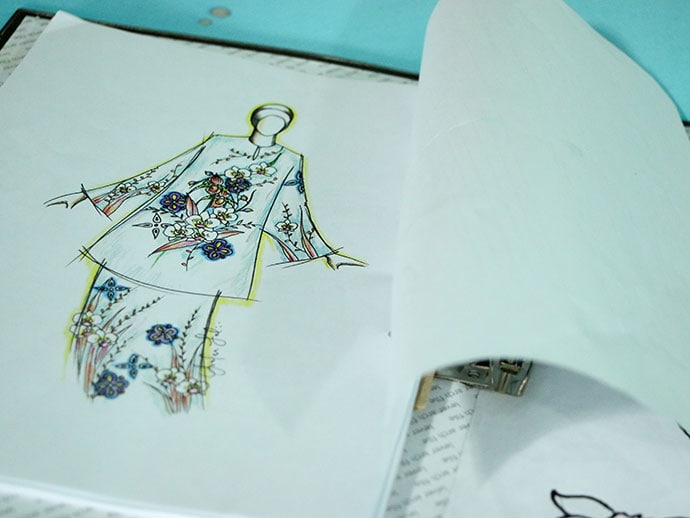 Whilst I was there the students were working on a commissioned piece of silk that was to become a garment. It was fascinating to watch as they applied the wax so precisely and effortlessly. They made the process look so easy, but I was soon to find out that looks can be deceiving, my initial attempts were less than stellar!
Batik textile design is a "resist" dying process. The artist uses wax to prevent dye from penetrating the cloth, the parts covered in wax resist the dye and remain the original colour. This process of waxing and dyeing can be repeated to create more elaborate and colourful designs.

When designing batik fabric, you need to work from the base colour up. Lighter colours are usually dyed first then those areas are covered with wax before darker colours are painted or overdyed. Very complex designs can involve many layers of wax designs and dye baths.
In the end, the wax is removed to reveal the design underneath where the wax areas have resisted taking on the dye.
Some styles of batik use stamps to make the design, but here, all the designs are drawn on by hand with a tool that is called a canting. It's like a little pipe made of copper that has a reservoir that can be filled with liquid wax mixture.
The wax used is a mixture of plant resin and paraffin wax (bees wax is sometimes used). When heated is melts together and turns into a liquid that can be painted or piped onto the fabric. Addition of the resin stops the wax from cracking, which in some styles of batik is desirable but not so much for fine silk designs. Each artist will eventually develop their own preferred wax mixture to work with.
The workshop is open to the public to see the students at work, and you can even have a go at dye painting a design to take home as a souvenir.
Emma had fun painting a snail design (there were lots to choose from), and when the instructor discovered that I was a craft blogger, he insisted that I challenge myself and create a design from scratch.
I looked through a book of traditional motifs for inspiration and traced a few designs onto cotton fabric stretched over a frame.
Next came the tricky part, using the canting tool to apply the wax. The canting is dipped into the pot of wax to fill the reservoir and because there is no control of flow, you need a little cloth to block the tip so it doesn't all just flow out. It took a while to get the hang of, the wax flows very quickly and can flood the fabric when it's very hot. To get lines of consistent thickness, I found that you must work very quickly when the wax is hot, but slow down as it cools. If you are too slow the wax will harden in the canting.
I did not too badly for my first effort and the instructor said 'I had potential'. It's also important that no gaps are left in the design lines as later the colours will bleed through gaps when painting.
The workshop has big batches of dye pre-mixed, so there were no shortage of colours to choose from when painting my design. Dyed fabrics for garments go through a process of 'mordanting' which involves several chemical/mineral baths to 'fix' the colours before the wax is removed, but because my artwork is only for display and won't be washed, there was no need to process the fabric further.
If you are visiting Kota Kinabalu in Sabah pop into Galleria Artisan
WHERE:
Galleria Artisan
Menara Tun Mustapha
Peti Surat 11201, Teluk Likas
88817 Kota Kinabalu,Sabah, East Malaysia.
Have you tried the craft of Batik?