I hope you are all enjoying crocheting up your own Carnival Cushion. Today I'm going to show you how to make a round insert to fit your pillow perfectly. It is so easy to do even with the most basic of sewing skills, it literally took me about 15 minutes! I've just used an old piece of white sheet for my fabric, anything fairly robust will do. Look around in your cupboards, you probably have something suitable laying around.
You can use this technique to make more colourful pillows if you choose fun printed fabrics.

You will need:
Pillow cover (or final dimensions)
Fabric, 2 x pieces larger than your pillow cover
Stuffing of your choice
Measuring tape
Pencil
Scissors
Sewing machine
General sewing supplies
How to:

1. Measure your pillow cover diameter, make sure knitted/crocheted covers have been blocked to final shape.


2. Take your 2 pieces of fabric larger than the cover and fold into quarters. Measuring from the center mark the length of half the diameter plus seam allowance (about 1cm or 1/2 inch). Work around in an arc marking at regular intervals.


3. Your marks should indicate the curve accurately. Without unfolding fabric, cut along marked line.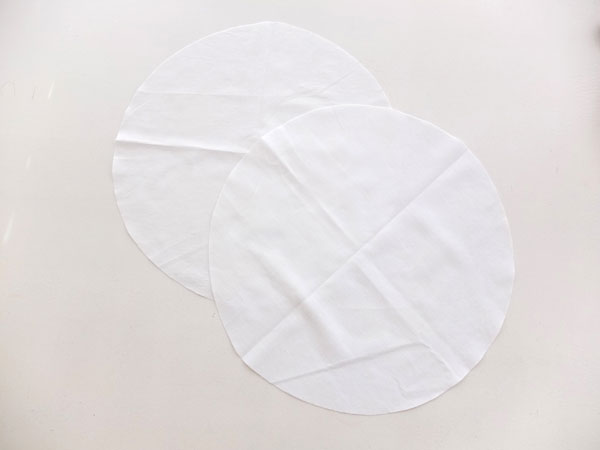 4. You should now have 2 equally sized perfect circles.


5. Lay circles on top of each other and sew around edge leaving an opening as indicated in picture above.


6. Stuff insert to desired fullness. Remember contents will settle with use so it's a good idea to over stuff slightly.


7. Pin opening together and whip stitch closed.


All done!
Now it's time to finish the back of my Carnivale Cushion in preparation for part 5, adding pom poms!


Don't be a square, now you can easily make a custom sized insert to fit any cushion or pillow cover shape you have. It's so easy!