Have you noticed that shaggy cushions, pillow covers and rugs are really trendy right now? Interior stylists call it 'texture', I call it fun! It's a throwback to the 70's where shag was all the rage. The era of Flokati rugs and ankle deep wall to wall carpeting. What a nightmare to clean!
You know what else was big in the 70's? Latch hooking!
Put your hand up if you ever made one of those latch hook kits as a kid. They always had the weirdest designs like sad clowns holding a bunch of balloons or a horse head.
I picked up a piece of latch hook canvas about 2 years ago while thrift shopping but had no real project in mind for it. After seeing lots of shaggy 70's style cushions in stores and magazines, an idea finally clicked – a Shaggy Latch Hook Pillow.
Because I love colour, this pillow is super bright. But if you prefer more neutral decor in your home, choose softer colours, greys or creams. The key is mixing up the yarn textures for an interesting finished result.
It's not difficult, but it does take quite a time commitment. I worked on this project on and off for 5 months. It's easy to pick up and put down, so it's a perfect craft project to have at hand when you need something to do while you watch TV or a movie.
Are you inspired to dust off your old latch hook? Then it's time to get started!
Let's make a Shaggy Latch Hook Cushion
Finished size: 50x50cm (20″x20″)
You will need:
Latch hook canvas piece about 50x50cm (20″x20″)
Backing fabric – cotton canvas or thin faux leather 50cm x 65cm (20″x25.5″)
Assorted Yarn – lots of it
Scissors
Clipboard
Cushion insert 40x40cm (16″x16″)
Sewing machine
General sewing supplies
How to:
This project is comprised of 2 main parts: making the latch hook canvas cushion cover and hooking the cover design.
Part 1 – How to make a blank Latch Hook Canvas cushion cover
Every tutorial for latch hook pillows I've ever seen works on the hooked canvas design first and then sews up the cushion cover at the end. But that seems and awfully complicated way to do things, I mean trying to wrangle all that bulky yarn and several layers of fabric under a sewing machine foot seems like a big pain in the butt.
In my opinion, working on the canvas first is a big mistake.
Here's my solution to the problem, make the pillow cover first!
It's logical when you think about it, and I'm actually surprised you can't buy pre-made blank latch hook canvas covers already. Someone get onto that!
These instructions will show you how to make an Envelope Back Pillow Cover, which is the easiest style of cover to make and is manageable for all sewing levels. If you are an experienced sewist, feel free to make a zippered version if desired.
I've made mine to fit a 40x40cm (16″x16″) cushion insert and have included those measurements, but you can adjust the sizing to suit whatever size cushion you are making.
For the backing fabric I chose to use some thin faux leather that was left over from another project. It was an ideal choice as it didn't fray, was a little bit stretchy and quite robust. If you don't have access to something similar, upholstery weight cotton would be a suitable choice.
I've just freestyled my design and didn't really follow any pattern. If you have a pre planned design in mind, you can mark it onto your canvas with a permanent marker at this stage before you do any sewing.
1. Cut 2 back pieces from your desired fabric – measuring 44cm x 34cm (17.5″x13.5″). I've allowed about a 1.5-2cm seam allowance. (¾")
2. Fold over and sew a hem on one long edge of each backing piece.
3. Overlap the back pieces by about 10cm (4″) to make a square, and with right side facing down, pin onto your piece of latch hook canvas. Try and align the edges to the squares of the canvas.
4. Sew the canvas and back together right around all the sides with a 2cm seam allowance. Aim to sew in the middle of the canvas spaces if possible.
5. Trim the excess canvas and using a zig zag stitch, sew around the edge of the seam again to reinforce the canvas edges.
I  made the mistake of not doing this initially and the canvas started to unravel with the pulling of the stitches. I promptly added an extra row of zig zag stitch and it made every thing super secure.
6. Turn the cover inside out and you are ready to get started. Because you'll be working from the front of the canvas, which is the top of the pillow, there are no accessibility issues. You won't need to do anything to the back side of the canvas.
Part 2 – How to Latch Hook a design with Regular Yarn
This latch hook cushion project is a real yarn eater! I went though a ton of yarn making this shaggy cushion so I was glad I opted for some 'budget' options.
When choosing your yarn, go for a variety of textures as well as colours. I found that adding some fluffy, silky and bouclé yarn, really added to the visual interest and made the cushion much more tactile.
I used a regular A4 sized clip board as my cutting guide which gave me fairly long yarn pieces to work with, perfect for a very shaggy effect. You can also use a smaller piece of cardboard if you'd like a shorter pile on your cushion.
7. Prepare your yarn by wrapping it around your chosen cutting guide. Cut at the top and bottom of each wrap. Each strand will be about 23cm (9″) long.
8. Cut more than you think you'll need and then separate out your colours. You can always cut more later if you run out. I found that keeping each colour separate in zip lock bags was very helpful and makes this latch hook cushion project quite portable.
9. Time to latch hook! Start knotting wherever you like. I found that working diagonally from the bottom corner to the top was the easiest way to work. I've used 2-3 strands for each hooked loop.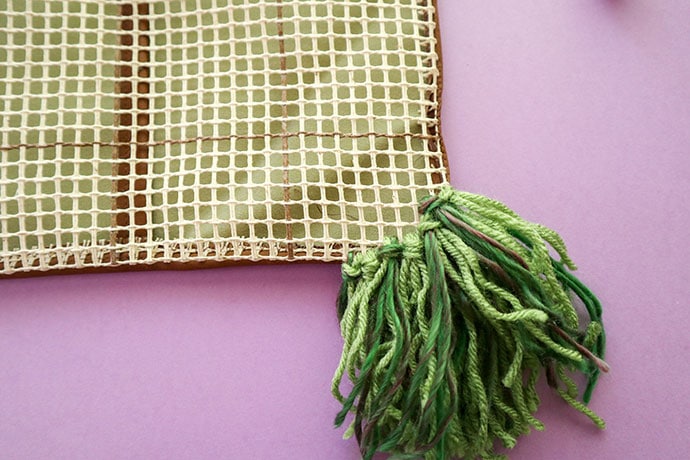 Don't know how to use a latch hook, take a look at my instructions below.
HOW TO LATCH HOOK
I've got a few extra steps in my instructions which may be a little different to how other people latch hook. Even though there are extra steps, I find my way a little less fiddly than the regular method, and faster over all. If you don't have a latch hook, this method works great with a regular crochet hook too.
1. Insert the hook under the section of the canvas you are going to hook over. The little latch will open.
2. Hook the yarn and pull the yarn loop back though the hole. The little latch will close.
3. Slide the hook up the loop until the yarn is past the latch hinge. The latch will open again.
4. Catch the tail of the yarn with the hook section. Pull down through the loop – the latch will close.
5. Pull the yarn all the way though. You now have one completed knot.
Now just keep going…
…and going…
…and going.
Once you are done, just go ahead and pop in your pillow insert.
The design just developed organically as I worked on the project with no real plan in mind, except for chunky clumps of colour.
And here's the end result. What do you think? My latch hook cushion certainly is very cheerful and makes quite the statement on my new teal sofa.
All that shagginess does come with a downside. This baby sheds fibre like crazy. It's mainly the soft loosely woven yarns that are the main culprits. I'm hoping that will settle with use, but until then I'll have to keep the lint roller handy (especially for guests wearing black)!
Some people have a pet that sheds, I have a shaggy pillow that sheds! LoL.
Have you ever tried latch hook? What did you make?